MLF 2022 Wiley X Summit Cup Filmed on Florida's Space Coast Set to Premiere Saturday on Outdoor Channel
Category: article
May 19th, 2022 by Keith Worrall
Modified May 19th, 2022 at 11:39 PM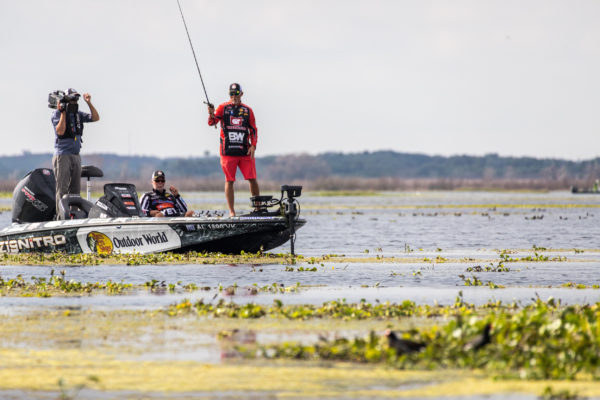 Twenty-Four MLF Anglers Compete on Headwaters Lake, Kenansville Lake, Lake Garcia Reservoir or Stick Marsh over Six Days for Prestigious Summit Cup
PALM BAY, Fla. (May 19, 2022) – The Major League Fishing (MLF) 2022 Wiley X Summit Cup Presented by B&W Trailer Hitches, filmed over six days in December on lakes surrounding the Palm Bay area, is set to premiere this Saturday, May 21, from 2 p.m. to 4 p.m. ET on the Outdoor Channel and on-demand on the MyOutdoorTV (MOTV) streaming app. The event showcases 24 of the top pro anglers in the world competing in the third MLF Cup event of the 2022 season.
"The Space Coast is a fishing paradise with the availability of freshwater, saltwater, surf, and deep-sea fishing opportunities including new Headwaters Lake, the local trophy largemouth bass fishery. It's unlike any other freshwater lake in the U.S.," said Space Coast Office of Tourism Executive Director Peter Cranis. "We're looking forward to watching the Summit Cup and can't wait to see the winning catch."
The first episode, set to premiere Saturday, features the eight anglers in Group 1 competing in their opening Elimination Round. Episode two features the eight anglers in Group 2; Episode three will feature the eight anglers in Group 3. The top six finishers from each group's Elimination Round advance to the two-day Sudden Death Round – episodes four and five – where nine anglers compete each day and try to finish in the top four. The sixth and final episode will feature the final eight anglers competing in the Championship Round to catch the most weight that they can to be crowned the 2022 Summit Cup Champion.
The 24 Anglers that compete in the 2022 Wiley X Summit Cup Presented by B&W Trailer Hitches in Florida are:
Stephen Browning, Hot Springs, Ark.
Luke Clausen, Spokane, Wash.
Dustin Connell, Clanton, Ala.
Brandon Coulter, Knoxville, Tenn.
David Dudley, Lynchburg, Va.
Paul Elias, Laurel, Miss.
Anthony Gagliardi, Prosperity, S.C.
Alton Jones, Jr., Waco, Texas
Gary Klein, Mingus, Texas
Jason Lambert, Michie, Tenn.
Bobby Lane, Lakeland, Fla.
Russ Lane, Prattville, Ala.
Matt Lee, Cullman, Ala.
Michael Neal, Dayton, Tenn.
Skeet Reese, Auburn, Calif.
Mark Rose, Wynne, Ark.
Fred Roumbanis, Russellville, Ark.
Bradley Roy, Lancaster, Ky.
Fletcher Shryock, Guntersville, Ala.
Jeff Sprague, Wills Point, Texas
Wesley Strader, Spring City, Tenn.
Bryan Thrift, Shelby, N.C.
Jacob Wheeler, Harrison, Tenn.
Jesse Wiggins, Addison, Ala.
The 2022 Wiley X Summit Cup Presented by B&W Trailer Hitches was hosted by Florida's Space Coast Office of Tourism. The event will air on the Outdoor Channel as six, two-hour original episodes each Saturday afternoon starting May 21, 2022, and running through June 25, airing from 2 to 4 p.m. ET. Each episode is available for viewing on the MyOutdoorTV (MOTV) streaming app on the Monday morning following each episode's Saturday premiere.
The 2022 Wiley X Summit Cup Presented by B&W Trailer Hitches features 24 MLF pro anglers visiting the Space Coast of Florida to compete on either Headwaters Lake, Kenansville Lake, Garcia Reservoir or Stick Marsh on each day of competition. The fisheries are unknown to the anglers – they do not learn where they are competing until they arrive to the launch ramp each morning of competition.
The full television schedule can be found at MajorLeagueFishing.com.
For complete details and updated information on Major League Fishing and the MLF Cup events, visit MajorLeagueFishing.com. For regular updates, photos, tournament news and more, follow MLF's social media outlets at Facebook, Twitter, Instagram, and YouTube.
About Major League Fishing
Major League Fishing (MLF) is the world's largest tournament-fishing organization, producing more than 250 events annually at some of the most prestigious fisheries in the world, while broadcasting to America's living rooms on CBS, the Discovery Channel, the Outdoor Channel, CBS Sports Network, the World Fishing Network, and on-demand on MyOutdoorTV (MOTV). Headquartered in Tulsa, Oklahoma, with offices in Benton, Kentucky, the MLF roster of bass anglers includes the world's top pros and more than 30,000 competitors in all 50 states and 13 countries. In 2019, MLF expanded its portfolio of catch, weigh, and immediately release events to include the sport's strongest five-biggest-fish format tournament circuits. Since its founding in 2011, MLF has advanced the sport of competitive fishing through its premier television broadcasts and livestreams and is dedicated to improving the quality of life for bass through research, education, fisheries enhancement, and fish care.
Major League Fishing – WE ARE Bass Fishing™