St. Johns River Readies for Toyota FLW Series Tournament
Category: article
Feb 4th, 2020 by Keith Worrall
Modified Feb 4th, 2020 at 6:01 PM

St. Johns River Readies for Toyota FLW Series Tournament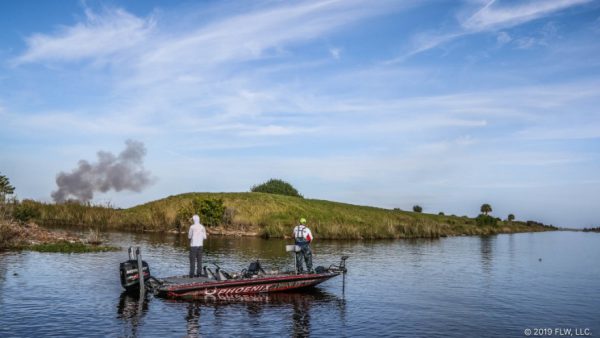 PALATKA, Fla. (Feb. 4, 2020) – The 2020 Toyota Series will continue their season next week at the St. Johns River, Feb. 13-15, with the Toyota Series at the St. Johns River. Hosted by the Putnam County Tourist Development Council, the three-day tournament will feature the best regional bass-fishing pros and co-anglers casting for a top prize of up to $65,000, plus a $35,000 bonus if the winner is a qualified Phoenix Boat owner.
"I think that with the way the weather is setting up, we're going to hit this one just right," said legendary pro angler Peter Thliveros of Saint Augustine, Florida, who has 13 top-10 finishes in FLW competition and more than $620,000 in career earnings. "It's going to be optimum conditions for the spawn – 80-degree temperatures being forecast, a moon phase earlier that week – I think the water temperatures will really jump up and we're going to see a mass movement of fish to the bank.
"That being said, we're probably going to see some really impressive limits over the first few days of the event," Thliveros continued. "The key is going to be sight fish and it's one of those deals where it won't be predictable. It'll be happening as the tournament progresses and a guy that is on nothing can all of a sudden be in the right place at the right time and just stumble on to them."
With a spawn tournament primarily on the radar, Thliveros expects anglers preferred soft-plastic of choice to be the key bait – craws, creature baits, tubes and worms. He also predicted that some fish would be caught on swimbaits and topwater baits throughout the week.
"Not all of the fish will spawn at one time, so I could see spinnerbaits and ChatterBaits playing a role as well," he said.
"I predict that the winner will likely have between 60 to 65 pounds," the Florida pro went on to say. "I expect a couple of guys will bust big limits – 20 to 25 pounds, maybe even 28 one day – and they'll have a couple of solid limits to go with it. There are so many factors that go into a three-day tournament, and going into the last day the final outcome will likely not be obvious."
Anglers will take off from Palatka Riverfront Park, located at 100 Memorial Parkway in Palatka at 7 a.m. EDT each day of competition. The weigh-ins will be held each day at Palatka Riverfront Park beginning at 3 p.m. All takeoffs and weigh-ins are free and open to the public.
In Toyota Series regular-season competition, payouts are based on the number of participants competing in the event, scaling up for every 20 boats over 160 and scaling down for every boat below 160. With a full field, pros will fish for a top prize of up to $65,000, plus an extra $35,000 if FLW PHOENIX BONUS qualified. Co-anglers will cast for the top prize of a brand new Phoenix 518 Pro bass boat with a 115-horsepower outboard (valued at more than $30,000).
The Toyota Series consists of eight divisions – Central, Eastern, Northern, Plains, Southeastern, Southern, Southwestern and Western – each holding three regular-season events, along with the International division. Anglers who fish all three qualifiers in any of the eight divisions and finish in the top 25 will qualify for the no-entry-fee Toyota Series Championship for a shot at winning $200,000 cash, plus lucrative contingency bonuses. The winning co-angler at the championship earns a new Phoenix 518 Pro bass boat with a 115-horsepower outboard. The 2020 Toyota Series Championship is being held Nov. 5-7 on Lake Cumberland in Burnside, Kentucky, and is hosted by the Somerset Tourist & Convention Commission and the Burnside Tourism Commission.
For complete details and updated information visit FLWFishing.com. For regular updates, photos, tournament news and more, follow the Toyota Series on FLW's social media outlets at Facebook, Twitter, Instagram, and YouTube.
About FLW
FLW is the world's largest tournament-fishing organization, providing anglers of all skill levels the opportunity to compete for millions in prize money across five tournament circuits. Headquartered in Benton, Kentucky, FLW and its partners conduct more than 290 bass-fishing tournaments annually around the world, including the United States, Canada, China, Italy, South Korea, Mexico, Namibia, Portugal, South Africa, Spain, and Zimbabwe.
FLW tournament fishing can be seen on the Emmy-nominated "FLW" television show while Bass Fishing magazine delivers cutting-edge tips from top pros. Acquired by Major League Fishing in late 2019, FLW is expanding its programming in 2020 to the Outdoor Channel and the Sportsman Channel as well as on-demand at MyOutdoorTV (MOTV).
For more information visit FLWFishing.com and follow FLW at Facebook, Twitter, Instagram and YouTube.