Adjustable Fishing Rod Holder with the Spyderlok Track System
Category: article
May 19th, 2022 by Keith Worrall
Modified May 19th, 2022 at 11:28 PM

Pearl, MS (May 18, 2022) – Simplicity, paired with strength and reliability, is what the Millennium Marine Spyderlok Track System is all about. For anglers who choose spider rigging for crappie, trolling for saltwater predators, or drifting for catfish, the track system offers a whole new level of convenience, adjustment and confidence.
For any fishing that takes place using a rod holder, the Spyderlok Track System is a must. Quickly secure and adjust rod holders from stow to go in seconds with no tools required. Available in 32", 16" and 5.5" lengths, the unique track system allows anglers to quickly secure multiple rod holders and accessories with fewer attachment points and pieces of hardware. Rod holders and accessories stowed during transport & boat storage easily move to actively fishing. With the track mounting system deployed, spend more time fishing and less time setting up or tearing down. Once installed, the Spyderlok Track System requires no tools to add or remove rod holders and accessories, decreasing the time to setup and increasing the time for baits in the water.
For anglers looking for the ease and adjustability of the Spyderlok Track System but dealing with another manufacturer's rail system, the TS-103 Track Adapter is the perfect solution. Built with Millennium Marine's legendary durability and ingenuity, the TS-103 perfectly adapts R-100, R-400, R-401, R-200, and R-300 to other brand rail systems, securely locked in place with two thumbscrews.
The stainless steel hardware can be mounted to gunnels or the boat deck without concern for rust or corrosion, no matter saltwater or freshwater fishing. The Spyderlok Track System includes easily removed plastic end caps and one R-110 track system mount. The Track System can be used with the existing R-100, R-400, R-401, R-200 and R-300 product and future Spyderlok product options.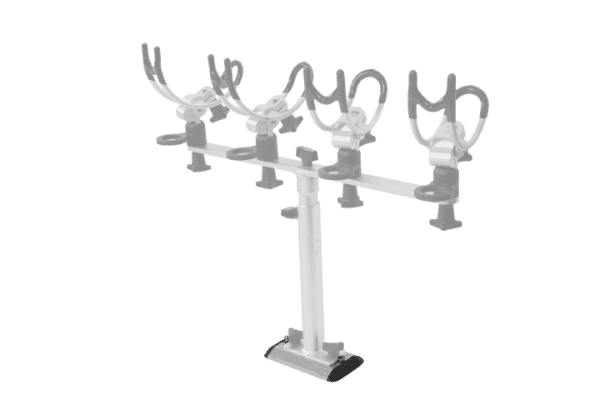 Track System Features:
Anodized aircraft aluminum construction, low glare finish
Includes stainless steel hardware
For use with all Spyderlok products, including R-100, R-400, R-401, R-200, R-300 and more to come
Also available in 32", 16" and 5.5" length
Quickly and easily attach multiple rod holders and accessories with fewer mounting bolts
Convenient rod holders slide to the desired location
Once installed, no tools required to remove rod holders and accessories
Low profile for no more stubbed toes
Includes easily removed plastic end caps
Great for salt and freshwater
Heavy duty
Allows anglers to easily move rod holders to facilitate stowage of trolling motor
Includes one R-110 track system mount
Additional R-110 mounts can be purchased separately for attaching multiple rod holders
Can be mounted on the gunnels or the deck
1-year warranty
TS100 Specifications:
Material: Anodized Aluminum
SKU: TS-100-00
Length: 32"
MSRP: $79.99
TS101 Specifications:
Material: Anodized Aluminum
SKU: TS-101-00
Length: 16"
MSRP: $46.99
TS102 Specifications:
Material: Anodized Aluminum
SKU: TS-100-00
Length: 5.5"
MSRP: $26.99
TS103 Track Adapter Specifications:
Material: Anodized Aluminum
SKU: TS-103-00
Length: 10"
MSRP: $23.99