Boat Docks were the key for Brannon Hurst and Mike Freeman winning Alabama Bass Trail on Logan Martin Lake
Category: article
May 11th, 2020 by Keith Worrall
Modified May 11th, 2020 at 2:00 PM

Boat Docks were the key for Brannon Hurst and Mike Freeman winning Alabama Bass Trail on Logan Martin Lake
By Jason Duran
The Alabama Bass Trail is back and Covid-19 has made for a very interesting time in our country. Stay at home orders, quarantines and social distancing are now all common practice in every home. The lack of social interaction has really take its toll on a lot of people. The Alabama Bass Trail worked closely with the state of Alabama make things as safe as possible in this new way of life. The ABT team worked hard to adjust everything including no pretournament meetings, using face coverings and limited contact during boat check, trailered weigh- in to allow for social distancing for anglers and staff, and no crowds at weigh-ins. This allowed for the Alabama Bass Trail to be back in action and still able to keep everyone as safe as possible. At the close of scales on Saturday from Lake Logan Martin Brannon Hurst and Mike Freeman take home the win with 17.64.
The team of Hurst and Freeman made about a five minute run to fish boat docks in 1 – 10 feet of water. They were pitching a home-made white Jig on boat docks. They found this pattern late in the day in a tournament last weekend and this week they were able to build on it. Like many other anglers they were expecting a shad spawn to be a factor in this event. Though they weren't really targeting the shad spawn, they did catch a fish off one dock that was probably a shad spawn fish.
The keys for them was "trying to flip as many boat dock piers as they can in a day and skipping the jig as far back into the shade of the dock as they could where the bass were." They also said "you have to have a lot of places now because there are so many people fishing" They areas they target were from Stemley bridge to the dam.
It is important for them to "fish well together as a team for example; they both don't fish the jig the same way, one might fish it deep and slower while the other will fish a little faster and higher up in the water column" The team has been fishing together for over 25 years and for the past four years they have fished the ABT south division.
The Dock and Jig pattern produced a mixed bag of spots and largemouth weighing in at 17.64. Fishing docks from 1 foot to 10 feet. They both have fished Logan Martin their whole life and to win here was "unbelievable and incredible" Mike said it is hard to win against this level of competition and it really feels awesome. .
Their homemade jig set up was paired with Lew's Reel, Fitzgerald Rod and 20 lb Seaguar fluorocarbon line.
The first-year team of Rickey Dunn and Trent Davis came in second place. Rickey is Trent's father in-law and they have been fishing together for about 10 years. This year they decided to fish the ABT and at the second stop they had a really good day. They made a run up to Choccolocco Creek throwing topwater and spinnerbaits and targeting seawall and shallow points in the sun. Like many other anglers said the first thirty minutes of their day was really productive. Their second spot was up around Broken Arrow Creek and from there they ran small cuts that seemed to produce fish at every stop. Later in the day they worked their way back down river to their final stop on a boat dock where Rickey had caught one in practice the previous week. On this dock they both caught a keeper. Trent caught one over four pounds with one that Rickey believed he probably caught in practice and released. That four pounder helped them move up enough to make in to second place with 15.84.
The third place team of Todd Murphy and Kopeland Rosser caught a limit within five cast. They made a run up river towards the I20 bridge to a spot that Kopeland found in practice. It was really a flurry for about thrity minutes with about 15-20 fish catches and sometimes they were doubled up. Todd describes this spot as a flat and "can't really explain why these spotted bass were stacked up there." That flurry of fish catches only lasted about 30 minutes. They left that spot with a limit of spotted bass and had two fish over three pounds. From there they went to another spot and caught two large mouth in back-to-back cast. When the wind picked up later in the morning they said it helped their fish set up on the cover better.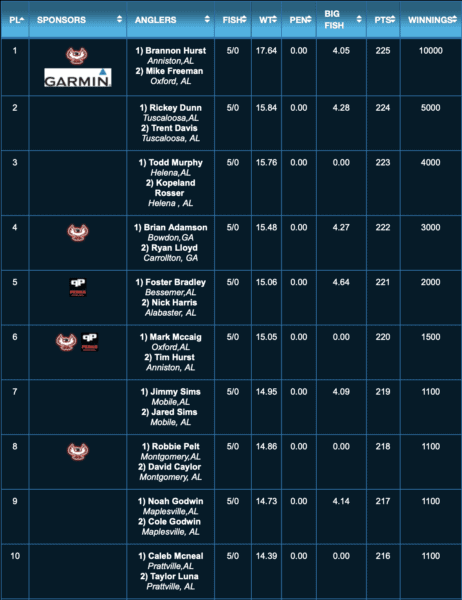 The baits that were productive were a Spook in bone color, black and blue swim Jig, swimbait and a drop shot. They said they just stuck to the basics and just went fishing.
Over all anglers were really excited to see the ABT family back out on the water. Next week the North Division gets back in action on Weiss Lake.
The top ten standings are below for a full list of results visit.
Download and listen to the ABT Podcast on your favorite Podcast app by searching for "Alabama Bass Trail Podcast." The Podcast is released each week on Tuesday.
The sponsors of the 2020 Alabama Bass Trail include; Phoenix Bass Boats, Bill Penney Toyota, Garmin, Academy Sports & Outdoors, America's First Federal Credit Union, Sweet Home Alabama, Alabama Tourism Department, Alabama Mountain Lakes Tourist Association, T-H Marine Supplies, Wedowee Marine, Strike King, Buffalo Rock, Mountain Dew, Jack's, Fish Neely Henry Lake.com, Alabama Power Company, Lew's Fishing, Berkley, YETI, Power Pole, Big Bite Bait Company, E3 Apparel and Hydrowave.
For information about Alabama Bass Trail and for complete tournament standings visit www.alabamabasstrail.org.