Jasper's Bateman Wins Two-Day T-H Marine FLW Bass Fishing League Event on Ohio River at Tanners Creek
Category: article
Oct 1st, 2019 by Keith Worrall
Modified Oct 1st, 2019 at 10:45 AM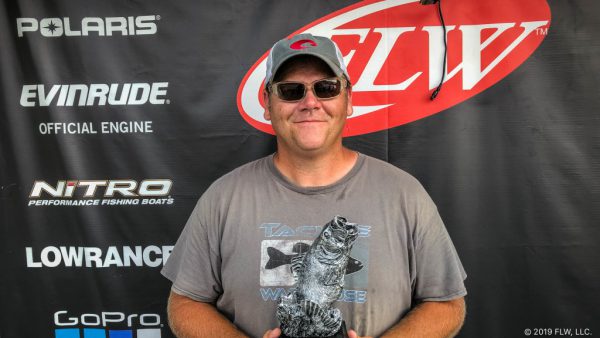 JASPER'S BATEMAN WINS TWO-DAY T-H MARINE FLW BASS FISHING LEAGUE EVENT ON OHIO RIVER AT TANNERS CREEK
Dillsboro's Liming Wins Co-angler Division
LAWRENCEBURG, Ind. (Sept. 30, 2019) – Boater Scott Bateman of Jasper, Indiana, brought a two-day total of 10 bass to the scale weighing 12 pounds, 13 ounces, to win the two-day T-H Marine FLW Bass Fishing League (BFL) Hoosier Division super-tournament on the Ohio River at Tanners Creek Sunday. Bateman earned $4,718 for the victory.
"The first day I ran 30-some miles, fishing inside creeks," said Bateman, who earned his second career victory in BFL competition. "I was mainly pitching soft-plastics and throwing crankbaits around wood.
"On the second day, I stayed in Tanners Creek – near the launch site – and did the exact same thing, throwing a crankbait and pitching plastics. I caught 11 fish over the two days – six on the first day, five on the second – and I lost several more."
Bateman was the only angler to weigh in a five-bass limit on both days of competition. His crankbait of choice was a Strike King KVD 1.5 (sexy shad) and he pitched green-pumpkin-colored tubes and creature baits.
"I caught six on the crankbait and five on the plastics," Bateman went on to say. "I think the key was that I was covering more water and fishing very fast."
The top 10 boaters finished the tournament in:
1st: Scott Bateman, Jasper, Ind., 10 bass, 12-13, $4,718
2nd: Bryce Kalen, Greenwood, Ind., eight bass, 12-0, $2,234
3rd: Thomas Foster, Terre Haute, Ind., seven bass, 11-13, $1,423
4th: Chris Wilkinson, Farmersburg, Ind., nine bass, 11-12, $996
5th: Brandon Houston, Burlington, Ky., eight bass, 10-6, $854
6th: Kyle Weisenburger, Columbus Grove, Ohio, six bass, 9-8, $783
7th: Ken Garbe, Wyoming, Ohio, seven bass, 8-7, $711
8th: John Melton, Corydon, Ind., six bass, 8-6, $640
9th: Pete Justice, Sharonville, Ohio, four bass, 8-0, $569
10th: Mark Bouchie, Evansville, Ind., four bass, 7-5, $985
Complete results can be found at FLWFishing.com.
Bouchie caught a 3-pound, 11-ounce bass – the heaviest of the event in the Boater Division – and earned the event's Boater Big Bass award of $487.
Dillsboro, Indiana's Brian Liming won the Co-angler Division and $2,134 Sunday after catching a two-day total of seven bass weighing 11 pounds, 14 ounces.
The top 10 co-anglers were:
1st: Brian Liming, Dillsboro, Ind., seven bass, 11-14, $2,134
2nd: Jim Krider, North Vernon, Ind., five bass, 7-7, $1,067
3rd: Brant Gish, Evansville, Ind., four bass, 5-8, $712
4th: Adam Boyce, Glenview, Ill., two bass, 5-5, $742
5th: Collin Hillen, Evansville, Ind., four bass, 4-14, $427
6th: John Young, Franklin, Ind., three bass, 4-13, $391
7th: Austin Thome, Oxford, Ohio, four bass, 4-5, $706
8th: Jeffery Johnson, Austin, Ind., four bass, 4-5, $470
9th: Roy Lester, Hamilton, Ohio, three bass, 4-3, $285
10th: Billy French, Hamilton, Ohio, three bass, 3-8, $249
Boyce caught the largest bass in the Co-angler Division, a fish weighing in at 3 pounds, 5 ounces. The catch earned him the event's Co-angler Big Bass award of $244.
The top 45 boaters and co-anglers in the region based on point standings, along with the five winners in each qualifying event, will be entered in the Oct. 17-19 BFL Regional Championship on Kentucky Lake presented by Evinrude in Buchanan, Tennessee. Boaters will compete for a top award of a Ranger Z518L with a 200-horsepower outboard and $20,000, while co-anglers will fish for a new Ranger Z518L with a 200-horsepower outboard.
The 2019 BFL is a 24-division circuit devoted to weekend anglers, with 128 tournaments throughout the season, five qualifying events in each division. The top 45 boaters and co-anglers from each division, along with the five winners of the qualifying events, will advance to one of six regional tournaments where they are competing to finish in the top six, which then qualifies them for one of the longest-running championships in all of competitive bass fishing – the BFL All-American. The 2020 BFL All-American will be held April 30-May 2 at Lake Hartwell in Anderson, South Carolina, and is hosted by Visit Anderson. Top performers in the BFL can move up to the Costa FLW Series or even the FLW Tour.
For complete details and updated information visit FLWFishing.com. For regular updates, photos, tournament news and more, follow the T-H Marine FLW Bass Fishing League on FLW's social media outlets at Facebook, Twitter, Instagram and YouTube.
About FLW
FLW is the world's largest tournament-fishing organization, providing anglers of all skill levels the opportunity to compete for millions in prize money in 2019 across five tournament circuits. Headquartered in Benton, Kentucky, with offices in Minneapolis, FLW and their partners conduct more than 290 bass-fishing tournaments annually around the world, including the United States, Canada, China, Italy, South Korea, Mexico, Namibia, Portugal, South Africa, Spain, and Zimbabwe. FLW tournament fishing can be seen on the Emmy-nominated "FLW" television show while FLW Bass Fishing magazine delivers cutting-edge tips from top pros. For more information visit FLWFishing.com and follow FLW at Facebook, Twitter, Instagram and YouTube.