Watch Major League Fishing Pros Cast Their Best Trick Shots
Category: article
May 11th, 2020 by Keith Worrall
Modified May 11th, 2020 at 9:21 PM
Watch Major League Fishing Pros Cast Their Best Trick Shots
May 11, 2020 (Tulsa, Okla.) The Major League Fishing (MLF) anglers would prefer to be on the water, fishing. The best bass anglers on the planet, like most Americans, have been sheltering at home to help slow the spread of COVID-19, but that hasn't stopped them from practicing their casting and nailing some impressive trick shots.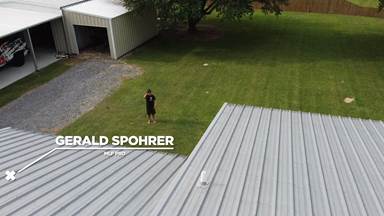 To watch the MLF Trick Shot Challenge, visit MajorLeagueFishing.com
Pros were recently tasked with showing off their expert casting skills to the world and submitting their best "Trick Shot" to the MLF media team. The best trick shots were compiled into a video that can currently be viewed at MajorLeagueFishing.com and the MLF social media outlets.
New Jersey's Mike Iaconelli kicks the fun off with some impressive target practice casts, then Wesley Strader tries to one-up him by knocking the cap off of a Coca-Cola bottle. Randy Howell has some fun around his house showing off multiple trick shots using his family, a skateboard, and a basketball hoop, while the Lane brothers – Chris and Bobby – and Brent Chapman also get assists from their children as they show their skills.
South Carolina's Britt Myers demonstrates some impressive accuracy, cracking an egg hanging from a bridge, while reigning Bass Pro Tour RedCrest Champion Edwin Evers flips a moving target attached to his truck. Gerald Spohrer shows off his precision, casting into a tiny drain at the top of his shed, while California angler Jared Lintner demonstrates a unique way to drink an ice-cold can of your favorite beverage. Fred "Boom Boom" Roumbanis also gets in on the fun, displaying picture-perfect MLF fish-landing form, hooking up with an enormous kicker "bass".
Despite no tournament competition at this time, it's good to see the MLF pros keeping their precision casting skills sharp.
For regular updates, photos, tournament news and more, follow MLF's social media outlets at Facebook, Twitter, Instagram, and YouTube.
About Major League Fishing
Founded in 2011, Major League Fishing (MLF) brings the high-intensity sport of competitive bass fishing into America's living rooms on Outdoor Channel, Discovery, CBS, CBS Sports Network, World Fishing Network, Sportsman Channel, and on-demand on MyOutdoorTV (MOTV). The Bass Pro Tour consists of eight events and a championship streamed live on http://www.MajorLeagueFishing.com and MOTV.
In late 2019 MLF acquired FLW, which expands their portfolio to include the world's largest grassroots fishing organization, including the strongest five-fish format professional bass fishing tour, the Tackle Warehouse Pro Circuit, as well as the Toyota Series, Phoenix Bass Fishing League presented by T-H Marine, and Abu Garcia College Fishing presented by YETI, and High School Fishing presented by Favorite Fishing.