Unique Capabilities of MEGA Live TargetLock
Category: article
Jul 19th, 2022 by Keith Worrall
Modified Jul 19th, 2022 at 10:18 AM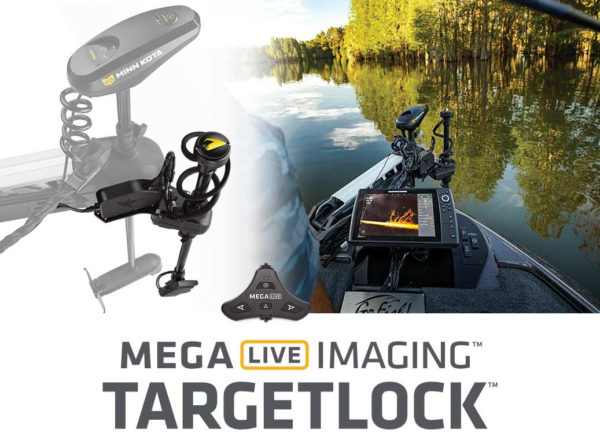 With the MEGA Live Imaging TargetLock accessory, the MEGA Live transducer beam can be steered independently of the trolling motor, can lock onto structure at the push of a button, automatically sweep to see what's in front of you, and much more.
Learn more about the unique features of MEGA Live TargetLock in the videos below.
TARGETLOCK
Lock your MEGA Live view onto fish-holding structure, whether your boat is moving or anchored using Minn Kota Spot-Lock.
TargetLock Features Minn Kota Steer
Minn Kota Steer
Control both your trolling motor and the MEGA Live transducer at the same time using the foot pedal of your i-Pilot Link® Ultrex™.
TargetLock Features MEGA Live Sweep
MEGA Live Sweep
Get an automatic, constantly updated, 120° view of structure and fish—no matter where your trolling motor is pointed.
TargetLock Features Independent Control
Independent Control
The TargetLock transducer can move independently of the trolling motor, meaning anglers can now easily view real-time sonar returns while steering in wind, waves and current.
TargetLock Features Live and MEGA 360
MEGA Live TargetLock + MEGA 360
Find your angle of attack using MEGA 360 Imaging, then lock it in with MEGA Live Imaging TargetLock. Both technologies can be run simultaneously with full functionality using the optional dual mount bracket on your Minn Kota Ultrex Trolling motor.
TargetLock Features One Boat Network
One-Boat Network Button
This programmable softkey lets you activate MEGA Live Sweep Mode, activate Minn Kota Steer, or set a waypoint on your Humminbird chart—with even more capabilities on the way.
TargetLock Features Foot Pedal Overview
TargetLock Foot Pedal Overview & How to Pair
Learn more about the MEGA Live Imaging TargetLock Foot Pedal, its features, and how to pair it with a SOLIX/APEX and HELIX fish finder.
See How the pros are using MEGA Live TargetLock
Carl Jocumsen – TargetLock
CARL JOCUMSEN FIRST IMPRESSIONS OF TARGETLOCK
Carl Jocumsen hits the water for the first time with MEGA Live Imaging TargetLock and breaks down some of the scenarios where he can see this new live sonar platform helping anglers.
Kevin VanDam Gives overview of TargetLock
KEVIN VANDAM GIVES AN OVERVIEW OF TARGETLOCK AND GOES LEDGE FISHING
Kevin VanDam gives an overview of the MEGA Live TargetLock and shares his first impressions. He then hits the ledges of Lake Chickamauga to show how TargetLock gives anglers back their boat control (Spot-Lock) and utilizes its unique features to catch bass.
TargetLock 360 Boat Control
TARGETLOCK OFF THE BACK OF THE BOAT – BOAT CONTROL TIP
Carl Jocumsen shows how he is able to use MEGA Live TargetLock to lock onto an object that is behind the boat due to wind direction and boat control. No matter the wind or current direction, TargetLock allows you to position your live sonar anywhere around the boat to lock on to your target.