Lowen Stays Shallow, Takes Lead At Bassmaster Elite Series Event On Lake Eufaula
Category: article
Jun 11th, 2020 by Keith Worrall
Modified Jun 11th, 2020 at 6:22 PM
Lowen Stays Shallow, Takes Lead At Bassmaster Elite Series Event On Lake Eufaula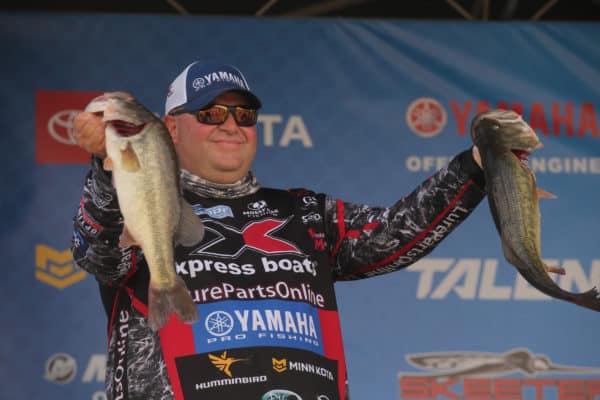 EUFAULA, Ala. — Conventional wisdom says a tournament held on Lake Eufaula during 90-degree weather in June should be won offshore on the ledges.
But Bill Lowen isn't buying it. He never buys that anywhere B.A.S.S. takes him.
The Indiana pro who cut his teeth fishing the shallow waters of the Ohio River stayed near the shoreline during Wednesday's opening round of the DEWALT Bassmaster Elite at Lake Eufaula and grabbed the lead with five bass that weighed 23 pounds, 4 ounces.
The tournament, which marked a return to competition for the Elite Series after a three-month break due to COVID-19, was carried live on ESPN2 — and for Lowen, it couldn't have set up any better.
"Today was just one of those awesome days when every decision I made worked out perfectly," Lowen said. "I fished clean, didn't lose any fish — and yes, it's no secret I'm fishing shallow.
"I always like to fish in my comfort zone, and if I get out there in the middle of the lake, I'm not in my comfort zone. So, I'm gonna stay shallow the rest of the week."
Despite Lake Eufaula's glowing history as a big-bass factory, this is the first time the Elite Series has visited the 45,000-acre Chattahoochee River fishery that runs between the Alabama and Georgia borders. This is also the first time Lowen has fished a tournament on the lake.
Because of that, he said his electronics — especially his Humminbird LakeMaster cards — played a key role in helping him find specific pieces of shallow cover. Lowen is also one of four anglers on the Elite Series who runs an Xpress aluminum boat, which he says gives him better access to the 2- to 4-foot water he keyed on all day.
Since shallow fish sometimes don't replenish like the ones that have plenty of space to roam in deep water, Lowen only made one good pass through the area that produced most of his bass. He said he intends to be right back there Thursday.
"I didn't want to burn 'em because I don't know how many are there," he said. "I don't feel by any means that I burned the fish that were there. I just hope I can keep running that same pattern up and down the lake."
Lowen said there are plenty of things that keep fish shallow this time of year, including the bluegill spawn — which is underway on Eufaula — and quick access to a creek channel. He also said he believes some bass call those shallow areas home year-round.
"I'm a firm believer that there's always resident fish, or I call them 'shallow fish,' that don't even know there's a main lake out there," he said. "I try to find those fish everywhere we go, and I was able to stumble across some here today."
Lowen's catch was one of 15 bags that topped the 20-pound mark on a sweltering Day 1. His closest competition came from Kyle Monti, a third-year Elite Series pro from Florida who brought in 22-15.
Knowing Eufaula's reputation as a ledge fishery, Monti intended to spend most of his time offshore. But a series of early events ended up sending him to the shallows as well.
"I had three schools of fish marked," Monti said. "But there were three boats that drew out in front of me, and every one of them went right to those schools. So, I went to another offshore spot and caught a keeper and lost one. Then everything just shut down for me.
"I picked up and went shallow at about 9:30 or 10. I caught one big one and then another, and that gave me confidence to stick with it the rest of the day."
One angler who found success in slightly deeper water was Chris Zaldain. The California native, who now lives in Texas, got off to a fast start with a limit that included two 5-pounders and wound up in third place with 22-2.
"The research I did said you need 20 to 30 pounds to hang here, depending on the time of year," Zaldain said. "So, for three whole days of practice, I spent eight or nine hours just idling around looking for offshore structure."
Zaldain said even though he's fishing offshore (15 to 20 feet deep), it's not a typical ledge bite.
"It's not like the heavy current and 90-degree drops you see on the Tennessee River," he said. "You're basically just looking for offshore structure, whether it be a rockpile, a brushpile, a shellbed or whatever.
"I got off to a great start and spent the rest of the day looking — to the point that I know tomorrow what to do in the middle of the day and what not to do."
Kentucky pro Mike Huff took the lead in the race for Phoenix Boats Big Bass of the week with a 6-12 largemouth.
Competition resumes Thursday with takeoff at 5:25 a.m. CST from Lakepoint State Park and the weigh-in back at the park at 2 p.m. After Thursday's weigh-in, only the Top 40 anglers will advance to Friday's semifinals.
Live coverage of the event will be available from 7-10 a.m. and 11 a.m.-2 p.m. on Bassmaster Live at Bassmaster.com with simulcasts on ESPN2 and ESPN3. Check local listings for ESPN2 times.
2020 DEWALT Bassmaster Elite At Lake Eufaula Title Sponsor: DEWALT
2020 Bassmaster Elite Series Platinum Sponsor: Toyota
2020 Bassmaster Elite Series Premier Sponsors: Abu Garcia, Berkley, Humminbird, Mercury, Minn Kota, Nitro Boats, Power-Pole, Ranger Boats, Skeeter Boats, Talon, Yamaha
2020 Bassmaster Elite Series Supporting Sponsors: Bass Pro Shops, Carhartt, Garmin, HUK Performance Fishing, Mossy Oak Fishing, Rapala
2020 Bassmaster Elite Series Conservation Partners: Huk, AFTCO
2020 DEWALT Bassmaster Elite At Lake Eufaula Local Host: Eufaula Barbour Chamber of Commerce
About B.A.S.S.
B.A.S.S. is the worldwide authority on bass fishing and keeper of the culture of the sport, providing cutting edge content on bass fishing whenever, wherever and however bass fishing fans want to use it. Headquartered in Birmingham, Ala., the 515,000-member organization's fully integrated media platforms include the industry's leading magazines (Bassmaster and B.A.S.S. Times), website (Bassmaster.com), television show (The Bassmasters on ESPN2 and The Pursuit Channel), radio show (Bassmaster Radio), social media programs and events. For more than 50 years, B.A.S.S. has been dedicated to access, conservation and youth fishing.
The Bassmaster Tournament Trail includes the most prestigious events at each level of competition, including the Bassmaster Elite Series, Basspro.com Bassmaster Opens Series, TNT Fireworks B.A.S.S. Nation Series, Carhartt Bassmaster College Series presented by Bass Pro Shops, Mossy Oak Fishing Bassmaster High School Series presented by Academy Sports + Outdoors, Bassmaster Team Championship, new Huk Bassmaster B.A.S.S. Nation Kayak Series powered by TourneyX presented by Abu Garcia and the ultimate celebration of competitive fishing, the Academy Sports + Outdoors Bassmaster Classic.