PressureMate Introduces the World's First On-Board 12 Volt Pressure Washer
Category: article
Jun 15th, 2021 by Keith Worrall
Modified Jun 15th, 2021 at 3:05 PM
PressureMate Introduces the World's First On-Board 12 Volt Pressure Washer
Powerful and Compact PressureMate Reduces Cleaning Time While On The Water

Sarasota, Fla. – PressureMate announces today the world's first on-board 12 volt pressure washer designed specifically for cleaning boats, PressureMate. Designed to provide powerful 600 psi water pressure with efficient coverage and maximum durability, PressureMate is quiet and reliable and able to blast through blood, guts and grime, without damaging gel coat or upholstery.
PressureMate uses a boat's freshwater tank and is driven by a newly-designed, compact 12 volt pump. Its pumps use a patent pending plunger design that is the most efficient way possible to pressurize water. The spray gun hose quickly connects through a stainless steel fitting either directly into the pump or can be upgraded to connect into a supplied bulkhead fitting in a remote location.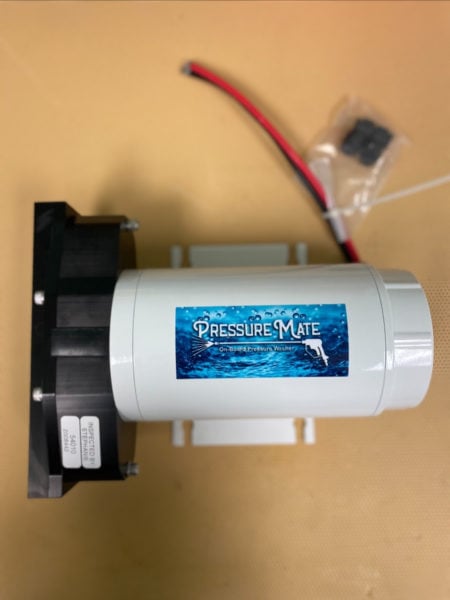 "Whether you're an angler, racer or long-distance cruiser, a successful day on the water typically ends with hours of clean up at the dock," said Mark Maus, principal, PressureMate. "With PressureMate you can save time by cleaning underway. It is easy to use and install and is a worthwhile investment that will keep your boat sparkling clean and ship shape."
PressureMate pumps are factory lubricated for life-long performance. Installation is easy with either floor or wall-mount options and the only tool required for complete disassembly of the unit for easy maintenance and cleaning is a 3/16-inch hex wrench. PressureMate is built with premium materials and all metallic wetted parts are stainless steel for maximum durability and performance. An aircraft-grade anodized aluminum pump with Teflon hard-coat body is nearly indestructible compared to pumps made of castings. The pump measures 11-inches by 11-inches by 5-inches and weighs only 24 pounds.
For more information on PressureMate, please visit www.thepressuremate.com.
About PressureMate:
Cleaning Has Never Been Easier! PressureMate was developed to address with the issues that result from fouled decks and the time required to clean after returning from a day on the water. Manufactured to rigorous standards, the patent pending technology is designed to work efficiently with minimal maintenance, within the space, water and electrical confines of most boats from center consoles to long-distance cruisers. and built to last through constant, rigorous use. www.thepressuremate.com