The Ultimate Holiday Gift Guide for Hunters
Category: new products
Dec 5th, 2022 by sworrall
Modified Dec 5th, 2022 at 10:20 AM
The Ultimate Holiday Gift Guide for Hunters
The holidays are fast approaching! Are you struggling to find that perfect item for the hunter or adventurer in your life? If so, this curated list of essential items is sure to please that special person that seems to already have it all. This isn't run-of-the-mill hunting gear, but rather, top-notch pieces of kit that discriminating hunters strive to own. Read on for some great gift-giving options!
Weatherby Mark V Backcountry 2.0 Ti 
The Backcountry 2.0 Ti is one of the coolest rifles going. It is offered in both Weatherby's Mark V 9 and 6 lug actions and a bevy of Weatherby's amazing cartridges. In the 6-lug action version, it weighs in at only 4.9 pounds making it arguably the lightest weight hunting rifle on the market today. When you step up to the larger cartridges and the 9-lug action, it still weighs in at a scant 5.6 pounds. What a pleasure to carry on long forays into the woods! It is available in a bunch of Weatherby's proprietary cartridges but is also offered in their two newest cartridges, the 6.5 & 338 RPMs. These cartridges were designed to fit specifically in their smaller 6-lug action, but still be robust as any of Weatherby's cartridges are. This fantastic lightweight rifle features a Titanium action, Peak 44 Carbon Fiber stock, Trigger Tech Trigger, spiral fluted bolt, skeletonized bolt handle, and guaranteed sub-moa accuracy. What else would you expect from this iconic company?
Smith's Edgesport Folding Knife & Gut Hook
Smith's Folding Gut Hook – Knife Combo features high quality, replaceable stainless steel razor cutting blade, and a blunt tip to avoid puncturing the gut. A razor-sharp 3″ skinning blade is made of precision heat treated 400 series stainless steel. This product is lightweight, and compact, and is perfect for the avid hunter looking for high-quality, high-value accessories. Equipped with rugged G10 handles with sturdy push button lock that secures the blade open during use. Included is a rugged hard sheath with a reversible belt clip.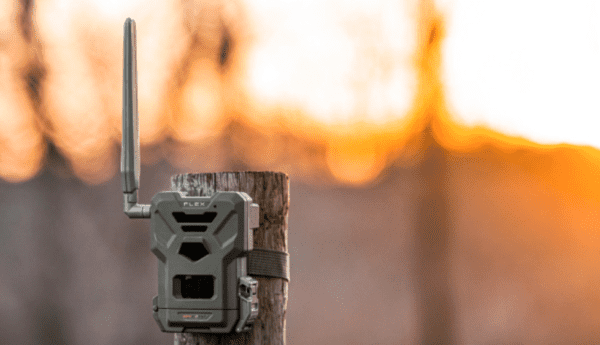 Spypoint Flex Cellular Trail Camera 
This is a very neat gadget! Once you set up your trail camera, no more trips to your property to pull SD cards. You now get pictures right from the cellular app. This Spypoint Flex Cellular Trail Camera shoots amazing high-quality pictures of 33mp or has the option of 1080p video. It has a 0.3-second response trigger sensor and a 100-foot flash range. This camera also features dual sim cards which allows more variability to where the camera is set because it automatically selects the carrier with the best signal to get your pictures sent. This camera also gives you weather updates through the app, so you know what is happening on the ground before you go. A simple yet powerful solution for all your trail cam needs.
Longshot LR-3 2-Mile UHD Target Camera 
Tired of using a spotting scope? Enter the Longshot LR-3! This amazing piece of kit allows you to watch targets from as far away as 2 miles and wirelessly sends you the feed right to your tablet or smartphone through the Longshot App. It can be used in a myriad of ways. You can use it to watch steel at a mile, or you can set it up at 100 yards to give you a target feed as sight in your rifles. It can even measure your group sizes and help calculate your correction to get your zero fast! No cellular service is required as the entire system runs off Bluetooth directly to your device.
Smith's Edgesport Field Dressing Kit & Jiffy Pro Sharpener 
Smith's EdgeSport Field Dressing Kit includes one 6″ skinning knife, one 6″ boning / curved fillet knife, and one 8″ boning / curved fillet knife designed with a non-slip TPE soft grip ergonomic handle and a breathable protective sheath. Features razor-sharp, corrosion-resistant coated 400 series stainless steel blades. Smith's Jiffy-Pro sharpener with game shear sharpener keeps all the edges fine-tuned and ready to use. A must-have kit for the special big game hunter in your life!
King's Camo XKG Transition Flex Jacket 
The King's Camo XKG Transition Flex Jacket is a mid-layer piece designed to be part of an overall layering system. It's an extremely versatile jacket and can be used as an outer layer on cool mornings or can be used as a mid-layer on those frigid late-season hunts. It features 130 GSM Thermolite insulation in the body, and 100 GSM in the sleeves. It is an extremely lightweight piece and is very packable. It has a stretch nylon outer fabric with a form-fitting elastic band hood. It features a DWR water-resistant coating along with an elastic drawstring waist. It has two chest pockets and two side hand-warming pockets and weighs a scant 21.8 ounces. It also comes with Polygiene order control, which keeps odor-causing bacteria from forming in your garment. Check out the rest of the King's XKG line for a true technical performance-based hunting system!
Smith's Rescue 2-Blade Knife 
Smith's Rescue Multi-Blade Knife features primary quick access curved blunt tip blade with over half of the blade with serrations. The primary blade will be secured with a liner lock design for cutting seat belt webbing or cord removal. The secondary 5-in-1 multi-function blade features a hook-shaped webbing or cord cutter, a hex wrench, a hand saw, a bottle opener, and the blunt tip serves as a flat-head screwdriver. The handles are made from rugged G10 material for wet or dry conditions and are equipped with tether-ready lanyard holes. The point-up pocket clip keeps the Rescue knife secure in your pocket, tool belt, or emergency pack. The built-in glass breaking tip is constructed from precision ground carbide optimally-place for striking impacts.
Bullion Box Subscription
While this isn't technically a hunting or outdoor item, it's a great gift idea and applies to anyone, especially those guys who seem to already have everything! This cool Bullion Box Subscription has precious metal coins or bars sent to your home every month. You just select the plan, and each month Bullion Box will send you a package with either specially curated coins or bullion bars. They include a card with each delivery that provides the details, history, novelty, and vintage of each item you receive. You can choose between copper, gold, silver, or platinum. They even have a subscription for collector's coins. In today's uncertain economy, having some precious metals available is always a great idea, and a perfect gift for that man who already seems to have it all.
Everest Caliber Membership
Here's another item for those gentlemen who already seem to have it all. Get them a Caliber Membership with Everest! Everest is the Amazon of the outdoor world. They have a robust shopping platform, and as a Caliber member, you always get free Express shipping and some crazy deals to boot. They offer daily deals through the "My Deals Mobile App," and if that's all not enough, you also get gas, hotel, rental car, and airline discounts through the Caliber membership program. Finally, one of the niftiest perks of Caliber is access to an unbelievable array of outdoor programs in their video library. There are thousands of hours of video content in their library so when that adventurer in your life can't get time away to go hunting or fishing, they can watch their favorite programs about these wonderful outdoor activities.
While hunting season may be over or quickly coming to an end, it's never too early to start planning for next year. Sometimes the preparation and planning are some of the most rewarding aspects of our outdoor activities. The list above helps make those dreams come true!