New From Daiwa- Enhanced D-VEC Tactical Backpack
Category: article
Jul 16th, 2021 by Keith Worrall
Modified Jul 16th, 2021 at 10:06 AM

By Land and Sea
Daiwa's enhanced D-VEC Tactical Backpack suits both boater anglers and shore casters.
Cypress, CA (July 16, 2021) – Tackle management solutions have been evolving for years. Grandpa's old metal box and your Dad's plastic tray tackle box are now collector's items. Even the original framed fabric tackle boxes with basic utility boxes have been trumped. The current rage, and arguably the best multifaceted solution is the tackle backpack. And Daiwa's D-VEC Tactical Backpack is at the head of the class.
Improved for 2021-22, the Tactical Backpack is the most versatile tackle management system on the market. Bank-bound anglers can easily go from truck or car to water's edge, comfortably toting a robust assortment of lures and terminal tackle for a wealth of species. Likewise, Daiwa's Tactical Backpack lets you effortlessly carry the kitchen sink stepping off the dock into your buddy's boat.
Cleverly conceived construction and features abound, too. Structurally, the Tactical Backpack is supported by a ridged non-collapsible frame with a riveted PVC superstructure. The durable framework is cloaked with a robust, double stitched PRIM1 tactical fabric, which also serves up a cool visual factor. Internally, the Tactical Backpack features a 3-utility box stack system, complete with an included trio of Daiwa branded 360 boxes. Throughout, closures are fortified with #10 Delran corrosion resistant zippers.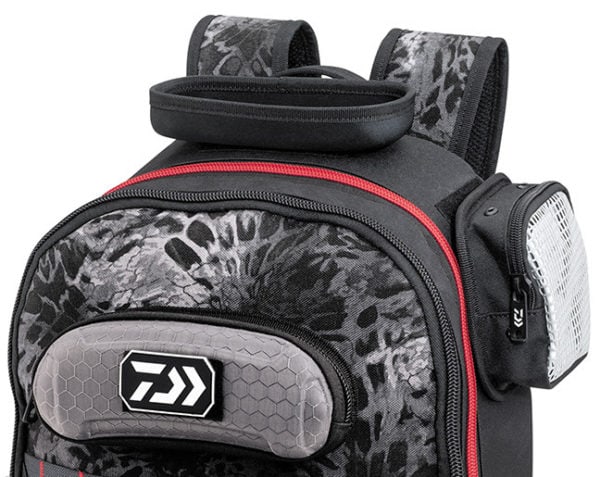 No lack of intuitive features on the exterior, either. On the frontside, you'll find a shaped and protective sunglasses case, in addition to a topside booger box that serves as a convenient tray for holding immediate items, like your next couple of lure selections. You'll appreciate the handy plier holder, too, as well as a secure elastic strip for managing other tools like forceps and hook removers. Two amply sized zippered pouches adorn the sides, while the front features an even larger zippered pocket. The front upper side tenders a zippered cell phone holder as well. But perhaps the most ingenious additive is the leader wheel, which handles two spools of line for instantaneous access.
Daiwa's updated Tactical Backpack measure 15" x 9" x "13 and retails for $159.99
Say goodbye to that double armload of miscellaneous tackle boxes. Daiwa's Tactical Backpack simplifies tackle management by consolidating everything into one brilliant pack.
SEE DAIWA'S NEW TATICAL BACKPACK IN ICAST'S NEW PRODUCT SHOWCASE
For Daiwa's latest color catalog and/or information on Daiwa dealers in your area, call Daiwa's Customer Service Department at 562-375-6800 or e-mail inquiries to: [email protected] The URL for Daiwa's web site is daiwa.us