Immortalize the Hunt with the .338 Cartridge Space Pen
Category: article
Aug 17th, 2022 by Keith Worrall
Modified Aug 17th, 2022 at 8:43 PM
Boulder City, NV (August 16, 2022) – Early fall has a special appeal to hunters as they've been reevaluating their gear over the summer to be ready for that opening day of hunting season. Whether handheld bow and arrow, muzzleloaders, handguns, rifles, crossbows, or falconry, it's always about having the right gear. Lists need to be made, and tags need to be filled out. Do it right from the start.
What seems like a typical box of cartridges is the packaging for the Fisher® .338 Cartridge Space Pen. The cap on this model is an actual .338 H mag shell like the type used with a .338 Lapua Magnum that serves as the housing, which holds a raw, brass bullet Space Pen. The 85% Copper and 15% Zinc raw brass composition makes this pen a copper alloy with antimicrobial properties, which the EPA registered in 2008. Each pen will have its original patina after use, making it more personalized, and each is packaged in a moonscape gift box.
Cartridge Space Pens are the perfect size to carry in your wallet, pocket, purse, car glove box, or organizer when in a closed position. At just over 4 inches in overall length, the cap slides on and off and contains Fisher's patented PRF ink cartridge, allowing the writer to use the pen at any angle. It becomes a full-sized writing instrument once fully deployed; great for filling out a tag, even if a bit of dirt, mud, or blood soiled it. Like all Fisher Space Pens, this one also writes in freezing early morning temperatures, which many hunts start on, and is more reliable than regular pens out in the elements.
Open this hunting season with confidence, knowing you are prepared. Take a spare, or better yet, give one to a young up-and-comer. The .338 Cartridge Pen is the perfect gift for the outdoors and hunter enthusiasts!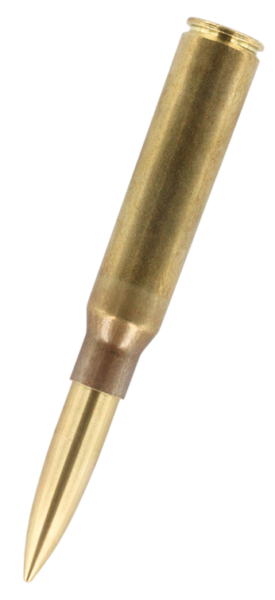 Fisher .338 Cartridge Pen Features:
Cap slides on & off
Raw brass material
Fisher PR4 black ink medium point cartridge
Moonscape gift box packaging
Made in the USA with US and global materials
Fisher .338 Cartridge Pen Specs:
Length: Open – 4.32 inches Closed – 4.19 inches
Weight: 1.6 oz.
MSRP: $45.00