Barnett's HyperTac™ 420 Proves Good Things Really Do Come in Small Packages (and in this case, price-tags)
Category: article
Jun 1st, 2022 by Keith Worrall
Modified Jun 1st, 2022 at 11:07 AM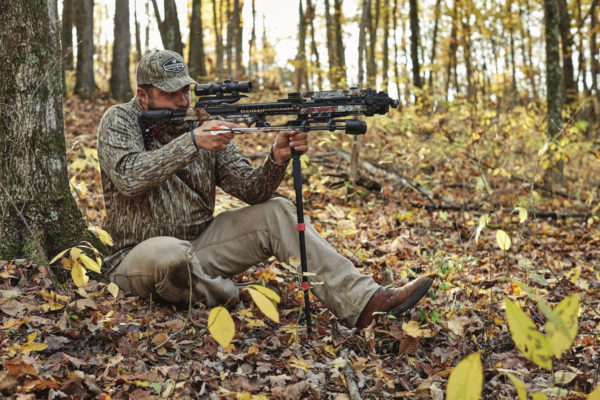 Tarpon Springs, FL (June 1, 2021) – The new Barnett® HyperTac™ 420 packs premium features, performance-driven innovation and industry-leading technology into a small, hunter-friendly package. With a precision-engineered, tactical-style design and ultra-compact riser, the HyperTac™ 420 is a compact and highly maneuverable powerhouse.
Barnett's commitment to innovation, performance and safety is displayed in this lightweight contender. The Barnett HyperTac 420 offers hunters superior quality, dependability, and value!
Weighing in at 7.9 lbs., the HyperTac 420 features an extremely narrow riser, reducing the axle-to-axle length to just a hair over nine inches when cocked. It's the perfect companion for whitetail hunting applications where stealth is required. This hard-hitting crossbow is easily portable and unbelievably maneuverable in tight quarters, from treestands to ground blinds. Its parallel limb configuration also puts less weight on the front of the crossbow, making for a more stable shooting platform with reduced recoil and vibration.
With its compact and energy-efficient design, the HyperTac 420 slings small-diameter HyperFlite™ arrows downrange with incredible speed – up to 420 feet per second and delivers bone-crushing 149 ft. lbs. of kinetic energy!
Like all crossbows in the Hyper™ series, the HyperTac 420 is paired with Barnett's exclusive and patent-pending 22-inch, .204-diameter HyperFlite arrows. The arrow's 21% increased FOC (front of center) and 61% greater ballistic coefficient reduces wind drift, making for a deadly combination of blistering speed, down-range accuracy, and deeper penetration. HyperFlite arrows provide more than 25% deeper penetration on impact than the competition and are built with a straightness tolerance of +/- .001 inch. The new capture nock increases string-to-nock engagement by 30% resulting in better accuracy while reducing string wear and eliminating dry fires. Arrows are held secure with Barnett's Soft Lok™ Floating Bristle Arrow Retainer System, and CNC machined aluminum flight track provides consistency shot after shot.
The HyperTac 420 also features a metal-injected molded trigger and TriggerTech™ Frictionless Release Technology (a $200 value). The TriggerTech trigger provides a reliable, crisp, 3-pound pull for consistent shots and improved accuracy. This is another example of how Barnett leads the industry in innovation and value. An Anti-Dry Fire (ADF) system and a nock sensor are added to ensure the crossbow is loaded correctly.
A customized fit and innovative features complete the HyperTac 420 shooting experience. Hunter-friendly ergonomics are enhanced by multiple features like the flip-down Verti-Grip™ multi-position, pistol-grip, and finger safety reminders above the pass-through foregrip. A tactical-style adjustable buttstock and a padded cheek-rest ensure a perfect length-of-pull and proper scope-to-eye alignment. Pre-installed string suppressors provide reduced recoil, vibration and noise during the shot.
The crossbow comes outfitted with a premium 1.5-5x32mm red/green illuminated, speed-compensating scope. The scope offers precise target acquisition in a full range of ambient light conditions from twilight to high noon. The scope is adjustable so that the crosshairs on the scope can be calibrated to exact yardages based on arrow speed.
The complete package includes a premium, side-mount quiver, three 22-inch HyperFlite arrows with field points, 1.5-5x32mm illuminated, speed-compensating scope, rope cocking device and lube wax. Best of all, the HyperTac 420 is ready-to-hunt straight out of the box, only needing a single nose bolt to fully assemble. It is also available with a pre-installed crank cocking device.
The new HyperTac 420 provides the smoothest, fastest, easiest shooting experience around.
HyperTac™ 420 Features:
HyperFlite™ .204 small-diameter Arrow Technology
TriggerTech™ Frictionless Release Technology – a $200 value
Anti-Dry Fire (ADF) Trigger System and Nock Sensor
Metal Injection Molded (MIM) Trigger
Soft Lok™ Floating Bristle Arrow Retainer
Pre-installed string suppressors
CNC machined aluminum flight track
Three Picatinny rails
Multi-position, adjustable length-of-pull buttstock with padded cheek comb
Pass-through forend with finger-safety reminders
Flip-down, multi-position, Verti-Grip™
Single-bolt assembly
SureShot™ monopod compatibility
HyperTac™ 420 Specs:
Length (without stirrup): 33.75 in.
Width Axle-to-Axle (cocked): 9.125 in.
Weight: (overall): 7.9 lbs.
Speed (380 gr.): 420 fps
Powerstroke: 15.5 in.
Kinetic Energy: 149 ft. lbs.
Draw Weight: 200 lbs. (100 lbs. with included rope cocking sled)
Draw Weight with crank cocking device: 7 lbs.
Finish: Mossy Oak Elements Terra Gila®
HyperTac™ 420 Package:
1.5-5x32mm red/green illuminated, speed-compensating scope
3 HyperFlite™ .204 small-diameter arrows
Premium side-mount quiver
Available with pre-installed crank cocking device (CCD)*
Rope cocking device
Lubrication wax
MSRP: $799.99
$899.99
$999.99 w/ pre-installed CCD*