Barnett's Whitetail Hunter 400 XTR Brings Form and Function into an Easy to Use Setup
Category: article
Jun 8th, 2022 by Keith Worrall
Modified Jun 8th, 2022 at 10:30 AM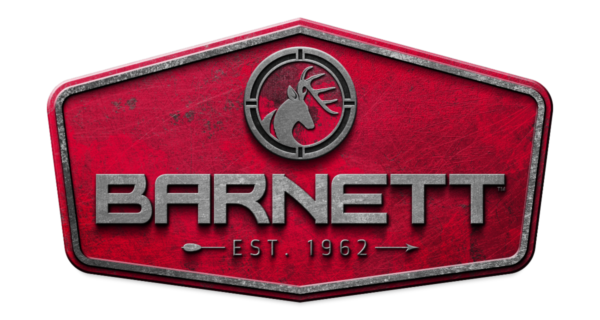 Tarpon Springs, FL (June 8, 2022) – When searching for a new crossbow, finding a lightweight, maneuverable, easy-to-use crossbow that's accurate and affordable has always been Barnett's focus. The latest addition to Barnett's Whitetail Hunter™ Series checks these boxes. The new Barnett® Whitetail Hunter 400 XTR boasts features that compliment any hunter at every experience level.
Weighing in at only 6.5lbs, this most recent design is not only narrower but offers faster ballistics compared to its predecessors. To pursue innovation, the 400 XTR from Barnett's Whitetail Hunter ™ series is 25FPS faster than the previous generation. Engineers also reduced the axel-to-axel length by a whopping 3-inches to 10-inches overall. This improves maneuverability and offers excellent handling without sacrificing power.
For seamless and consistent firing, a TriggerTech™ 3lb zero-creep frictionless release trigger is fitted. It engages with the anti-dry fire trigger system to prevent accidental discharge while unloaded. The trigger is manufactured from metal injection providing consistent manufacturing and feel.
Assembly and use are not only simple, but it's equally efficient. Composite Laminated Limbs are attached to the frame with a single-bolt assembly. This attachment system is proven throughout many of Barnett's lineups. While preparing for use, a patented Soft-Lok ™ floating bristle arrow retainer guarantees proper placement and retention of arrows. A lightweight side-mount quiver ensures follow-up shots are well within reach.
Cocking this system is simple with a rope cocking device. The 205 lb draw pull also can be cocked with a stock-mounted crank device. Integrated finger safety notches allow a user tactile feedback when nearing the end of the stock and provide a safe area to hold while ready to fire.
This out-of-the-box hunting crossbow comes standard with a 4x32mm multi-reticle optic. Barnett has integrated 3 Picatinny rails for attachments of additional accessories. Two 22-inch Headhunter arrows and lubrication wax are neatly packed in the ready-to-hunt package. With 135 ft-lbs of kinetic energy and 13.4-inch power stroke, even the movement is minimal, with an effective force capable of taking down even the largest buck.
Sporting Mossy Oak® Bottomland camo, the Whitetail Hunter 400 XTR measures at 33-inches x 16.25-inches and has a cocked axel-to-axel measurement of 10-inches. It's not hard to recognize why this bow will become the mainstay for many hunters of all sizes and skill levels.
With the growing evolution of Barnett crossbows, the Whitetail Hunter 400 XTR leads the way in performance, profile ergonomics, and capabilities for all hunting skills.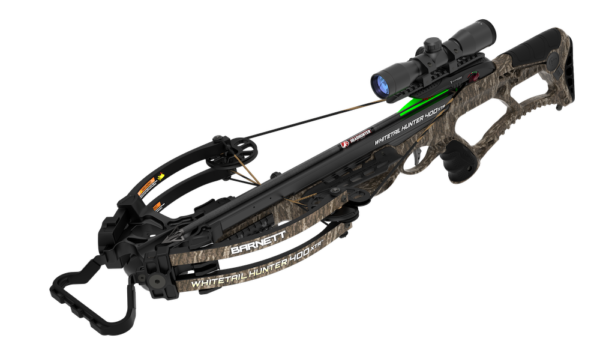 400 XTR Features:
TriggerTech™ 3lb Zero-Creep Frictionless Release Technology – $200 Value
Single-Bolt Assembly
Soft-Lok™ Floating Bristle Arrow Retainer
Anti-Dry Fire (ADF) Trigger System
Metal Injection Molded (MIM) Trigger
Custom Composite Laminated Limbs
Three Picatinny Rails
Crank Cocking Device Compatible
Finger Safety Reminders
Pass-Through Foregrip
400 XTR Specs:
400 FPS
205 lb Draw Weight
135 Ft Lbs Kinetic Energy
13.4-inch Power Stroke
6.5 lbs Overall Weight
10-inch Axle-to-axle (Cocked)
33-inches x 16.25 inches
Comes Mostly Assembled
Mossy Oak Bottomland Pattern
400 XTR Package:
4x32mm Multi-Reticle Scope
Two 22-inch Headhunter ™ Arrows
Lightweight Side-Mount Quiver
Rope Cocking Device
Lubrication Wax
Model: BAR7816B
UPC: 0 4260900249 8
MSRP: $599.99