Lake of the Woods MN Fishing Report
Category: fishing reports
Feb 11th, 2019 by Keith Worrall
Modified Feb 11th, 2019 at 10:28 AM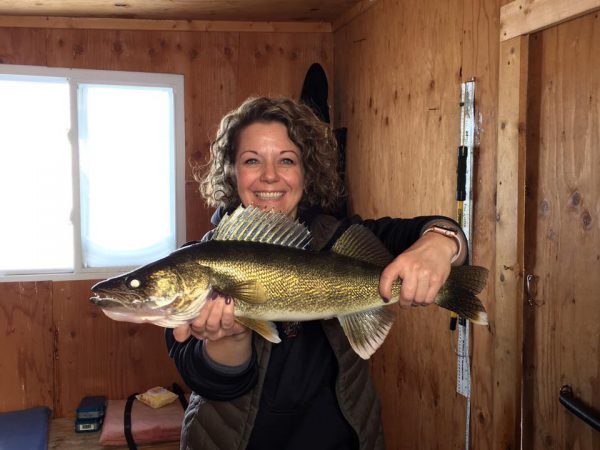 Lake of the Woods MN Fishing Report – 2/11/19
On the south end… Overall, really good ice fishing for mid February with a nice mix of walleyes and saugers. Most fishing 12-15 miles out, 30-32′ of water the norm. Other nice pods of fish found in closer to shore away from traffic. Some good reports during the day in 15-20′. Ice thickness pushing over 30″ in most areas being fished, bring your extensions for augers if not with resort. Some nice walleyes again suspended this week. Your favorite ice fishing electronics to mark fish is very helpful. Jig one line, try teasing fish up. Deadstick the second with a live minnow on a ice jig or plain hook under bobber. Fish houses on ice through March 31, walleyes open through April 14, pike never close.
On the Rainy River… Some reports of morning/evening walleye action on river and Four Mile Bay. Area around International Bridge in Baudette not safe due to construction of new bridge. Lots of current, thus thinner ice than normal for Feb. Snowmobile trail on river is open and marked from Baudette (downstream from bridge) to lake. Stay on trail for safety.
Up at the NW Angle… Great ice fishing with mixed bag of walleyes, saugers, perch, pike, tulibees and eelpout. Most fish coming from 24-30′. Pink/white, gold, glow strong colors. Big crappies coming in from Canada side. Snowmobile trails from south shore across lake to Angle are marked with fresh snow. The ice road from Young's Bay to Flag and Oak Island resorts is open. A complete list of lodging and ice fishing packages available at www.LakeoftheWoodsMN.com/Lodging.