Insider Report: Critical decisions loom as NWT regular season concludes on Green Bay
Category: article
Jun 24th, 2022 by Keith Worrall
Modified Jun 24th, 2022 at 10:37 AM
Deadline for the NWT Marinette event is 1 week from TODAY.. July 1st!
Scan the below QR code for boat launch, bait shops, water and other angler related info from the City of Marinette.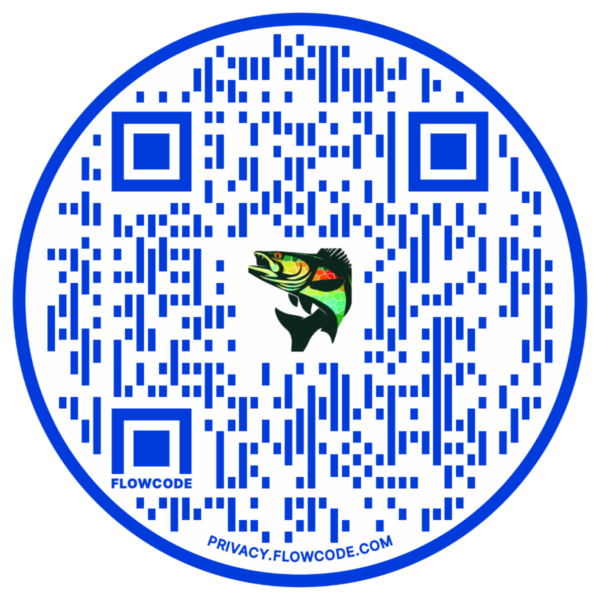 By Brett Carlson
MARINETTE, Wis. – The fourth and final regular season event of the 2022 National Walleye Tour, presented by Bass Pro Shops and Cabela's, takes place July 14-15 on Green Bay, arguably the nation's premier big-walleye destination. This season's tournament is launching out of Marinette, Wis., adjacent to the Menomonee River. To seasoned Green Bay fishermen, this area is roughly the midpoint between the upper and lower bay. While Green Bay's northern end is known for structure fishing, the south likely has more roaming fish located on mud flats. Determining which direction to run will be the first of many difficult decisions for the sport's best anglers.
After the Green Bay event, only the top 40 pros and top 40 co-anglers from the Angler of the Year standings will qualify for the no-entry-fee NWT Championship. While it's no secret that Green Bay's northern end holds bigger fish, they're difficult to reach and can be difficult to trigger into biting. Simply put, catching five fish up North is no easy task. With points at a premium, a safer approach might be to head south, catch a limit and secure a birth into the biggest event in walleye fishing.
"I'm excited to be leading Angler of the Year; it's always nice to be in the hunt," said Kevin McQuoid, who currently owns an 11-point advantage over Corey Heiser. "I've been to Green Bay quite a few times, so I feel good about heading that direction. Green Bay is a great place to fish, but it can also be a tricky place. It's going to be a tournament where you can't be afraid to make adjustments."
Last year, McQuoid's son, Eric, shocked the walleye world by winning the NWT Championship at just 21 years of age.
"I'm incredibly proud of Eric and what he accomplished, but once in a while, the old dog has to show he still has a few tricks up his sleeve," said the family patriarch.
The younger McQuoid won the 2021 NWT Championship by casting and reading his forward-facing sonar. Over the past 10 years, casting has become more and more common, especially on Green Bay. At the 2014 NWT event, legendary pro Keith Kavajecz introduced the walleye world to the Moonshine Lures Shiver Minnow. In subsequent events, similar glide baits have produced impressive results. Casting lipless crankbaits, such as the Rapala Rippin' Rap, has also increased in popularity.
"To be honest, I have fished up North quite a bit over the years," admitted McQuoid, the longtime Bass Pro Shops and Cabela's pro. "I've kind of made my bed up North. There's not nearly as many fish up North, and now they're seeing a lot more lures, but it's an exciting way to target big fish. When you catch one, you know it's going in the box. It's nerve wracking though. The idea of leading the points and then coming in with just two fish is scary. When you're going up North, you're fishing for just five to eight bites. My plan is to prefish for six days, and that will tell me which direction to go. I'm not going to cut out the mud either."
Blackfish pro Max Wilson, the winner of the 2018 NWT Championship, sits third in the points race (13 points behind McQuoid) and calls Green Bay home. With his intimate knowledge of the bay, he has no plans to play it safe.
"I'm going to swing for it," Wilson stated. "Every time I try and play the points game, I end up falling on my face. Angler of the Year is a prestigious title, but it's not something that's actively on my mind. I'm going to try and make that jigging bite go, but it's not setting up exactly how I want it to."
Wilson went on to explain that the walleye migration north is under way, but will not be complete by the time the tournament commences.
"These walleyes are transitioning to their summer haunts, but it's not an immediate thing. Right now, the alewives are dying, so there's plenty to eat. Eventually that should end, and the main forage will switch to gobies. If the alewives are still around, they don't really need to eat. There will be some fish up there, but not yet in big numbers. I'm predicting that the northern bite will be a bit more of a grind. But it's only going to get better as practice goes on."
McQuoid and Wilson both agree that the field will divide up relatively evenly. Even if half the field chooses to run north, they will divide again as some head east towards the islands while others stay on the west side and make the 60-mile trek towards Escanaba.
"Whatever you choose, it makes you commit to that area," continued McQuoid. "If you run south to the mud, that's still 30 miles. It's great because the field will have plenty of room to operate, but it's a lot of water to prefish. If we get the wrong winds, it changes things fast."
Many anglers will find success trolling, especially in blustery weather. At the 2017 NWT Championship, Dean Arnoldussen put down the casting rods and trolled crankbaits for his second major championship victory. McQuoid said that crankbaits can be used effectively in the mud and around the Chambers Island area.
"The No. 9 and No. 11 Berkley Flicker Minnows are great mud baits. We have also had some success up North with them out in the open basin."
When he structure fishes, Wilson keeps it simple with a hair jig, a Rippin' Rap, and glide baits like Jigging Raps and Shiver Minnows.
"There's a time and place for each, but the difficulty lies more with finding those fish on their migration route North."
With stable weather, Wilson believes 25 pounds per day will be needed to cash a check. To win, an angler will need approximately 34 to 37 pounds per day.
"There's still the potential to catch a 40- or 45-pound bag that Green Bay is famous for, but it's so hard to do that two days in a row," Wilson concluded. "The guys that go south can catch a bunch of 20- to 29-inch fish in the mud. You're not going to see much more than 30 pounds come from the mud though. You can get a big kicker fish, but it's tough to get five of those. I still think it will be won up North."
McQuoid recognizes he can't fish too conservatively. For one, the caliber of fishermen is incredible, but it's also a tight race.
"I'm not that far ahead. It's all stacked up pretty tight in the top 10. I can't take the foot off the gas here and try and coast. My goal for this tournament is to cash a check, and that's been my goal all year."
Anglers will take off each day at 7 a.m. Central time from Menekaunee Harbor, located on Ogden Street in Marinette. The daily weigh-ins will also take place at Menekaunee Harbor, beginning at 3 p.m. The full field fishes each day with the winner in each division being determined by the heaviest cumulative weight.
The National Walleye Tour consists of four regular-season events and a no-entry-fee championship. Each regular season event is a two-day, pro-am tournament and delivers over a 100 percent payback. Pros compete against other pros, and co-anglers compete against other co-anglers.
The deadline to sign up is Friday, July 1. Registration can be completed online by visiting www.nationalwalleyetour.com. For more information on rules and tournament payouts, visit www.nationalwalleyetour.com.