The Evolution of Downrigger Fishing: Optimum
Category: article
Mar 2nd, 2021 by Keith Worrall
Modified Mar 2nd, 2021 at 7:43 PM

Published by Fishing Tackle Retailer Magazine
Fishing Legend Buck Perry was once said, "Fish are deep or shallow or somewhere in between." While that pretty well covers it, but the practical reality of finding fish is wildly more complex than such a simple statement.
But it's important to know there's a whole lot of fish activity that takes place from 20 – 250 feet deep.
Some pelagics are comfortable spending their entire lifetime offshore, forcing anglers to get serious about their presentations at depth and the challenging conditions that often coincide.
Whether probing Great Lakes, open seas, or inland reservoirs, depth control is one of the most important elements for successfully catching fish and for decades anglers have utilized various systems of downriggers to do just that. But standard downriggers have not been without their shortcomings.
It's one thing to find the fish on your electronics, it's another to successfully deploy and re-deploy your baits at the exact depth, speed, and precise water temperatures and other nuances the fish prefer.
Until now captains knew what to do—and even took the measures to do it—but in a sense, they were flying blind on where the baits were and what they were doing.
If your speed is off it might mean that your spoon rolls instead of flutters and the baits don't look real. And, as far as depth, you've got to put those baits where the fish are, not above or below.
A foot can mean the difference between getting bites and coming up empty.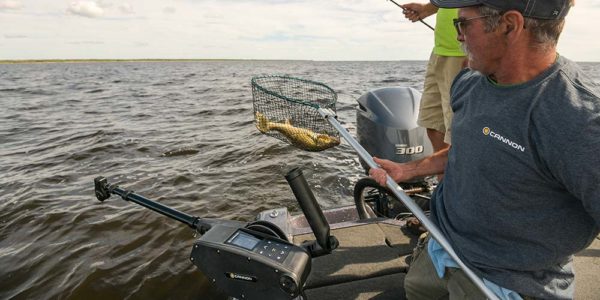 In short, you've got to put your baits where the fish are. And even though you're at the depth someone says is good, knowing the temperature at depth builds a much more complete understanding of the environment fish want to eat at.
Advancements in Controlled Depth Fishing
At Cannon Downriggers, we have been dedicated to helping anglers for over 40 years by manufacturing premium controlled depth fishing equipment.
Always committed to putting the right tools in the hands of anglers, the latest innovation can only be described as a resurgence of controlled depth fishing—but with a new level of precision that has never been experienced in the world of big water angling.

If you want to put bait on target, you've got to fish smarter. The Cannon Optimum™ downrigger is a smart, connected electric downrigger that gives you access to critical trolling data and lets you raise, lower and cycle weights using the full-color LCD display, your mobile device or compatible Humminbird fish finder.
No matter where you are on the boat, you're in charge.
Optimum downriggers feature a large 3.5" LCD display for easy viewing that allows you to choose from multiple screen view options to get the trolling data you're after, and two modes (light/dark) for readability in any light.
Wireless Connectivity

Units also feature full wireless connectivity so running multiple lines is easier than ever. You can network up to four Optimum downriggers wirelessly and have full mobile app control via Android, or Apple devices, and even a compatible Humminbird® fish finder.
With the Cannon Downriggers app on your mobile device, trolling data is at the captain's fingertips and total control of your Optimum downriggers from anywhere on your boat. It even allows you to keep your downrigger software up-to-date with new enhancements and functionality.
Humminbird Electronics Integration for Complete Control

Connect to your compatible Humminbird fish finder to view trolling data from your downriggers and control them directly from your Humminbird screen. A few things you can control or view from your Humminbird:
Quickly see where your weights are in relation to fish, bait or thermocline
Adjust depths of downrigger weights (up to four)
Enable advanced features (explained below)
View FishHawk™ Probe data (depth/temp/speed at downrigger weight)
How is all of this possible? Through the One Boat Network™, anglers can view critical trolling information and control downriggers from the Cannon mobile app (iOS and Android), a Humminbird fish finder, and directly on the Optimum.
FishHawk Probe Integration for Trolling Data

Optimum Downriggers were designed with full support of Fish Hawk™ electronics. Serious big water anglers and captains have asked for years, the Cannon Optimum now integrates with the FishHawk X4D System (sold separately) to get the true running depth and speed of your weight, the temperature at the weight, plus surface temperature and speed.
Advanced features on the Optimum
Preset Depths – This feature allows you to save five customized depths that you plan to target, which means you can just hit a button and drop your bait down to that depth.
Too busy to notice what depth you caught the last fish at? In addition to your five presets, it also saves your last known depth before retrieving the downrigger weight so you can get back there quickly.
Auto Up – Optimum downriggers also feature "Auto Up" so with one push of a button you can instantly retrieve all your weights at once or one at a time.
Bottom Tracking – set a distance from the bottom, and the Optimum will keep your bait at that precise distance automatically, even as your depth changes. Requires a Cannon Downrigger Transducer or a connection to a Humminbird fish finder (mentioned above as part of the One-Boat Network).
Depth Cycling – When fish are suspended in a wide depth range, you can program your downrigger to automatically cycle your tackle to cover more water and potentially cause a reaction bite. Just select your cycle depth, the range, and the speed, and your downrigger will do the rest.
Positive Ion Control (PIC) – Your boat's electronics create a fish-repelling negative energy field in the water. Positive Ion Control neutralizes the negative energy field so fish will stick closer to your line.
Sonar Viewing – Simply revolutionary. Did you ever think that you would be able to view sonar on your downrigger? With the sonar view on Optimum downriggers, and a connected Cannon transducer you can see your trolling data and sonar returns of bottom structure and fish, right from the Optimum downrigger LCD screen.
That's not all – see the other advancements of the Optimum.
Additional Features
Additional features include the speedy retrieval of – 250 feet-per-minute and five adjustable retrieve and deploy speeds. Its heavy-duty, stainless steel boom extends from 24" to 53" and includes two dual axis adjustable rod holders, composite spool with 400 feet of 150lb stainless steel cable, and a low-profile swivel base.
The Tournament Series (TS) model includes the same great features but includes one dual-axis rod holder, a stainless-steel spool, and a higher grade stainless-steel boom.
Cannon Optimum downriggers also feature a Line Terminator with two Line Releases, all waterproof connections, integrated ball storage hook, 20-pound weight capacity, all corrosion-resistant construction, and a limited lifetime warranty.
These are just some of the innovations that the downrigger market has witnessed over the past few years and Cannon continues to push the envelope in downrigger advancements.
learn more about cannon optimum downriggers