Land the Big Ones with Frabill's Trophy Haul™ Predator Net
Category: article
Apr 29th, 2020 by Keith Worrall
Modified Apr 29th, 2020 at 6:14 PM

Land the Big Ones with Frabill's Trophy Haul™ Predator Net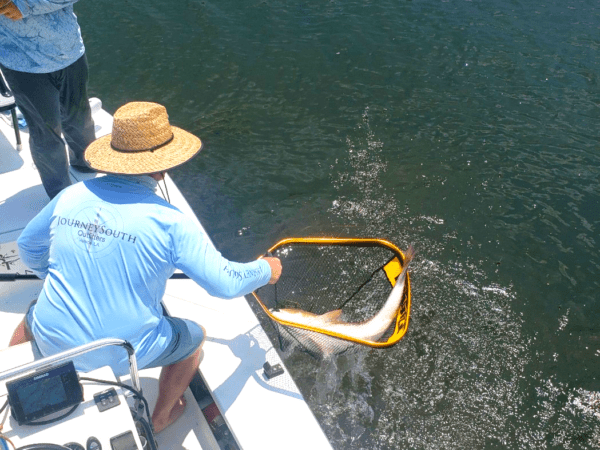 Grand Prairie, TX (April 28, 2020) Frabill's most technologically advanced series of nets is adding a beefy new addition. The reinforced behemoth features Frabill's largest hoop, all the advantages of the Trophy Haul Series Nets, and handles some of the biggest species the depths have to offer. New for 2020, the Trophy Haul Predator is the perfect net for landing a personal best.
The Predator is the beast of the Trophy Haul Series of nets, the biggest and the strongest. Designed to land some of the largest game fish chased by today's recreational anglers, the Predator build is heavy-duty, a reinforced 72″ sliding handle gives anglers the strength and leverage needed to hoist trophy fish up and out of the water. Featuring Frabill's largest hoop, the Predator can handle trophy class freshwater fish like Muskie and Striper and trophy class saltwater fish like Redfish and Snook.
Big creatures seem to always stir at night. The Predator's lighted yoke and reflective hoop make it the perfect fishing accessory for chasing big fish in the dark. Paired together, the light and reflective hoop fill the water with light giving anglers all the sight lines to land large fish after sundown.
All Trophy Haul Series nets come outfitted with Frabill's Lockdown asymmetrical flat-bottom net. The Trophy Haul net bags are constructed of fish-friendly conservation netting and are designed to support the weight of the fish's body resulting in as little stress to the fish as possible.
The rugged Securi-tab on the bottom of the net gives anglers improved control over the bag of the net. Secure the Securi-tab with an index finger as you make the approach to the fish for landing and the Securi-tab will aid in keeping the net free from obstruction.
Standard on all Trophy Haul Series nets is the yoke handle and over-molded rubber grips. After the fish is securely in the net, these two features finish off the landing with ease. The yoke handle, positioned where the net meets the pole handle, gives anglers added control and balance not found in standard fishing nets. The yoke handle also gives anglers the added leverage necessary to lift trophy class fish out of the water. The over-molded grip at the rear of the handle helps to keep the back of the net under control giving the angler plenty to hold onto.
If you're chasing big fish, make sure there's a Predator on board.
Product Features:
 Handled Yoke adds balance and removes stress
Lighted Module and reflective hoop improve visibility
Lockdown™ Asymmetrical, Flat-Bottomed Net
72″ Heavy Duty Sliding Handle
Fish-friendly Conservation Netting
Improved Net Control with Securi-tab™
Over-molded rubber grips
MSRP – $169.99