The Mercury Avator Electric Outboard Concept
Category: article
Feb 16th, 2022 by Keith Worrall
Modified Feb 16th, 2022 at 6:17 PM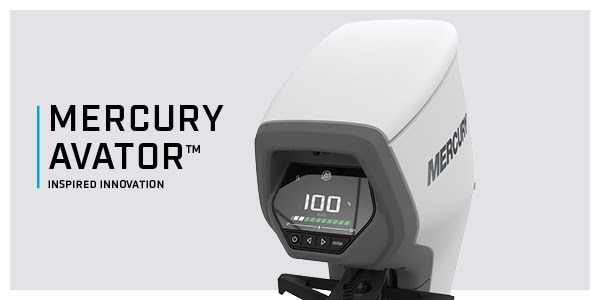 For more than 80 years, Mercury Marine® has set the standard for marine performance. Always innovating. Always looking forward. With one purpose: inspiring boaters to have the best experiences on the water.
Today, we're proud to continue our leadership by announcing our initial concept for the Mercury Avator™ electric outboard series. This concept represents our next step forward in marine innovation, as Mercury progresses toward the formal release of electric outboard products later in 2022 and 2023.
The Mercury Avator project explores boating at its essence. Quiet, intuitive, easy to operate with zero direct emissions and minimal maintenance. It represents our vision for electrified marine propulsion, which can help make boating more accessible while furthering Mercury's commitment to sustainability.
The Avator electric outboard concept from Mercury. A new way to Go Boldly.
Visit MercuryMarine.com/Avator to learn more about our vision for electrification.
LEARN MORE