World-Famous or Legendary  Muskie "Hotspots" – Part IX
Category: article
Apr 9th, 2021 by Keith Worrall
Modified Apr 9th, 2021 at 12:08 PM
World-Famous or Legendary  Muskie "Hotspots" – Part IX
by Larry Ramsell, Muskellunge Historian
Lake of the Woods, Ontario, Minnesota & Manitoba
Lake of the Woods is the most massive, comprehensive muskie lake on the planet. It encompasses 1.075 million acres, has 65,000 miles of shoreline, and contains over 14,000 islands! Most of this lakes muskie waters are in Ontario, with a relatively small amount in Minnesota in the SW corner and two even smaller pieces eek west into Manitoba. Throughout the 1920's and into the early 1940's, Lake of the Woods was the "Go To" destination for trophy muskies for the masses of muskie anglers in the middle part of North America. Even the Depression years didn't keep muskie anglers away and several World Records were set during that time.


That wonderful "maze" called Lake of the Woods!
Although literally millions of muskie anglers have plied the vast waters of Lake of the Woods over the past Century and untold millions of muskies have been caught there, and the


U.S. and Canadian Border cities of International Falls and Fort Francis. Access point to the eastern part of Lake of the Woods.
fact that many thousands of muskie anglers still ply its bounty every year, there are evidently NO "HOTSPOTS" that anyone cares to share! I reached out to a few "well-known" guides who have fished Lake of the Woods for several decades, but they refused to get involved with this series and no one has responded to my plea at the end of each Part…so, since I feel that this body of water is and has been so important to muskie history, I will alter the format and cover the known stories of the World Record muskies that have been caught there.


Eastern Gateway to Lake of the Woods.
1929 G. M. Curtis Lake of the Woods, Ontario 53#-12oz.
August, 1929. It was late August of 1929 when Bill Miles, Jr. and Gordon M. Curtis put their heads together and decided to head for Sabaskong Bay on Lake of the Woods, Ontario, to angle for the trophy muskies that the area was famous for and where Mr. Curtis caught his 53-pound 12-ounce world record. The Curtis story follows:
BATTLING A RECORD-BREAKER
By Gordon M. Curtis
"It has been our custom each summer to spend all the time
possible in fishing throughout the northern states. Mrs. Curtis is about as enthusiastic over the sport as I am, and our boys – Gordon Jr., and Edward – seven and six years respectively, have also been bitten by the "fishing bug." On many winter evenings they plan with great detail how to outdo one another during the summer to come.
"Last summer, Bill Miles, Jr., my old fishing partner, met us at our familiar haunts in Minnesota. After a powwow, it was decided that he and I would start at once for Sabaskong Bay, Lake of the Woods, Ontario, which place, we heard, was famous for its musky fishing. The rest of my family was to join us in about a week.
"The morning after we arrived at Sabaskong Bay, we headed for Height O' Land Lake, about twenty miles to the north. Ernie, the guide assigned to me, was a splendid chap. He proved to be a woodsman par excellence, a good fisherman and, above all, a good sport. To him goes much of the credit for the pleasure of our trip.
"The next morning, we started out, on the big lake. I fairly tingled with excitement. At last I was to try my luck in the waters I had heard so much about! As we were working along the shore we came to a narrow inlet entering a bay. I saw Bill and his guide, Chuck, working toward us; so we waited for them to catch up. Bill was letting his line run out behind him. They had nearly come abreast of us when Bill had a terrific smash on his line. A big swirl, a leap – and a musky weighing about 30 pounds shot out of the water.
"A big flat rock and a reef just under the surface made a V-shaped pocket, where the fish had been lying. Bill's tight line and the speed of their canoe had carried the fish into that pocket so it couldn't turn. That muskie jumped clear over the reef! I have never seen anything like it in all my fishing experience. Chuck pulled for deep water and Bill fought hard, but the hook had been loosened in the jump and the fish got away. We left Bill and Chuck telling each other in no uncertain terms what each should have done.
"Across the bay was another inlet – a long stretch of water strewn with big boulders that just showed on the surface. I began trolling down through the middle. About half-way, I felt a sharp tug. a big splash and – nothing! He had missed. I didn't know whether I had stung him or not: so we paddled back. Right in the same spot he struck my lure again. This time there was a good swirl: but no splash. I quickly set the hook, and the party was on.
"He put up a good scrap, but we finally flipped him over the gunwale. He was 45 inches long and weighed 24 pounds. After admiring the fish to our heart's content, Ernie put him back

Mr. Curtis and his girthy 57-inch World Record
over the side, held him til he revived and then patted him on the back as he dove for the bottom. Chuck spoke up and said: "By golly, I've lived all my life in muskie territory, and that's the first time I ever saw a 24-pounder thrown back. What kind of a prize are you looking for anyway?"
"That remained to be seen.
"The next day we had practically no luck. The following morning Chuck and I went out. It was hot, and the lake was very calm. As we were paddling near the end of an island we passed three trees that had fallen into the lake. When my spoon reached the second tree, it struck something. As a matter of fact, it stopped the canoe. Chuck leaned hard on the paddle, but I was afraid my 18-pound line would snap: so I paid out several yards.
"There had not been a sign of life on the end of my line – only the feeling of a dead weight. Then the line started going down, but I couldn't budge the weight on the end of it. For several minutes the contest was a draw. Then, in a series of wicked side swipes, the weight on the end of my line started coming up. Now, for the first time, I was certain I had hooked into a fish and not a log. Out went my line, faster and faster – 10, 20, 30, 40 feet. I thought he would never stop. Thumbing my reel as hard as I dared, I burned the skin off my thumb.
"Now the fish slowed down, turned and started toward us. Then he swung around in back of us and came up near the surface. I had a look at him. I was not much impressed – in fact, I was downright disappointed. Chuck sat spellbound and uttered in an amazed whisper, "Just look at that fish!"
"Suddenly my muskie made a lunge sideways, and I opened my eyes. At the distance and from the angle at which I had first seen him, only that portion from his head to just beyond the middle of his back was visible. When he turned sideways, however, I saw his full length. My blood pressure soared to new heights. After this, the fish woke up. Except for one more dive, all the rest of his fight was on the surface. He was everywhere! I nearly lost him once.
"The thing that finally helped me most to come off victorious was the insatiable curiosity of that fish. Time and again he would swim alongside of the canoe, glaring at us. Each time Chuck would make a pass at him with the gaff, and finally managed to get a good hold on his gills. With a strong heave Chuck got the fish's head over the gunwale, and then, with a big flop, he came over the side. Chuck sat on the big fellow's head and pulled for shore, where we measured and weighed our catch. My muskie was 57 inches long, and weighed 53 pounds and 12 ounces. My tackle comprised a Von Lengerke and Antoine rod, a Meek reel, an Invincible line, and a No. 7 Skinner spoon."
1931 … After almost two years on top, 1931 proved to be the year of Curtis' undoing as world record holder. A Baudette, Minnesota, native named J.W. "Jack" Collins emerged with a larger muskie that weighed 56-pounds 7-ounces to claim the title. It was late July when Harry Johnson, Barber Kane and Collins drove to Nestor Falls, Ontario and set out on Sabaskong Bay for trophy muskies. Jack W. Collins story follows:
1931 – J.W. Collins Lake of the Woods, Ontario 56#-7oz.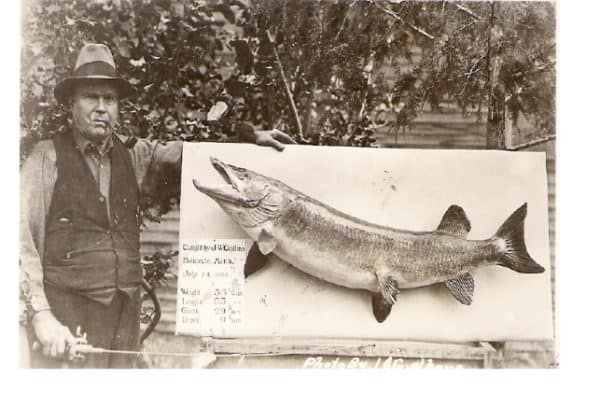 WORLD'S RECORD MUSKY
By J.W. Collins
… "Our little party consisted of Harry Johnson, Barber Kane and myself. We hied ourselves away from Baudette, Minnesota, on July 23rd and drove by car to Nestor Falls. From there we went by boat to our camps, a distance of about two miles.
"The following morning we started out early for the fishing grounds. We cranked up the old outboard and went sailing among the islands. Presently our guide shut off the motor and we paddled over to a reef. In the meantime we had assembled our tackle and were ready.
"I began operations by casting over toward a reef among some boulders, where there was a sort of pool which looked as though it might harbor a muskie. On my second cast I hooked one. This caused considerable excitement. Even Billy, our guide, jumped to his feet and began to instruct me how to land this monster. But alas, we were doomed to disappointment!
"Mr. Muskie took a sudden notion to go south, and believe me, he went there! He steered a course directly amidships, and our muskie was gone. The line parted just above the leader.
"Putting on a different lure, I started in all over again, but our luck had apparently ebbed. We tried another and still another lure, but in spite of what we offered them we had no better luck.
"The following morning we were again casting on the reef. My hook caught on a weed. Billy began to paddle back to release me, while I made every effort to get the hook to slip off the weed. The line parted. Why? Simply because I was fishing with a rotten line. Then I took off the remainder of the old line and put on a new U.S. line of 30-pound test, which I took along in case of emergency.
"I began all over again to try to conquer the fresh-water tiger in his lair. And lo and behold, within an hour I had hooked my big 56 1/2 pounder.
"Jiminy Christopher! Everybody was excited now! My host and guide, Friend Billy, indulged in some very swift and mysterious movements and exclamations. He put out to deep water, and for the longest time the muskie and I kept battling back and forth. Then, as the fish began to show signs of tiring out, we headed for a sandy beach. This was a distance of a mile or more, and it was some job with a rip snorting muskie at the other end of my line!
"Four men and our equipment in an 18-footer with 5-foot beam! Billy called it "The Ark."
"Still the line held, the Pflueger Muskill lure held, the Heddon Waltonian reel held, and the True Temper rod held – and best of all, Billy held. But boy, it was some fight!
"By the time we arrived at the beach. I was leading along about the tamest muskie in the world. It slid out of the water on its belly without a scratch. A perfect specimen – a beauty!
"Well, that's that. Do you wonder that I'm feeling happy about it? A world's record breaker isn't caught every day."
A short time later, the 55-inch muskie held the scales down at 56-pounds 8-ounces and measured up with an impressive 29 5/8-inch girth. A new world record by 2 ¾-pounds! Although this fish only reigned as the world record for 14 months, until it was beaten by another Lake of the Woods fish in 1932, it was recognized as the Minnesota State Record up until 1976. Now, everyone that knows the Lake of the Woods, knows that Sabaskong Bay lies entirely within Ontario, Canada, and no matter how you cut the pie, Minnesota just doesn't come up with a piece! Well, in late 1976 this was finally brought to the attention of the Minnesota DNR and they proceeded to set the record books straight and gave credit for the state record to a 54-pounder caught by Art Lyons of Bena, Minnesota, from Lake Winnibigoshish caught on August 28, 1957. And now the story of Lake of the Woods third world record in four years, the Depression be damned!
1932 – G.E. Neimuth Lake of the Woods, Ont. 58#-4oz.
The early Thirties were a dim light on this great nation's history and millions of Americans suffered through the hardships that those years brought. Among those that were hit hard was a Chicago man named George E. Neimuth who broke Collin's record with his 58-pound 4-ounce fish. His story goes to the heart of the extent that serious muskie fishermen will go, despite being faced with hardship. His story follows:

George Neimuth's near 60-pound LOW Giant.
WORLD'S RECORD MUSKY
By George E. Neimuth
"It is every fisherman's heartfelt desire to catch a real trophy. He is always in hopes, even though his efforts avail him little in actual accomplishment. He will suffer many privations, deprive himself of many pleasures which he could otherwise afford, in order to bring it to realization.
"On my last trip I believe I caught the mastodon of the fresh waters – a muskie weighing 58 1/4 pounds, at Nestor Falls, in Lake of the Woods, Canada. This fish measured 59 inches in length and 34 1/2 inches in girth.
"It has been my custom for the past five years to arrive at Lake of the Woods on July 1st. Like many others, I was hit hard by the depression and intended to defer my 1932 trip. When vacation time approached, my friends were constantly reminding me by asking, "Well, how's the fishing this year?" My power to resist finally broke down.
"When the camp proprietor wrote me that the muskies had not hit well all summer but were showing some signs of life since the first good frost, he wrote at the psychological time. I had been brooding over the fact that the season was rapidly coming to a close and I had nothing new to divert my mind when troubles incident to the regular routine of life were causing sleepless nights. This letter was the deciding factor, and I decided to go at once.
"On September 18th, my son and I started out. From that instant I forgot that there were taxes and interest on the mortgage to be paid, that the insurance had run out, and that there were a lot of other irons in the fire. They could all burn as far as I was concerned. I calculated that Jack Frost comes early in the Lake of the Woods, that few fishermen would be there, that the fish would have had a period of rest, and that there would be more wind than earlier in the season – all of which are favorable factors. My equipment is always ready and the tackle box loaded with a generous assortment of plugs and spoons.
"We left Chicago at 5:40 p.m. and arrived at Nestor Falls the following night. After a hearty dinner, we did not waste much time in getting under the blankets. The following morning we punched the breakfast clock right on the dot. We were not the only ones – three little bear cubs waited patiently for their bread, and a dozen or more partridge seemed to recognize the breakfast bell too.
"As we left the dining room after a feast of culinary inventiveness known only in the far reaches of the North Woods, we met our guide Jack, who, we afterward learned, was a trapper, lumberjack, moose hunter and culinary genius. He possessed remarkable aptitude for his chosen occupation, and as he was preparing our boat he frequently cast a glance toward our cabin. Needless to say, it spurred us on.
"We were all set to try again for the ones that had got away in previous years. It was only a few minutes until the outboard sputtered rapidly, anxious to lend us a helping hand. There was a strong wind blowing, and the lake was rough. I knew we were flirting with an unwelcome bath when we crossed the big stretch. En route I again tested my line and placed a Pikie minnow on the snap. As soon as Jack shut off the motor I started to cast. My son's tackle was a duplicate of mine. We cast alternately, so as to keep at least one bait in the water all the time. This routine was continued for about an hour, but only a few walleyes were hooked.
"Then I suggested a spot close by which had long been in my memory, for I had visited it in previous trips and either had a strike or a follow up from a mighty muskie. So Jack rowed the boat toward the big stretch, where the strong autumn wind was lashing the water. As we neared the favored spot I began to cast my plug again. After several casts which landed just behind a protruding rock, I suddenly had a violent strike. A moment later I could see the muskie, with his mouth wide open, nearly on the surface – a sight that would strike awe in the most blasé fisherman. I believe a quart cup could have been thrown into this muskie's mouth.
"He immediately sounded, and there seemed to be no bottom to this particular place as he reeled yard after yard from my reel. If ever I appreciated a level winder, it was then. I at once put on the click and drag to prevent backlashes from the short but violent jerks. Jack, without being told, was heading the boat away from shore, and I worked the fish up again, this time within ten feet of the boat.
"The wind was buffeting the boat about so that it was difficult for Jack to manage. I began to despair of success. The muskie would sound and sulk, but short, quick jerks would put him into action again. I kept a compelling strain on him, and the increasing arc of the rod warned me to be cautious. I must keep him in deep water. His runs continued for more than an hour, but he was growing perceptibly weaker and the rushes were not so long. His direction could then be controlled, although he still had plenty of fight in him, for as soon as I would get him close to the boat he would muster all his strength and rush away again. My part was to coax him back and keep him working at all hazards, I was out to win, and so was he. These tactics were continued until I pulled him alongside.
"Then we looked around for a good landing place, which fortunately was close by. It consisted of a rock gradually tapering into the water – an ideal spot for the purpose. Jack stood in about a foot of water and instructed me to draw the fish to him, which was not an easy matter. He placed both of his hands in the lower gill and pulled the mastodon ashore. Thus ended my most successful muskie day.
"The tackle which stood up so eloquently throughout this ordeal consisted of a True Temper rod, a Pflueger reel, and Ashway line."
Upon weigh-in, the muskie tipped the scales at 58-pounds 4-ounces stretched the tape to 59-inches with a 34 ½-inche girth. To George E. Neimuth, it was a-dream-come true, as he had always hoped to someday catch a muskie that was a real trophy. What a trophy it was, as he set a world record that would stand until 1939 when it would be beaten three times in one season (albeit two of those fish were "questionable").
I am sure that there are many other Hotspots that I am not aware of even though I have fished muskies in 23 states and 2 provinces of Canada over the past 65 years. Any reader who knows of one or more Legendary or famous Hotspots, please let me know with a write-up of same and supporting photos if available and I will include them in a follow-up article(s).
Send it to me at: [email protected]
Thank you!