Ahrenholtz and Akin = Record Win at PMTT
Category: article
Sep 2nd, 2020 by Keith Worrall
Modified Sep 2nd, 2020 at 7:17 PM

1st Place with a record setting 11 fish – Shane Akin of Milford, Iowa & Matt Ahrenholtz of Carroll, Iowa
Ahrenholtz and Akin = Record Win at PMTT Musky Hunter Magazine Tournament
Shane Akin of Milford, Iowa first place, one of his teams muskies.
Matt Ahrenholtz of Carroll, Iowa first place, one of his teams muskies.
On August 29 th & 30 th the Professional Musky Tournament Trail anglers had the best musky fishing action it has witnessed in 22 years of existence. The PMTT has visited some pretty phenomenal waters over the years but the Musky Hunter Magazine Late Summer Bash on the Okoboji/ Spirit Lake chain in NW Iowa put its name right up there at the top with the elite in the history of the trail. A tournament hosted by the Okoboji Tourism saw an incredible two-day total of 84 muskies caught and two individual records fall during the two day tournament.
There is always one team that figures out the hot tactic to catch muskies at these tournaments and this time it was local anglers Matt Ahrenholtz of Carrol, Iowa and Shane Akin of Milford, Iowa. Under mostly sunny skies, slight winds, water and air temps both in the mid-seventies, the two used jerk baits with orange bellies while casting an area they found three weeks prior to the tournament. This area was a weed line that came out deeper with a pocket and then a flat that held perch and baitfish in the area. The combination of bait and structure attracted the muskies as Ahrenholtz and Akin boated a record setting 9 muskies on day one of the tournament.
On day 2 of the tournament, the two anglers went right back to the same area and caught two more muskies for a total of 11 muskies up to 42.50". Ahrenholtz and Akin had the muskies biting so well that at one point they caught muskies on back to back casts and set a single PMTT tournament record with their 11 muskies and took home the 1 st place honors.
Musky Hunter Big Fish & Day 1 Big Fish – 48.5 John & Gino Valasek
In second place was Scott Bugalski of Stone Lake, Wisconsin and Benjamin Peterson of Pewaukee, Wisconsin with 6 muskies up to 43 inches caught on Medusas and SRJ Pandemonium baits in the weeds. In third place was Jared Donar of Oregon, Wisconsin and Kevin Nash of Aurora, Illinois. Donar and Nash caught 5 muskies up to 37.50 inches while keeping the boat in 13 feet of water casting into shallower weeds and bringing their lures back to the boat. In fourth place was Shawn Josephson of Cedarburg, Wisconsin and Ryan Knapp. These two anglers also caught 5 muskies up to 37.75 inches. Rounding out the top five places in fifth place was Bill Burns of Morehead, Kentucky and Dave Lee of Cincinnati, Ohio with 3 muskies that were 36.25, 40.50 and 41.75 inches that were caught while fishing weeds. The Musky Hunter Magazine big fish of the tournament, a 48.50-inch musky was caught by the father/son team of Gino and John Valasek.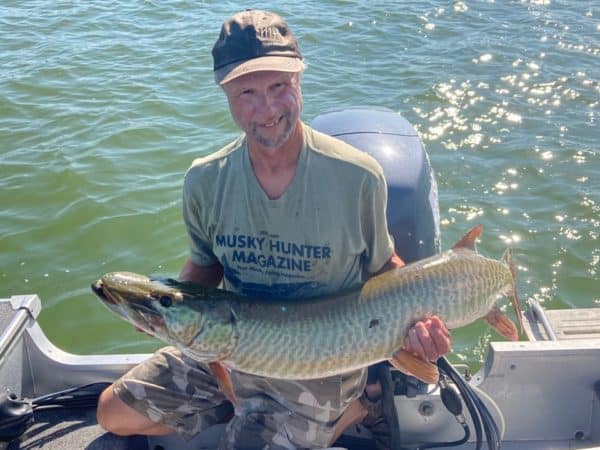 Day 2 Big Fish – 48 Nick Filip & Eugene Gabanski both of Bloomingdale, Illinois
Next up on the PMTT trail is the Chippewa Flowage tournament in Hayward WI. on September 26 th & 27 th and then the Ranger Boats World Championship on Cave Run Lake in Morehead, KY on October 23-25. Tournament director Tim Widlacki thanked all of the PMTT's fantastic sponsors especially Musky Hunter Magazine for their continued support and Okoboji Tourism for hosting this event. Also, Ranger Boats, Mercury Marine, Chaos Tackle, Morehead Tourism, Treelands Resort, Eagle River Chamber of Commerce, Keyes Outdoors, Vita-Minerals, Lake Chippewa Flowage Resort Association, Feldstein's Jewelers, MotorGuide, and all of the associate and contributing sponsors. Please let these fine people know that you appreciate their promotional efforts in support of fresh waters most challenging fish and those extreme anglers who chase her on the first, best and only truly national professional musky tournament circuit, the PMTT.