The Old Days of Lake of the Woods Fishing
Category: article
Jan 30th, 2020 by Keith Worrall
Modified Jan 30th, 2020 at 4:51 PM
The Old Days of Lake of the Woods Fishing
Back by popular demand, The Old Days of Lake of the Woods Fishing…
Things have sure changed over the years when it comes to the old days fishing. Things have also changed when it comes to looking back at the old days of Lake of the Woods. It was for this reason Bret Amundson of Prairie Sportsman TV decided to produce a piece chatting with some of the resort owners with a lot of history under their belt from this body of water so near and dear to the hearts of many.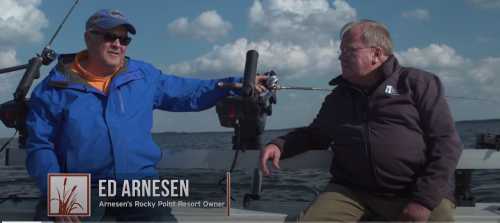 Ed and Jack Arnesen, Arnesen's Rocky Point There were many great resort owners to choose from. For this episode, time was spent with Ed and Jack Arnesen of Arnesen's Rocky Point, Steve Ballard of Ballard's Resort and Mike Trueman, former owner of Border View Lodge.
The stories are interesting, almost like taking a mini history class. Ed Arnesen speaks of his grandfather walking to Rocky Point in about 1894 from the Red River Valley. "He wasn't much for farming and had heard about the sturgeon fishing on Lake of the Woods. He homesteaded here in 1897 and started his own fishery," explains Arnesen. "The sturgeon were used for their caviar. At one time, Lake of the Woods produced 2/3 of the world's caviar."
Steve Ballard, Ballard's Resort"In 1961, my parents moved up here from NW Iowa. I was five years old," explains Steve Ballard of Ballard's Resort. "They bought their first launch in 1962. It was a 23′ Chris Craft. When you were out there, you had no cell phones. If you broke down, you pretty much had to figure out how to get home. In the earlier years, there were no marine band radios, so you were on your own. If the weather changed, you ducked behind an island and rode it out. Now everyone is looking at their I phone telling everyone where the storm is," explains Ballard.
"When we first moved here, we were very fortunate that for the most part, all resort owners got along very well just because of the way things were and the changes that were coming about, getting into the winter business. The 80's was a lot of change," explains Mike Trueman, previous owner of Border View Lodge. "I got into the ice fishing business the winter of '85-'86. At that time, I know we got $25 per person. That was transportation out and back, the fish house, bait, your tackle. We supplied the poles and everything. I wanna say we got about $15 per night per head for the cabin, and it just grew. The winter business not only helped financially, but you didn't have to hug and kiss your guides and summer employees in the fall and hope you got them back in the spring because now you could keep them employed," explains Trueman.
The stories went on and on. For anyone into Lake of the Woods, into history, into the transformation of both open water and ice fishing, this is definitely a piece to peak your interest.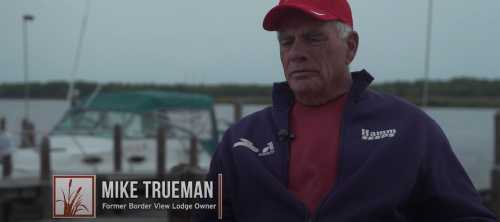 It is not always easy to get in front of a camera and talk about the past. I want to personally thank Ed and Jack Arnesen, Steve Ballard and Mike Trueman for taking the time to share about the way things used to be, how and when they started to change and the way you see things now. Precious history like this is invaluable. We hope you find this short ten minute segment of Prairie Sportsman TV as intriguing as we did.
Click Here to View Prairie Sportsman TV about The Old Days of Lake of the Woods Fishing
Click Here to return to Lake of the Woods Tourism
Click Here for Lake of the Woods Lodging