COVID Test Options for Travel Through Canada to the NW Angle
Category: article
Oct 7th, 2021 by Keith Worrall
Modified Oct 7th, 2021 at 8:10 PM
We are grateful land travel through the 4o miles of Canada up to Minnesota's Northwest Angle is now possible. There are some criteria travelers must have in order before traveling however. First, a traveler must download the ArriveCan App. Second, a traveler must be vaccinated and upload their vaccination card into the app. Finally, a traveler must have a PCR or molecular COVID test showing a negative test result within the past 72 hours of taking the test.
When COVID first flared up, there were many resources allocated to it. More people were involved and more tests were available. Now that many have been vaccinated and numbers had gone down, the availability of resources are not as convenient as they were and one must plan ahead to get a valid COVID test before crossing the border.
With fall fishing and hunting in full swing and looking ahead, a fun season of ice fishing and snowmobiling (for those who prefer to trailer their sleds up vs drive across the lake) on the horizon, the testing options listed below become more handy than ever. There are actually a couple of testing options listed that are super easy and although there is a fee, the convenience and opportunity to turn in the receipt to your insurance company for possible reimbursement make them attractive.
Thankfully, there are options available as long as you know where to find them. Here are a few…
PCR COVID Test in 30 minutes, Thrifty White, Baudette, MN. How convenient. For $100 (which you can turn your receipt into insurance for a possible reimbursement), you can have a result in 25 minutes. This testing option provides a PCR test result which satisfies the Canadian qualification for entering the country.
Thrifty White is open for testing Monday – Friday from 9am – 4pm.
Quick Results, LLC. This is a new private testing company that was created out of need. It has grown to five different locations throughout Minnesota including Bemidji, Becker, Brainerd, St. Cloud and International Falls. If you are near or traveling through one of these locations, this could work out great.
With test results less than 30 minutes for a COVID PCR test that works to travel through Canada, this is an easy solution. The tests are $159 but you will receive an itemized receipt that most are turning into their insurance companies for reimbursement. The testing facilities are open 7 days a week.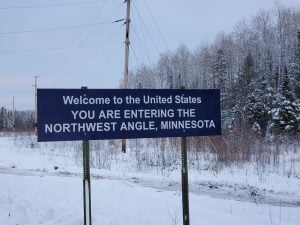 MN Department of Health Walk In Testing. MDH has many walk in testing options available throughout the state of Minnesota. Both residents and non residents are allowed to use walk in testing locations. You will be asked for your insurance info and if insurance does not cover it, there is still no cost to you. These are normally a saliva test and results are received 24 – 48 hours after you take the test. This can make things a bit tight with a 72 hour window but certainly doable.
MN Department of Health No Cost Test at Home Program. Minnesota and various other states offer no cost COVID test at home options. Basically, you order a COVID test kit and do a Zoom call with someone who oversees your saliva testing process. Results are emailed typically in 48 hours or less. The brand name of this test is Vault and there is a question when signing up that asks if you are using this test for travel. If you reply yes, the cost is $119. If you reply no, the test is at no cost.
Driving back through Canada on your return trip. There are no medical facilities up at the NW Angle. In addition, testing options are limited and take time due to shipping from this remote location. Consequently, additional 72 hour COVID test protocol has not been required by Canada Border Services Agency (CBSA) on your return trip. They accept the initial COVID test used to initially access Canada on your trip.
We have seen a bit of a wait to access Canada Border Services Agency when calling in at Jim's Corner (where there is a phone kiosk to call) or when calling the 888-CAN-PASS number.
There is no doubt there are a few hoops to jump through to make it up to the NW Angle including getting a COVID test. The reports we are receiving back from anglers is the fish are biting and well worth the hoops. There are many others enjoying the hunting, colors and specialness of the Angle that are also telling us they will be back soon!
General info about Lake of the Woods
Lodging and Fishing up at the NW Angle