Lake of the Woods Tourism Fishing Report 1/24
Category: fishing reports
3 mins ago by sworrall
Modified 3 mins ago at 3 mins ago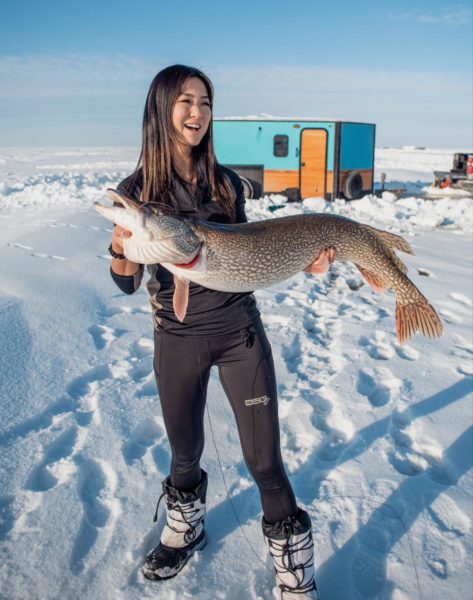 On the south end… It is ice fishing season and people are out on the ice enjoying everything that goes along with it.  Resorts are working hard moving houses, strategically trying to figure out where the best fishing areas will be for walleyes and saugers.  The most active depths for fishing this past week continue to be 30 – 36 feet of water.  
Much like last week, there are numbers of smaller walleyes and saugers being caught and sorted through mixed with eaters (under 19.5 inches), slot fish (19.5 – 28 inches which must be released after a photo) and trophy walleyes (28 inches and over).  
When you see a lot of lookers and not biters, try downsizing your presentation.  Using a small lure with a small piece of minnow on the jigging line can be productive.
Another technique is using a lipless crankbait with rattles to not only pull fish in, but to induce some reaction bites.
On your second line, use a live minnow set anywhere from 6 inches to 2 feet off of the bottom.  A plain colored hook with a sinker just above the minnow has been working well.  
In addition to the walleyes and saugers, eelpout (burbot), pike, jumbo perch, tullibees and a few crappies and sturgeon have been in the mix.
Please remember to Keep It Clean and remove all trash and waste from the ice.  Have a plan.
Please keep speeds low on the ice roads.  Driving fast creates a wave under the ice that ultimately damages the ice.
On the Rainy River…   The morning and evening bite is best for those ice fishing the river for walleyes and saugers.  Mainly locals this time of year fishing the river as it is close to their home and they know the safer ice.
Ice conditions vary on the river as there is current, work through a resort or outfitter for safety.
Up at the NW Angle… Some good fish being caught up at the Angle.  Resorts are fishing structure as well as targeting deeper mud.
A nice mix of various-sized walleyes including some big fish over 28 inches.  Big pike are showing up, often surprising walleye anglers.  Jumbo perch are also in the mix.  Use the one two punch, jigging line combined with a deadstick.
Nice crappies are being targeted and caught on the Ontario side of the lake amongst the islands.  When fishing Canada, credentials are needed as ice = land by customs definitions.  It is also to be aware of varying ice conditions due to neck down areas, current, etc.  Angle resorts can assist with that special trip.
Driving through Canada to the Angle no longer requires COVID vaccinations or the use of the ArriveCan App.
For those looking to access the Angle while avoiding customs, snowmobiling across the lake on the marked trails, utilizing the Lake of the Woods Passenger (bombardier) Service or flying up via Lake Country Air are all good options. 
Fish houses are out through March.  A complete list of lodging, fish house rentals and sleeper fish house rentals at www.LakeoftheWoodsMN.com/Lodging.