Lake of the Woods MN Fishing Report 1/21/2019
Category: fishing reports
Jan 22nd, 2019 by sworrall
Modified Jan 22nd, 2019 at 9:38 AM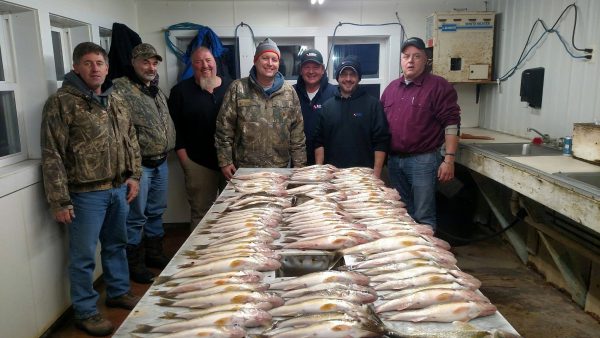 On the south end… Anglers reporting nice walleye – sauger mix from the basin in 28-32′ with a morning – evening bite in 15-22′. Nice walleyes suspended this week. Jigging one line with small to medium sized jigging spoon tipped with a minnow head or tail effective. Deadstick (bobber) second line with a plain hook or a jig with live minnow. -31 degree air temp this past week building ice nicely for March walleyes / pike. Ice roads open. Snowmobile trails across lake staked and groomed from south shore up to NW angle.
On the Rainy River… Some reports of morning/evening walleye action on river and Four Mile Bay. Heavier than normal current. Area around International Bridge in Baudette not safe due to construction of new bridge. Snowmobile trail on river is open and marked from Baudette (downstream from bridge) to lake. Stay on trail for safety.
Up at the NW Angle… Good fishing continues as walleyes are sliding a bit deeper. Walleyes with nice saugers, perch, pike, tulibees and eelpout mixed in. Most fish coming from 24-29′. Mortality rate is high for released crappies in 25′ or deeper, catch fish and move on. Snowmobile trails from south shore across lake to Angle are marked and are open. The ice road from Young's Bay to Flag and Oak Island resorts is open. A complete list of lodging and ice fishing packages available at www.LakeoftheWoodsMN.com/Lodging.