Current Ice Road Reports as of December 23, 2019 – Lake Of The Woods
Category: fishing reports
Dec 25th, 2019 by Keith Worrall
Modified Dec 25th, 2019 at 1:30 PM
Current Ice Road Reports as of December 23, 2019
Ice road with pickup truck, Lake of the WoodsIce roads on Lake of the Woods make ice fishing simple. Each resort works with different ice conditions and they can vary, so it is vital to check with the ice road provider before venturing out. Most ice roads sell an access pass and can give you additional details on the ice road and fish activity at that time. Resort Facebook Pages or a quick call up will help you better understand conditions and the many varying ice road reports.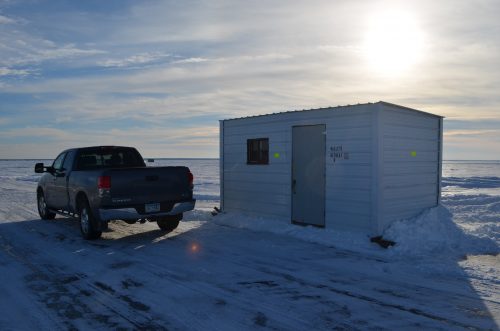 Here is a quick update as of December 23rd, 2019 at noon of the ice road reports on Lake of the Woods. Many resorts will be altering load limits as ice thickens.
December 23, 2019 Ice Road Reports…
-Adrian's Ice Road… Allowing 1/2 ton trucks pulling 18′ fish houses or small / midsized vehicles pulling 21′ fish houses / or they will take out your larger house.
-Wigwam's Ice Road… Allowing 1/2 ton trucks pulling single axle trailers / fish houses.
-Border View Lodge / Settler's Point… Allowing 1/2 ton trucks or smaller.
-Bugsys's on Bostic… 1/2 tons with single axle trailers / fish houses.
-Cyrus Resort's Ice Road… Allowing 1/2 ton trucks pulling 18′ fish houses or small / midsize vehicles pulling fish houses longer than 18′
-Morris Point Ice Road… 1/2 ton trucks with no wheel houses. Anticipating 1/2 tons with wheel houses starting 12-26-19 as long as good ice conditions continue
-Zippel Bay Resort… 1/2 ton trucks only. Starting 12-27-19, anticipating opening road to all wheel houses.
-Long Point Resort… Ice road open to ATV/Side x Sides/Snowmobiles. Fish house rentals available.
-Dale's on Lake of the Woods… Road closed due to ice cracks that need to heal. They are running their fish house customers only for now.Ice road sign, Zippel Bay Resort, Lake of the Woods
NW Angle Ice Road Reports… The ice road comes out of Jerry's adjacent to Young's Bay Resort and is maintained by Points North Services. The ice road is open to 1/2 ton trucks to Flag Island. The area near Mergen's Point only has about 8″ due to high current this year, thus no vehicle travel to Oak Island Resorts as of yet. Snowmobile access and a plowed runway near Sunset Lodge for planes is available. Resorts can provide transportation until the ice road opens up to all island resorts. Please call ahead to find out current conditions and make arrangements.
Resorts and outfitters on Lake of the Woods go to great efforts to provide ice roads. Constant plowing, adjusting roads due to ice conditions, ice bridges, driving the ice roads early in the morning to check conditions and broken equipment due to the harsh conditions Lake of the Woods dishes out are all part of the routine to make ice roads safe and smooth as possible.
It is important to stay on the marked roads, drive slow (as high speeds send a wave under the ice that can wreck the ice) and communicate with the ice road providers about current conditions. Ice fishing is happening and the fish are biting. This is a special time of the year for so many. Have fun and be safe!
Click Here to access the Lake of the Woods Tourism website
Click Here to access Lake of the Woods Area Resorts/Hotels/Fish House Rentals