Guide to Ice Fishing Lake Of The Woods MN
Category: article
Nov 5th, 2020 by Keith Worrall
Modified Nov 5th, 2020 at 9:13 AM
This is the time of year conversations often make their way to ice fishing Lake of the Woods. Planning an ice fishing trip provides anglers variables including when is the best time to go? What is the right location? What lodging best fits our group? Should we eat at the resort, cook our own meals or both? Does a sleeper fish house sound like fun? There are definitely choices.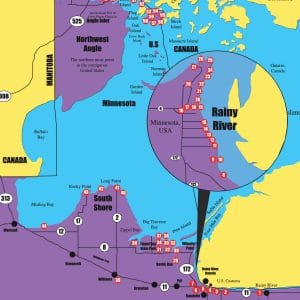 Different areas to stay. Whether you stay in the small northern MN town of Baudette, along the Rainy River, the south shore of the lake or up at the NW Angle, there are great ice fishing opportunities to be had.
The resorts and outfitters on the Rainy River and south shore are targeting the big open expanses of Big Traverse Bay. This is big ice, almost the size of a great lake about 25 miles by 25 miles.
Another great option is ice fishing up at the Northwest Angle. The Angle is the northernmost point of the contiguous U.S. and is where the 14,552 islands of the lake begin. There are islands, reefs and lots and lots of walleyes.
Lodging Options. Lake of the Woods offers beautiful lodging opportunities. Some are located on the water, some in the woods and others conveniently located amongst the action. Cabins, lodge room, hotels and condos are all available. Most have modern conveniences such as Wi-Fi, cable / satellite TV, etc.
The more adventurous might enjoy staying out on the ice in a sleeper fish house. Sleepers are set up with beds, cooking stove, a warm heater and a variety of other conveniences. Imagine waking up and starting to fish right from your bed!
Delicious northern MN cooking! Good food and drink is an important part of a getaway for many. Many resorts offer delicious meal plans and menu options for both eat in and take out. Others have cooking facilities in the cabins for those who like to cook on their own. Some guests do a little of both.
Having a traditional Lake of the Woods fish fry is a must! Whether you have your resort cook up your fresh catch or order walleye off of their menu, get ready to enjoy one of the premier eating fish in the world. Walleye has a very mild flavor with delicious white flakes of meat. Most enjoy it fried but there are many ways to prepare it such as broiled, grilled, blackened and more.
Stop In for a Cold One! There are plenty of cute northwoods bars located around the area, most at resorts. Slide in, warm up and enjoy your favorite beverage while taking in the natural beauty of the area.
Maybe you want to check out the famous Igloo Bar located on the ice. Located a few miles out on the lake from Zippel Bay, this 1,00o square foot bar has a bar, partial hot food menu, two big screen TV's and you can actually fish inside the bar! Holes all set up with a rattle reel can be rented for a small fee. Can you imagine the excitement when someone catches a fish!
Full Service Ice Fishing. When planning on ice fishing Lake of the Woods, you have the best of all the worlds. LOW resorts are known for there full-service ice fishing. By full-service we mean a delicious breakfast followed by anglers loading into heated resort ice transportation or simply driving their own vehicle on the resort ice road out to preheated fish houses.
Enjoy a nice day in a cozy fish house with your group catching fish and having a good time. At the end of the day, the ice guides will pick you and your bucket of fish up and chauffeur you back to the resort just in time for happy hour. Once arriving back on land, the guides will clean your fish while you get cleaned up or go enjoy your favorite beverage. In some cases, the resort will even cook up your fresh catch!
Full service ice fishing Lake of the Woods opens up this enjoyable and very social winter sport or activity up to just about everyone. Families, girls trip, bachelor / bachelorette parties, company outings, multi-generational trips. This list goes on. It is fun to see the variety of people from all over the U.S. and in some cases, the world, enjoying The Walleye Capital of the World.
Fish on your Own. Anglers with collapsible or wheeled fish houses can gain access to ice roads by paying an ice road access fee. Resorts and outfitters with ice roads do an exceptional job of maintaining roads for safety. Coming in for dinner each night is a breeze and gives you a nice break from being on the ice. Many appreciate the chance to compare notes with other anglers. It's part of the adventure.
With over 60 lodging facilities around the lake, ice fishing Lake of the Woods is all about choices. Certain times during the winter months can be difficult to find lodging, but not impossible. Calling around to different resorts is one option. Another great option is using the Lodging Availability Finder. Simply enter contact info, dates, what part of the lake you prefer to stay and any details or preference and hit the submit button. Your request is automatically dispatched to the resorts, hotels and sleeper fish house businesses in the area you requested.
There are so many different options when it comes to ice fishing Lake of the Woods. Asking questions and doing some research will definitely help you find exactly the winter getaway you want no matter what you are looking for.
Click Here to Access Lake of the Woods lodging options
Click Here to return to the Lake of the Woods Tourism website