Get School'd With Bro At The College of Ice
Category: article
Dec 12th, 2020 by Keith Worrall
Modified Dec 12th, 2020 at 7:14 AM
Grand Prairie, TX (December 11, 2020) Brian "Bro" Brosdahl took the annual Road Show online for 2020, and it evolved into the Frabill College of Ice letting ice anglers across the country learn from the masters in the comfort of their own homes. Catch episodes live when they air to chat with some of ice fishing's greatest anglers, or tune in later to catch up on all the great tips to make you more productive out on the ice.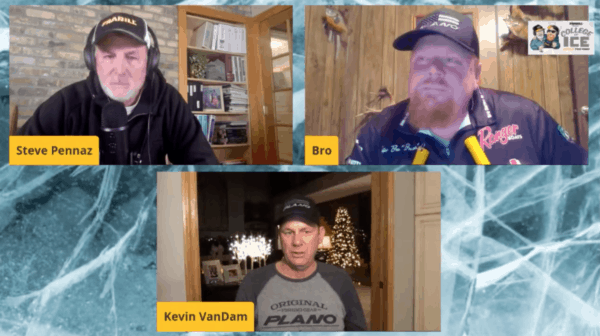 In the first episode, Bro sat down with host Steve Pennaz and Dale Stroschein to talk all things ice. The trio discussed the differences between straight line and spinning reels, and when to use each. They also covered the key differences between mono and fluorocarbon lines and what they mean out on the ice. Techniques to target various depth ranges and big fish techniques were also covered in depth. https://www.youtube.com/watch?v=JopeIuP3Evk
"Bro" and Steve talk weed in episode two, specifically how to find and fish weed beds. They discuss the role that light plays in habitat selection for fish, and where to make your first holes of the day. Eric Brandriet jumps in and talks techniques for perch and walleye on lakes that are continually changing. And the hosts take a minute to remind folks how to stay safe out there on the ice. Remember those ice picks! https://www.youtube.com/watch?v=oJH7MbyuPaA
Knot sense kicks off episode three, with Steve and "Bro" explaining the best ways to keep your hooks attached with various types of lines. "Bro" talks cold weather, and how changes in pressure can produce great fishing. Steve gives us a glimpse at some unique tackle he encountered in Europe, and the different techniques they use across the pond. Kolt Ringer pops in and explains the ins and outs of Aquaview underwater cameras, and how they can up your productivity. https://www.youtube.com/watch?v=c-ZsOZJecAk
B.A.S.S. legend Kevin VanDam checks in for episode 4. Sure, KVD loves bass, but he also loves 'gills through the ice. To step up his catch rate, VanDam steps down to 2-pound fluoro and tungsten jigs. But he can't leave the bass alone, and spends some time jigging through the hardwater for bigmouths-which helps him fine-tune his open water game. The guys talk live bait, and give a pretty solid rundown of what worms to use when. Maggots, mousies, and waxies all have a place in "Bro's" arsenal. As ice sets in, the guys remind everyone to be safe. https://www.youtube.com/watch?v=BCofb-XU88A
First and foremost, the crew addresses finding lakes with safe ice in the early season during episode five. Ice Pro and Conservation Officer Jeremy Roe stops in to talk about ice safety, and offers tips to stay safe out there. "Bro" talks about the depths to target during early ice, and how to pick a lake. They talk about color, and when to use glow, UV, and traditional hues to coax more strikes. The guys also take color questions from the live audience about imitating forage fish and water clarity. Brad Novak from Omnia Fishing joins the college to offer plenty of gift ideas for the coming holidays. Russ Francisco from Marine General pops in and gives insights into the fishing the Great Lakes. https://www.youtube.com/watch?v=QUrWas8barM
It's all about trout in episode six. B.A.S.S. Tour Pro Jeff Gustafson chimes in from north of the border, giving ice fishing insights from Canada. Walleyes, lakers, and more are all fair game for Gustafson. Shane Dubois shares some of the secrets he learned in a lifetime of targeting the big trout through the ice. He talks depths and baits to take the biggest lakers, browns, and rainbows. Joe Raymer exposes "Bro's" failures as a net man, and talks must-have ice fishing gear and where to get it. https://www.youtube.com/watch?v=deqr4OkpBpM
Episode seven starts on a somber note, as the guys mourn the loss of angling legend Ron Lindner. After 86 years, Ron went on the big pond in the sky, but not before touching the lives of millions of anglers. Joel Piatek talks jigging tactics and gear on the big water of the Great Lakes. The guys take questions from the live audience, answering jigging and bait questions in real-time. Naomi and Brendan check in from Cabela's in Scarborough, Maine. The duo talks about classic ice opportunities in the Northeast, and what baits to target the local species. https://www.youtube.com/watch?v=DyMux7q5ihs
Knowing where to go is the key to finding fish. The crew talks maps in episode eight, picking the brain of mapping and electronic guru Jay Erwin of Humminbird. Jay talks about the difficulty creating maps while ice fishing, and the steps that they took to let you make your own with the Helix units. Tim Thomas talks about the NYS Ice Pro-Am Tournament Series, and how it brings awareness to the variety of fisheries in New York State. Tim also gives insights into dealing with deep snow cover on lakes. Martin from Minnesota checks in and gives an update on the bite in the North Star State. https://www.youtube.com/watch?v=QUNtrQe-y7o
If you believe in monsters, then you need to tune into episode nine. The guys talk about chasing monsters, from big crappie to giant sturgeon. Minnesota teens and Ice Pros Grant and Hunter Sommerhauser stop by and offer their tips and tactics, including how they use their hand-made jigs to lure the biggest beasts. Eric Brandriet of Northland Tackle talks about stalking giants in South Dakota's Glacial Lakes Region and beyond. https://www.youtube.com/watch?v=7h8Ry1I9THg
Tune in to the remaining three episodes for tips on catching bigger panfish, how to target the unsung heroes that are whitefish, tullibee, and pike, dressing for success. Upcoming guests include Kristine Fischer, Tim Mossberg, and Dale Stroschein, who offer unique insight into fish behavior, tackle, tactics, and equipment to help you hook more fish. Check out the "Bro" Show, brought to you by the greatest minds in ice fishing.