Millennium Marine B-Series Boat Seats
Category: article
Nov 17th, 2020 by Keith Worrall
Modified Nov 17th, 2020 at 8:42 AM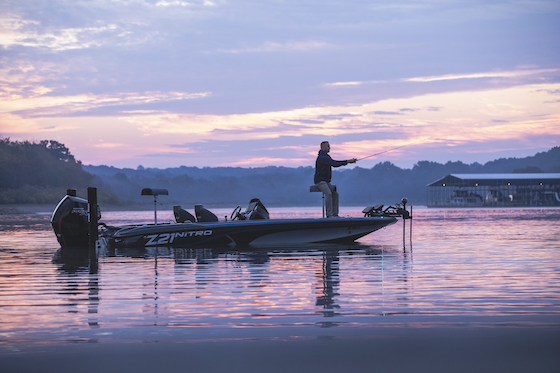 Pearl, MS (November 17, 2020) – Millennium Outdoors, LLC's claim to fame is their quality line of tree stands. One thing that makes Millennium Outdoors tree stands so popular is how comfortable their seats are. Millennium Marine also produces the same comfortable seats for its fishing and boating customers.

(B-100, B-200, B-300 – Also Available in Green; B-301 Mossy Oak Red Hook Seat)
All seats within the Millennium Marine B-Series are feature-packed and designed to provide functional all-day comfort. Each B-Series seat features Millennium Marine's ComfortMax contoured, tight sling seat with breathable, cool fabric. The ComfortMax seat is also UV, mold and mildew resistant for years of reliable use. The sturdy all-aluminum construction allows them to mount to any standard boat seat pedestal.
The B-100 boat seat has a comfortable backrest for unequaled lumbar support. The seat folds flatter than competitors' seats to provide an unobstructed field of view and is easy to fish around when folded down. Next in the series is the B-200 casting seat, instead of a backrest, the B-200 casting seat has a unique curvature design for lumbar support that allows hours of comfort while sitting or casting. Also in the series is the B-300 palmahorse seat, this seat is designed so anglers can sit on, straddle or lean against for hours of comfort while fishing. The design eliminates the need for a seat back, which expands the room on your boat and helps increase visibility while underway. And finally, the newest member in the series, the B-301 Mossy Oak® Red Hook Seat. The B-301 is built the same as the B-300, offering years of reliable and comfortable service on the water, while sporting a smaller frame and a classy Mossy Oak® Red Hook logo on the seat top.
Millennium Marine stands behind every B-Series seat with a one-year warranty.
More information is available at www.millenniummarine.com.
B-100 Boat Seat Features:
All-day comfort
Lumbar Support
ComfortMAX contoured, tight sling
Breathable cool fabric
UV resistant to sun and elements
All aluminum construction
Mold and mildew resistant
Mounts to any boat seat pedestal
Designed for leaning and casting
Folds flatter than competitors seats
Armrest straps included
Available in gray and green colors
1-year warranty
B-100 Boat Seat Specifications:
Material: Aluminum
Capacity: 400 lbs.
Weight: 7 lbs.
Seat Size: 16.5″ L x 20″ W x 21″ H
MSRP: $107.36
B-200 Casting Seat Features:
All-day comfort
Lumbar Support
ComfortMAX contoured, tight sling
Breathable cool fabric
UV resistant to sun and elements
All aluminum construction
Mold and mildew resistant
Mounts to any boat seat pedestal
No plastic components
Designed for leaning and casting
Available in gray and green colors
1-year warranty
B-200 Casting Seat Specifications:
Material: Aluminum
Capacity: 400 lbs.
Weight: 7 lbs.
Seat Size: 21″ L x 18″ W x 7″ H
MSRP: $94.95
B-300 Palmahorse Seat Features:
All-day comfort
ComfortMAX contoured, tight sling
Breathable cool fabric
UV resistant to sun and elements
All aluminum construction
Mold and mildew resistant
Mounts to any boat seat pedestal
Designed so anglers can sit on, straddle or lean against for hours of comfort while fishing
Available in gray and green colors
1-year warranty
B-300 Palmahorse Seat Specifications:
Material: Aluminum
Capacity: 400 lbs.
Weight: 7 lbs.
Seat Size: 21″ L x 13″ W x 7″ H
MSRP: $ 104.95
B-301 Mossy Oak® Red Hook Seat Features:
All-day comfort
ComfortMAX contoured, tight sling
Breathable cool fabric
UV resistant to sun and elements
All aluminum construction
Mold and mildew resistant
Mounts to any boat seat pedestal
Designed so anglers can sit on, straddle or lean against for hours of comfort while fishing
1-year warranty
B-301 Mossy Oak® Red Hook Seat Specifications:
Material: Aluminum
Capacity: 400 lbs.
Weight: 4.6 lbs.
Seat Size: 16″ W x 12″ D x 6″ H
MSRP: $ 99.99