Late-Winter Crappie Fishing: Deep-Water Provides Great Opportunities
Category: article
Mar 17th, 2022 by Keith Worrall
Modified Mar 17th, 2022 at 8:56 PM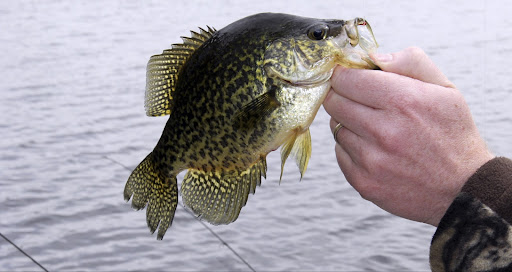 Image by dcwcreations on Shutterstock
For many anglers, spring is crappie time. Although the spring spawn might be your best opportunity to hook a lot of fish, there is no reason not to get a jump start on the season with some late winter crappie fishing.
With the right approach and little patience, fishing for crappie in late winter can produce some impressive results.
Finding fish
The first key to a successful fishing trip in any season is finding the fish. With the right combination of knowledge, patience, and even a little luck, you can be rewarded with some big fish. But where should you look?
Unlike during the spring spawn, late winter crappie have not yet moved into the shallow breeding areas. Although the depth they are holding at will vary based on several criteria, including local water temperatures and whether there is ice or not, where you will find them remains consistent:
Creek channels
Almost every lake will have natural creek channels that offer protection from predators, the ability to ambush prey, and open water regardless of ice conditions. This should be the first spot you look when searching for late winter crappie.
Natural drop-offs and ledges
If there is no channel, or if the channel is not producing, move to natural drop-offs and ledges. These features are very similar to a channel in construction and will offer the same advantages in terms of protection, food sources, and open water.
Cover
Some waters, such as those that are man-made or reconstructed, may not include a channel or even distinguishable ledges. If this is the case, focus on cover such as trees, stumps, rock piles, or man-made structure piles.
Once you have located the channel, ledge, or structure where crappie might be it is time to find exactly where they are calling home. This can be accomplished in many ways, but to make it easier on you, start with finding the baitfish.
If you are using electronics, large schools of baitfish will be easily detected. Chances are pretty good that a school of crappies will be directly below those baitfish.
Getting them on the hook
After you find the baitfish, the next hurdle is getting the crappie to bite. This often requires not only determining what they want but also putting it right in front of them.
Remember, many fish species become lethargic during colder temperatures and crappie are one of them. While they need to feed during these times they will not be as likely to chase baits long distances or even try to catch a potential meal if not interested at that moment.
Live is best. The first choice on most waters is natural bait. Shad, or a local minnow species, are your best bet as this is what the crappie are already feeding on.
If using lures, match the hatch. Use lures, jigs, or spoons that imitate the locally available baitfish.
Have lots of options on hand. Finicky crappie may only be interested in one bait or lure. They may also only be interested in that bait or lure in a specific color. Have plenty of color options on hand as this will allow you to try different combinations until you identify what will work that day.
Stay small. Although you might think big lures would attract more fish looking for one big, easy-to-catch meal, the opposite is true during late winter. Crappie are often more likely to take smaller, easier-to-catch snacks than one big meal.
Add flash and bang. Adding a bit of glitter, sparkle, or noise to your lure can make the difference when it comes to filling your creel of late winter crappie.
Above not below. When searching for crappie, or trying to entice a school you have found, keep your lure from sinking below the fish. Crappie are more likely to rise to take a bait than they are to dive deeper for the same bait.
Going slow
Late winter crappie are less aggressive than what you might be accustomed to. This means not only presenting your bait or lure where they want it but also keeping it there if possible.
Subtle movements, slow retrieves, and gentle jigging not only make your offering easier to catch but also give the fish plenty of time to think about whether they want it or not.
Going slow also allows you to detect those nibbles or investigator bites that may be missed if your bait is moving quickly. Again, because the crappie are less aggressive, these types of bites are more common than the bait-crushing hits you encounter later in the season.
It is also important to resist the temptation to move to a new location too quickly. During the spawn, you might make a few exploring casts and move if there is no response. Late winter requires a bit more patience.
Take a few casts and change the depth, color, or bait type before giving up on a likely spot. If you spot fish but find they are not active, mark the location by dropping a marker buoy or GPS pin and circle back later.
Remember, colder temperatures have slowed the crappies' activity level and they will be feeding sporadically during the day. A spot that did not produce can be a jackpot later in the day.
Once you do find fish that are cooperating, stay with the fish. If you can anchor, this will be the easiest way to stay put until the bite slows. If you are drifting, make sure to mark the location and drift as close as possible to where the first bite was detected.
If the bite turns off, try shifting a few yards along the same structure before checking new locations.
Equipment Tips
Add a few extra-long (7′ or greater), lightweight rods to your arsenal. They are excellent for jigging structures.
Speaking of structure, keep a few larger jigs (1/2 ounce) on hand for penetrating brush piles. Lighter is usually the key during late winter, but sometimes you need the extra weight to get down fast, drop through cover, and avoid snags.
Run a clean boat. When using longer rods or running multiple trolling rigs, the fewer obstacles the better. Drop or remove your top, drop antennas, and clear the deck to allow easier rod handling.
Be prepared for a long day on the water. Even a good bite can produce less fish during the colder months. Be prepared to spend the day by having warm clothing, food, drink, and fishing supplies.
Make sure your boat is ready. Double-check your boat, inspecting batteries, fuel levels, communications, anchor, etc. before heading out. Outfit your boat with a boat ladder to help you get in easily. These steps are important during any trip, and late winter trips may find you with a lot fewer options when it comes to potential help during an emergency.
Good luck and good fishing!
About the Author
Thomas J. Burrell is an avid outdoorsman with a passion for hunting, fishing, and boating. Growing up in rural Pennsylvania he developed a love for spending time in nature. After spending time in the Marine Corps and Coast Guard, which allowed him to enjoy hunting and fishing around the world, he turned his passion into a career as a conservation officer. He now spends his time introducing his son to the same outdoor wonders he enjoyed in his youth.