How to Plan for an Awesome Trip to Lake of the Woods
Category: article
Mar 17th, 2022 by Keith Worrall
Modified Mar 17th, 2022 at 11:09 AM
The winter season has been a most interesting time to discover this great destination. The lake froze over with nearly 3 feet of ice this year and it was not surprising to find thousands of fish houses looking like its own village all over the lake.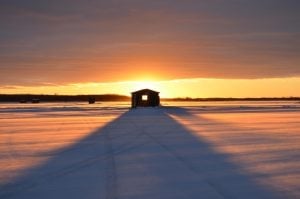 Hospitality is always the best at Lake of the Woods and with great experiences and great food to make your trip delightful. Plan now.
Yes, plan now to visit this Great Northland! Destination- Baudette/Northwest Angle!! Destination – Lake of the Woods! There are many things to consider when formulating your plan to make this a great vacation for you, your buddies or your family.
Here's a few things to think about when setting your plan into motion.
Which plan fits you to arrive at Lake of the Woods? If you're planning to drive, know that LOW is located 300 miles north of Minneapolis, St. Paul, 211 miles from Duluth, MN, 232 miles from Fargo, ND, 476 miles from Sioux Falls, SD, 550 miles from Des Moines, IA, 656 miles from Omaha, NE and 680 miles from Chicago, IL. There are airports near us at International Falls, Bemidji, Thief River Falls and even Grand Forks. Car rentals are available at all those locations. A new fly service has partnered with Lake of the Woods, flying from Minneapolis-St.Paul into the municipal airport in Baudette or even fly you across the lake to the Northwest Angle. Lake Country Air, LLC. & Beaver Air Tours can be contacted through their website at: www.beaverairtours.com or by calling: (612) 812-1223.
What area of Lake of the Woods do you want to visit?

Lake of the Woods has three distinct area to visit. The Rainy River area consists of all the resorts that are located along the river up to the mouth of the lake. Launch boats travel up the river, make a turn to the west, and go through Lighthouse Gap onto the big lake.
The South Shore consists of all the resorts that are located along the south shore of the lake itself with access right onto the big lake.

The Northwest Angle and Island area is the third possibility. A very sweet destination is Oak and Flag Islands which have great accommodations and hospitality runs thick as vacationers live their dream.

Here's where you for sure need to plan ahead as you either have to drive through Canada with a passport, current vaccination card and a current negative COVID test. Or plan a boat trip across the lake or fly across.

Here's where that flying service is a great asset. Another great asset is Lake of the Woods Passenger Service. This is a small fleet of well equipped launches able to cross Big Traverse with great safety. They made an incredible amount of trips this past year because of the predicament of the Canadian Border being closed. They can be reached at http://www.lowpassenger.com/ or by calling 218-395-0414.

Another part of your plan is to consider what kind of lodging you'd like to have. There are 50+ resorts at Lake of the Woods offering a great variety of amenities.

Some resorts have indoor pools and hot tubs, others have outdoor pools for the warm summer days.
Some resorts offer you an all inclusive option with meals and lodging bundled together. This is a great PLAN especially if you are bringing the wife!! Yes!!!
There are log cabin villas, two story villas, great lodging rooms, quaint one family cabins, restaurants in nearly every lodging facility and availability to many other amenities in the area.
Plan now for the best vacation to the beautiful Walleye Capital of the World™, Baudette, MN, Lake of the Woods County, Lake of the Woods!!!
For more information please see our website at www.lakeofthewoodsmn.com.
For a variety of lodging opportunities in the area, check out our Lodging Page.