Where No Boat Has Gone Before
Category: article
Nov 8th, 2022 by Keith Worrall 58
Modified Nov 8th, 2022 at 8:39 AM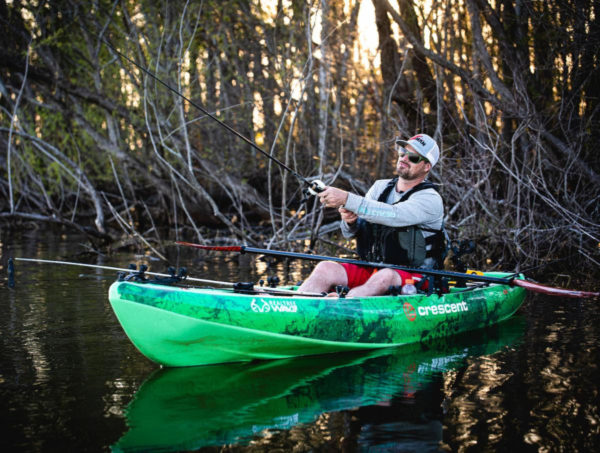 Fresh off an epic season, kayak-angling legend Drew Gregory opens the knowledge vault
Ladson, SC (November 7, 2022) – Drew Gregory is the first to admit his stealth-like, away-from-the-crowds approach to kayak angling is becoming something of an exception to the sport's early culture. It's an interesting twist of irony: That a game created to give anglers access to wild, remote fishing spots has lately trended toward the high tech. Yet while fellow competitors on the national kayak circuits increasingly lean on live sonar and kayak-mounted motors to reach offshore structure and deepwater bass, Gregory often clings to his people-powered, small-boat roots, paddling way up coves, feeder creeks and skinny backwater bays that rarely harbor human encroachment.
Winner of the last three Bassmaster Kayak Series tournaments and the 2022 Angler of the Year title, Gregory's performances have been off the charts, almost literally. His most recent win at Pickwick Lake, Tennessee showcased Drew-isms aplenty. Paddling way—and we mean way!—
up a feeder creek in his self-designed Crescent Kayaks Shoalie, Gregory slung a variety of Z-Man® baits. Chief among them, a CrossEyeZ™ Power Finesse Jig with a Pro CrawZ™ trailer anchored 175.5-inches of largemouth bass, besting second place angler Guillermo Gonzalez by 8-inches. Also noteworthy was the inventive way he fished the GOAT ToadZ™ surface bait (stay tuned).
But before spilling the beans, Gregory cleared the record on how he reached his tourney-winning location—another among those 'special, remote places' he prefers.
Sneak-Boats and Wild Places
"When you win three in a row, for the integrity of the game, you've got an obligation to stand up and explain your approach to the entire field of anglers," noted Gregory, following an exhaustive investigation into his fishing location. "Though it's been a tough few weeks for my family and me, awaiting the outcome, it's actually been cool to see BASS work so honorably and transparently toward the right outcome—the way all tournaments should be run."
Initially disqualified over allegations he fished outside legal tournament boundaries, photos and video footage provided by Gregory revealed that his fishing area—12 miles up a creek arm— was in fact, accessible via kayak, and thus, within legal fishing limits.
Although it initially appeared that a downed tree blocked further travel upstream, Gregory snuck his boat through a small passage, safely paddling around a small opening between the bank and the tree's upended root ball, without ever leaving his boat. "In prefishing, I'd scouted this creek and checked its accessibility, so I knew I could get through in my Shoalie, no problem.
"I encounter downed trees and other obstructions in these remote, wild places all the time. It's just part of the deal—maybe even the point. I work hard for situations just like this, whether it's constantly enhancing paddling skills or physical strength and endurance training. The kayak itself is also key—the one I used at Pickwick drafts just 3-inches of water.
"I look at this as a sport that lets me push my physical limits to reach fishing spots others might not be willing or able to get to," Gregory explains. "As kayak tournaments have opened to the use of motors and new electronics, anglers feel the need to add these tools to stay competitive. I'm certainly not above using technology. I won other events this year fishing main lake spots with trolling motors and sonar. But I also feel like the new equipment actually pulls more anglers away from the water I prefer to fish. To me, the beauty of kayak fishing is that it lets everyone participate, without spending a ton of money on the fanciest boat or all the new motors and electronics."
Gregory's customized CrossEyeZ Power Finesse Jig and Pro CrawZ trailer produced multiple BASS wins.
Recalibrating Rate of Fall
Matching his minimalist, low key approach, Gregory routinely totes just enough Z-Man jigs, ChatterBaits® and ElaZtech® soft plastics for a day's fishing. The extraordinary resiliency and longevity of each ElaZtech bait, he says, means a few packs in key colors get the job done for the entirety of a tournament.
"Throughout this year, one of my go-to baits was a CrossEyeZ Power Finesse Jig dressed with a Pro CrawZ trailer," notes Gregory. "Snip ¾" off the bait's nose for a perfect, compact match on the jig. It fills the bait out nicely, but the ElaZtech material is super malleable, pushing out of the way and allowing easy hooksets with 30-pound braid.
"What's cool is that the natural buoyancy of ElaZtech baits allow you to tweak your lure's rate of fall, whether it's on a jig or a ChatterBait like the Project Z™ or the MiniMax™. Add that Pro CrawZ to a 3/8-ounce Power Finesse Jig and you can slow its sink rate. Casts like a 3/8- but performs like a lighter ¼-ounce jig. At rest, the bait's buoyancy also means the craw stands up and looks natural."
Gregory noted that the compact Power Finesse Jig and ChatterBait MiniMax played right into the season's low, clear waters and spooky bass. "As the water cleared this summer and fall, these little jigs and floaty trailers were perfect for sliding through skinny water. At Pickwick, I caught a 20.5-inch Alabama bass from less than a foot of water, hiding below a cluster of pine needles. Seeing that bass carve a wake to crush my jig is the kind of rush I live for."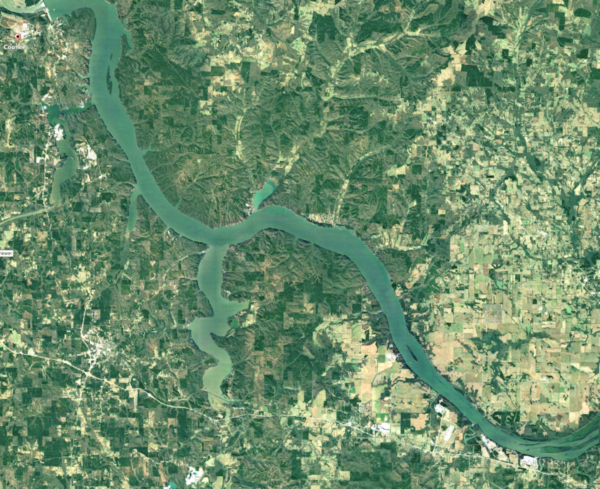 Detailed map study has proven invaluable for Gregory's pre-fish scouting. (Image by Google Earth)
Zooming in on Earth
Months before tournament seasons launch, Gregory is already armed with an array of potential fishing spots. "One of my best scouting tools is Google Earth Pro, which lets me click back and look at historic images of lakes at different water levels," he explains.
"You can learn a ton about a reservoir by studying the terrain in low water. A creek, for example, is only as good as its water level during the driest portions of summer. Is the water deep enough to sustain a resident population of fish? Can bigger bass travel freely in and out of the creek? Does it have deep holes? And finally, are there any access points nearby? Even a little public chunk of land off the road can be enough to squeeze in with my UltraLite."
"Way I look at it, when summer bites get tough, you can either go deep in the main lake or paddle up a creek. The cooler incoming current provides a refuge, feels like a fan to the bass. In fall, shad start migrating up these rivers and the bite just gets better, as resident creek fish are joined by bigger, main lake predators."
ZMan_GregoryYakWin_05.png
One of three 2022 BASS Kayak Series tourneys won by the incomparable Drew Gregory.
(Image courtesy of BASS)
Topwater, Underwater?
A perceptive topwater angler, Gregory's aquatic observations led him to a truly unique (sub)surface pattern. "When a frog jumps into the water, it doesn't swim on the surface, but immediately dives and glides underwater," he explains. "Between leg kicks, you'll watch as the frog bobs back up, eyes and head above water, before it dives back down and swims several more feet underwater.
"When I started fishing Z-Man's GOAT ToadZ bait last year, I immediately tried different hooks, with and without weights attached. Realized the buoyancy of the ToadZ allowed it to stay topside, even with a weighted frog hook. But I found one hook with just enough weight to sink the bait, and allow me to slowly swim it, subsurface, legs kicking like a swimbait. Speed it up slightly and it planes right back to the surface. On Pickwick, had a big fish follow the bait to my boat and eat, right as I stopped and let the ToadZ flutter down. Just one of many sweet tricks, only possible with ElaZtech.