The FLW Cup Playing Field – Lake Hamilton
Category: article
Aug 3rd, 2019 by Keith Worrall
Modified Aug 3rd, 2019 at 3:38 PM
The FLW Cup Playing Field
Lake Hamilton
July 22, 2019 by Curtis Niedermier
It's been 14 seasons since the FLW Cup has been held at Lake Hamilton in Hot Springs, Ark. In the years since, FLW fans have likely developed some familiarity with nearby Lake Ouachita, which has been a frequent destination for the Cup and, in fact, hosted last year's championship event. Hamilton is less-known because it hasn't gotten the nod to host the finale since July 2005, when George Cochran won his third bass-fishing world championship in a sweltering, low-weight event.
One a topo map, Hamilton looks like a smaller, but similar style of reservoir as Ouachita, but once you launch a bass boat it's clear that the two lakes are much different. Primarily, Ouachita is surrounded by undeveloped public land, while Hamilton is rimmed with docks and lakefront homes.
That's just the beginning of how these two Ozark lakes diverge. Here's a better look at Lake Hamilton as an FLW Cup playing field.

A small lake made big
Even though Lake Hamilton is only 7,200 surface acres, it fishes plenty big enough for 52 pros thanks to miles of shoreline and more docks and brush piles than a bass angler could fish in a season.
Most of the patterns will focus on those targets, says Cochran, who has lived by Hamilton for years. Pre-practice scouting trips spent graphing main-lake areas will reveal a lot of the better brush piles. Key docks will have brush nearby, but lighted docks are also important because they attract baitfish at night. Cochran also believes some homeowners feed fish at their docks, which attracts even more interest from the entire food chain.
Other man-made structure such as riprap banks and seawalls will also produce bass. In fact, Cochran won the 2005 event throwing a small topwater bait around seawalls with 4 to 5 feet of depth right against the shoreline.

Hamilton's natural features
The only grass you'll find in Hamilton is water willow up along the shoreline. It attracts bait and bass, but doesn't compare to the offshore beds of hydrilla and milfoil growing in Ouachita. Hamilton is clear, but because of the lack of grass, the reservoir isn't as clear as Ouachita. Cochran says 5 feet of visibility is common in protected areas.
Anglers will be fishing for bass that are primarily feeding on four types of baitfish, as well as crawfish. The main forage types are various species of bream, threadfin shad, gizzard shad and silversides – both brook and inland.
Silversides don't get as much press as the others, but they're interesting enough to delve into here. According to Arkansas Game and Fish Commission District 8 Fisheries Biologist and District Supervisor Brett Hobbs, who's based in Hot Springs, silversides are "bass candy." They grow to about 4 1/2 inches, but schools of young-of-the-year silversides, which are much smaller in August, should be a well-used forage option for bass in the tournament. Typically, silversides are shoreline-oriented and form loose schools up near the water's surface.
As for the bass, Hamilton has spots and largemouths. Spotted bass won't outweigh largemouths individually, but they'll bolster some bags for sure, especially if they're found schooling. Largemouths enjoy a touch of Florida-strain genetics in Hamilton. While biologists are still studying the influence of the Sunshine State's famous bass, and it's too early to tell how those genes are impacting fish growth, there's speculation that the bigger bass showing up in Hamilton these days are the result of some hybridization.

Big enough bass to surprise you
It's fair to expect modest weights from Hamilton, but it'd be a shame to underestimate this lake's potential. According to Cochran, Hamilton is brimming with bass, and three-hour night tournaments regularly require 18 pounds to win in the summertime. Cochran had a morning trip there in the spring where he and a buddy caught 30 keepers, with their best five pushing 20 pounds.
"It's been taking big stringers all year long there," Cochran said back in early summer, "and there's been a 10 and a 12 [pounder] I know caught there."
Daytime fishing in August is much tougher, as bass clam up and refuse to bite, but we'll likely see at least a few fish and a handful of stringers that surprise all the critics.
The silver lining is a typically strong morning bite in the first two or so hours and some surprisingly large bass that call Lake Hamilton home. Don't be surprised if the winner catches most of his fish before the sun fully breaks over the treetops, with one or two kickers over three days.
Cochran expects the overall catch to be better this year than in 2005, when most of the top pros totaled four-day weights in the mid- to upper 20s. Twelve pounds can win a one-day daylight derby in the summer, but even bigger weights are possible.

Probable patterns
1. Dock-fishing – Dock patterns can really vary, but expect a lot of pros to throw weightless worms, swim jigs and swimbaits, as well as some topwater.
2. Brush piles – A crankbait, under-spin or swimbait reeled over brush might work early, but once the fishing pressure sets in, it'll probably take a big worm worked slowly through the brush to get bites.
3. Bank grass – A little bit of water willow grass could attract enough baitfish to hold some bass. Buzzbaits, swim jigs and finesse plastics will get the call here.
4. Riprap and seawalls – Hard cover and structure on the shoreline, particularly if the water's a little deeper next to it, can be targeted successfully with topwater, drop-shots, crankbaits and jigs.
5. Schooling fish – Catching schoolers with topwater and under-spins is unpredictable, but could produce big bags early.
6. Points and structure – Natural structure should hold a few fish. Carolina rigs and drop-shots are probably the best bet.
7. Shallow junk – Running and gunning any and every bit of shallow cover has worked in August Cups before. Pros will throw frogs in the shade, jigs and Texas rigs just about anywhere, finesse worms on points, walking baits all over the place, and anything else that'll get a bite. The whole lot is in play with this one.
8. The unknown – Cochran credits the fact that no one else was on the same pattern as him as being a big part of why he dominated on the final day in 2005. There could be another unknown this year. Perhaps a pattern far up the Ouachita River, or some unknown honeyhole in the back of a cove, or a bream-based pattern will be it.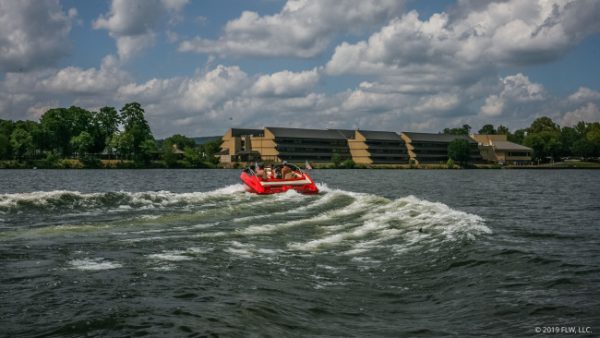 Other factors
1. Power generation – Current isn't really a major factor on Hamilton, at least not in the same way it is on a Tennessee River impoundment. However, the power company Entergy Corporation owns Lake Hamilton, and if it's generating at the dam, which it should be in August, Cochran says the fishing is usually better.
2. Pleasure boaters – Along with all the people who live around Lake Hamilton comes boat traffic. Pleasure boaters come out around 9 a.m. most days in August. They can make fishing difficult, but they can also disorient baitfish with their wakes, which encourages bass to feed.
3. The upper and lower ends – Most of the action at the Cup will take place in the lower two-thirds of the reservoir, and probably not that far from takeoff. That's where the deepest water is found. It's also the area with the most docks and brush piles.
In the upper end, the Ouachita River flows in from the northwest through a narrow stretch in the lake that's mostly void of docks. It's an area that will probably get overlooked by many pros, or at least written off due to the amount of good-looking cover and structure down the lake. However, running way upstream to an area with less pressure and a little bit of moving water is rarely a bad idea in summertime.