Neal Runs Away with Group B Qualifying Round Win at MLF Bass Pro Tour Favorite Fishing Stage Three on Lewis Smith Lake Presented by Mercury
Category: article
Mar 7th, 2022 by Keith Worrall
Modified Mar 7th, 2022 at 11:06 AM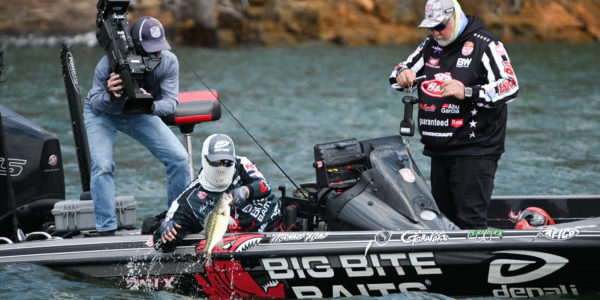 Tennessee Pro Holds off Alabama's Fletcher Shryock by 21 Pounds, 1 Ounce to Advance Straight to Monday's Championship Round, Field of 38 Anglers Set for Sunday's Knockout Round
Link to Video Highlights of Group B Qualifying Round Day 2
CULLMAN, Ala. (March 5, 2022) – After taking over the lead early in the day, and holding off several hard-charging pros in the third period, pro Michael Neal of Dayton, Tennessee held his ground to finish first Saturday, catching 21 bass weighing 44 pounds even, to cruise to a Group B Qualifying Round win at the Favorite Fishing Stage Three on Lewis Smith Lake Presented by Mercury in Cullman, Alabama. Neal's two-day total of 35 bass weighing 69 pounds, 12 ounces advances him directly to Monday's Championship Round as the competition continues for the top award of $100,000.
This will mark Neal's 11th Championship Round appearance on the Major League Fishing (MLF) Bass Pro Tour and the second time the Tennessee pro has won the automatic berth straight to the final round – the first of which carried him to the win at the 2021 Bass Pro Tour Stage Seven on Lake St. Clair.
"It's definitely good to make it into the Championship Round," said Neal. "If I can have another day like I had today, I have a shot to win. We'll have very different weather on the final day, so I'm not sure how the bass in this area will like that, but I'm ready to find out."
Neal spent the day out in open water – over 100-feet deep – using forward-facing sonar to target suspended fish that were chasing bait.
"It was a grind in that second period again, so I don't know if I'm going to have to leave this area during the second period and then come back in the third or try something different," said Neal. "It's not really late enough in the day to be able to get on an evening bite, but there are tons of fish here – all pretty decent-sized – and I'm looking forward to coming back out here on Monday.
"There are still a lot of fish in this area to catch, and while it would be nice to be out here tomorrow and continue practicing and figuring things out, I can't win if I don't make it to Championship Day. I have to take the automatic berth, skip the Knockout Round and go straight to the final day."
Favorite Fishing pro Fletcher Shryock of Guntersville, Alabama caught a two-day total of 24 bass weighing 48-11 to finish the round in second place, while Berkley pro Jordan Lee of Cullman, Alabama ended the round in third place with a two-day total of 24 bass weighing 48 pounds even. Jasper, Texas pro Todd Faircloth caught 23 bass weighing 46-7 to land in fourth, while pro Gerald Spohrer of Gonzales, Louisiana advanced to the Knockout Round in fifth place with a two-day total of 21 bass weighing 44-5.
General Tire pro Ott DeFoe of Blaine, Tennessee sat without a scorable bass after the first two periods before going on a flurry in period three to catch 10 bass for 22 pounds, 10 ounces and slide into the Knockout Round in 18th place.
After hovering around the Toro Cut Line throughout most of the day, local pro Jesse Wiggins of Addison, Alabama made a clutch catch with eight minutes remaining in the final period, boating a 3-pound, 3-ounce spotted bass to jump over the cut line and end the day in 20th place.
"We got in by the skin of our teeth, on my home lake," said Wiggins. "I hate that it was that close, but I caught some big ones today, and several that were close to 3 pounds. I caught tons of fish in one area – none that were above the 1 pound, 8-ounce mark to be scorable – but we made it. I caught most of my fish on a 7-foot 6-inch Medium St. Croix Legend Xtreme Spinning Rod, with a 2.8-inch Jackall Rhythm Wave Swimbait and a Keitech Swimbait.
"It was tough, I mean that was a freaking grind. But just knowing this one little stretch to end on saved me and thank the good Lord it did. We're tied for first place now," Wiggins laughed.
The remaining 38 anglers – 19 from each group – now advance to Sunday's Knockout Round, where weights are zeroed, and the anglers compete to finish in the top eight to advance to the Championship Round on Monday. The Championship Round will feature Group A winner Jacob Wheeler, Group B winner Michael Neal, and the top eight finishers from the Knockout Round, competing in a final-day shootout for the top prize of $100,000.
The six-day event, hosted by Cullman Parks, Recreation and Sports Tourism, Cullman County Parks and Rec and the Cullman Area Chamber of Commerce, showcases 80 of the top professional bass-fishing anglers in the world competing for a total purse of $805,000, including a top cash prize of $100,000 to the winner.
The top 20 pros in Qualifying Group B that now advance to Sunday's Knockout Round on Lewis Smith Lake are:
1st: Michael Neal, Dayton, Tenn., 35 bass, 69-12 – ADVANCES TO CHAMPIONSHIP ROUND
2nd: Fletcher Shryock, Guntersville, Ala., 24 bass, 48-11
3rd: Jordan Lee, Cullman, Ala., 24 bass, 48-0
4th: Todd Faircloth, Jasper, Texas, 23 bass, 46-7
5th: Gerald Spohrer, Gonzales, La., 21 bass, 44-5
6th: Tommy Biffle, Wagoner, Okla., 19 bass, 42-0
7th: Alton Jones, Jr., Waco, Texas, 18 bass, 40-7
8th: Marty Robinson, Lyman, S.C., 20 bass, 38-14
9th: Clabion Johns, Social Circle, Ga., 18 bass, 38-8
10th: Fred Roumbanis, Russellville, Ark., 21 bass, 38-5
11th: Cole Floyd, Leesburg, Ohio, 17 bass, 37-6
12th: Brent Ehrler, Redlands, Calif., 19 bass, 37-2
13th: Matt Lee, Cullman, Ala., 19 bass, 36-13
14th: Dustin Connell, Clanton, Ala., 17 bass, 36-12
15th: Dylan Hays, Hot Springs, Ark., 17 bass, 35-3
16th: Shin Fukae, Thomson, Ga. and Osaka, Japan, 19 bass, 35-1
17th: Bryan Thrift, Shelby, N.C., 16 bass, 33-14
18th: Ott DeFoe, Blaine, Tenn., 15 bass, 31-11
19th; Anthony Gagliardi, Prosperity, S.C., 17 bass, 30-11
20th: Jesse Wiggins, Addison, Ala., 14 bass, 30-6
A complete list of results can be found at MajorLeagueFishing.com.
Overall, there were 295 scorable bass weighing 583 pounds, 14 ounces caught by the 39 pros Saturday.
Bass Pro Shops pro David Walker of Sevierville, Tennessee caught a 4-pound, 12-ounce largemouth on a jig in the third period that earned him Saturday's $1,000 Berkley Big Bass Award. Berkley awards $1,000 to the angler who weighs the heaviest bass each day, and a $3,000 bonus to the angler who weighs the heaviest bass of the tournament.
The 40 Anglers in Group A competed in their two-day qualifying round on Wednesday and Friday – the 40 anglers in Group B on Thursday and Saturday. Now that the Qualifying Round is complete, the anglers that finish in 2nd through 20th place from both groups advance to Sunday's Knockout Round, while the winner of each group advances directly to Monday's Championship Round. In the Knockout Round, weights are zeroed, and the remaining 38 anglers compete to finish in the top 8 to advance to the Championship Round. In the final day Championship Round, weights are zeroed, and the highest one-day total wins the top prize of $100,000.
The 38 anglers competing in Sunday's Knockout Round will launch at 7:30 a.m. from the Smith Lake State Park, located at 403 County Road 386 in Cullman, Alabama. The General Tire Takeout will be held at the park, beginning at 4:30 p.m. Fans are welcome to attend all launch and takeout events and also encouraged to follow the event online throughout the day on the MLF NOW!® live stream and SCORETRACKER® coverage at MajorLeagueFishing.com.
The Favorite Fishing Stage Three on Lewis Smith Lake Presented by Mercury features anglers competing with a 1-pound, 8-ounce minimum weight requirement for a bass to be deemed scorable. Minimum weights are determined individually for each competition waters that the Bass Pro Tour visits, based on the productivity, bass population and anticipated average size of fish in each fishery.
The Bass Pro Tour features a field of 80 of the top professional anglers in the world competing across seven regular-season tournaments around the country, competing for millions of dollars and valuable points to qualify for the annual General Tire Heavy Hitters all-star event and the REDCREST 2023 championship.
The MLF NOW!® broadcast team of Chad McKee, Marty Stone and J.T. Kenney will break down the extended action on all six days of competition from 7:45 a.m. to 4:30 p.m. CT. MLF NOW!® will be live streamed on MajorLeagueFishing.com and the MyOutdoorTV (MOTV) app.
Television coverage of the Favorite Fishing Stage Three on Lewis Smith Lake Presented by Mercury will premiere at 7 a.m. ET, Oct. 1 on the Discovery Channel. New MLF episodes premiere each Saturday morning on the Discovery Channel, with additional re-airings on the Outdoor Channel. Each two-hour long reality-based episode goes in-depth to break down each day of competition.
Proud sponsors of the 2022 MLF Bass Pro Tour include: 13 Fishing, Abu Garcia, A.R.E. Truck Caps, B&W Trailer Hitches, BallyBet, Bass Cat, Bass Pro Shops, Berkley, Covercraft, Favorite Fishing, Garmin, General Tire, Googan Baits, Grundéns, Guaranteed Rate, Humminbird, Lowrance, Luminox, Mercury, Minn Kota, Mossy Oak, Nitro Performance Boats, Onyx, Plano, Power-Pole, Power Stop, Rapala, Starbrite, Toro, Toyota, Wrangler, Yellowstone Bourbon and Zoom.
For complete details and updated information on Major League Fishing and the Bass Pro Tour, visit MajorLeagueFishing.com. For regular updates, photos, tournament news and more, follow MLF's social media outlets at Facebook, Twitter, Instagram, and YouTube.
About Major League Fishing
Major League Fishing (MLF) is the world's largest tournament-fishing organization, producing more than 250 events annually at some of the most prestigious fisheries in the world, while broadcasting to America's living rooms on CBS, the Discovery Channel, the Outdoor Channel, CBS Sports Network, the World Fishing Network, and on-demand on MyOutdoorTV (MOTV). Headquartered in Tulsa, Oklahoma, with offices in Benton, Kentucky, the MLF roster of bass anglers includes the world's top pros and more than 30,000 competitors in all 50 states and 13 countries. In 2019, MLF expanded its portfolio of catch, weigh, and immediately release events to include the sport's strongest five-biggest-fish format tournament circuits. Since its founding in 2011, MLF has advanced the sport of competitive fishing through its premier television broadcasts and livestreams and is dedicated to improving the quality of life for bass through research, education, fisheries enhancement, and fish care.
Major League Fishing – WE ARE Bass Fishing™