MEGA Live Is Here! Humminbird Live Sonar Inside
Category: article
Jun 10th, 2021 by Keith Worrall
Modified Jun 10th, 2021 at 9:54 PM
INTRODUCING, MEGA LIVE IMAGING™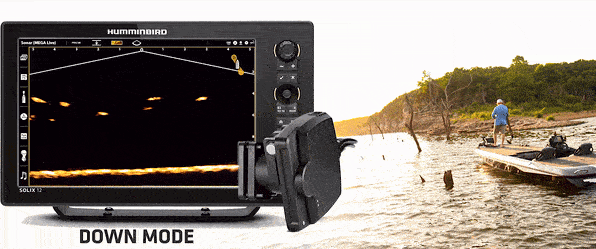 SEE THE DETAIL AND CLARITY OF MEGA IMAGING IN LIVE MOTION
It's showtime. We've expanded the performance of MEGA Imaging® sonar technology with the introduction of MEGA Live Imaging™. This new sonar technology delivers the clarity and detail of MEGA Imaging in live action, allowing anglers to see fish and structure in real-time, even watching fish on-screen as they move in to bite an angler's lure.
With the release of this technology, Humminbird anglers have access to the most complete package of industry-leading technologies and products offered by a single brand.
MEGA Live Imaging sonar views are provided by a compatible Humminbird fish finder and a state-of-the-art transducer, designed to mount to a trolling motor shaft, providing rapid deployment into the water and easy steering control of the live sonar views.
The MEGA Live Imaging transducer comes with a multi-position bracket that provides three sonar views, each suited for different fishing applications and techniques.
MEGA LIVE VIEW MODES
DOWN MODE
Live imaging looking directly below the transducer.
Watch it all go down. This viewing mode is ideal for seeing detailed images of structure and fish swimming underneath your boat, allowing you to easily drop them a line.


FORWARD MODE
Live imaging looking out and away from the transducer, steered using the trolling motor's foot pedal or remote.
Now here's something to look forward to. Forward Mode is great for seeing and casting out ahead of or around your boat, This forward-looking view helps you get more bites by quickly revealing fish and allowing you to watch your bait and fish movement during your retrieve.
MEGA Live views – Forward Mode

LANDSCAPE MODE
Live imaging from a wide, bird's-eye view looking out and around the boat.
Keep a sharp lookout. Perfect for gathering intel in shallow water, this transducer angle makes full use of your widescreen display by showing you a bird's eye view of what's ahead and around the boat in clear detail.

MEGA LIVE COMPATIBILITY
MEGA Live Imaging is compatible with the following Humminbird control heads.
All APEX®
All SOLIX®
HELIX® 8″- 12″ G3N; 8-15″ G4N (MDI or MSI Models are required)

MEGA LIVE TRANSDUCER ACCESSORY
Upgrading to MEGA Live Imaging is as simple. Connect the included Ethernet and power cables and attach the three-position MEGA Live transducer to your trolling motor and you're ready to fish. Adjust between the three viewing modes with a twist of the transducer. Thanks to MEGA Imaging detail throughout the entire view, you'll always have a clear view from edge-to-edge, no matter what view you select.
MEGA LIVE IMAGING WILL BE AVAILABLE IN SEPTEMBER OF 2021
Follow us on Facebook, Instagram, Twitter, and YouTube to stay up to date on the latest developments and information!
TAKE A LOOK AT THESE ADDITIONAL RESOURCES