MLF Rookie Bryan Thrift Wins Group A, guarantees himself minimum $12k payout
Category: article
Feb 10th, 2020 by Keith Worrall
Modified Feb 10th, 2020 at 10:05 AM
Bass Pro Tour Rookie Bryan Thrift Wins Group A and Advances Directly to the Championship
February 9, 2020 (Eufaula, Ala.) Bass Pro Tour Rookie Bryan Thrift won Qualifying Round Group A of the B&W Hitches Stage One presented by Power-Pole to become the first automatic Championship Berth in MLF history. Alabama resident Greg Vinson rose 18 places to finish in second. Chris Lane, who held the lead in Group A for nearly five periods, fell to fifth overall with a two-day total of 38 pounds, two ounces. Overall the third day kept everyone guessing despite the sunny skies and warmer temperatures.
On a slightly tougher fishing day on Lake Eufaula, Bryan Thrift showed he could compete well in this new-to-him format with an impressive two-day total and commanding march into first over Chris Lane. Thrift took control of the top spot with the Berkley Big Bass of the Day, which weighed in at six pounds, three ounces, shortly after Period 3 began. In the last 80 minutes of the day, he added five more bass to his total including one at five pounds, five ounces. Thrift said his late-day success was a surprise.
"I did a lot better than I expected at the end," Thrift admitted. "It started so slow, and I only had four fish between the first two periods.
"I'm not getting enough bites to have a pattern," he added. "I'm running different stuff and throwing different baits; there's no way I can know what is going to work."
Thrift earned the Phoenix Boats Daily Leader award for his ten bass weighing in at 34 pounds, six ounces. Perhaps most exciting, Thrift receives the benefit of a "Championship Berth," which guarantees him a $12,000 minimum payday. New for 2020, the winners of each Group (A and B) automatically advance to the final, Championship Round, and do not need to fish the Knockout Round. The remaining 19 anglers from each Group (A and B) will fish Tuesday for one of the remaining eight spots in the Championship Round.
Alabama resident Greg Vinson rose steadily up the SCORETRACKER® from 20th place to second. His success stemmed from the fact that he caught more scoreable bass on the day with 12, including one just shy of five pounds at four pounds, 15 ounces. Vinson eluded to how stressful it can be for an angler to find himself mid-round on the "elimination line." The elimination line refers to the top 20 places on SCORETRACKER® who advance and the bottom 20 who are eliminated from a Stage of the Bass Pro Tour.
"I came in as the 'bubble boy,' and I was sweating it," Vinson said. "With the tough fishing conditions, you never know. I locked into something a little different today, and it was fun."
Chris Lane finished day one of the 2020 Bass Pro Tour B&W Hitches Stage One presented by Power-Pole at the top of the SCORETRACKER® with 35-pounds, 12-ounces representing nine bass. However, day two proved to be a completely different ballgame. Lane caught one scorable bass in Period 1 and then remained scoreless the rest of the day. His lead coming into day two provided him a secure position in fifth place for the Qualifying Round, Group A.
The Top Ten of the Qualifying Round, Group A finished day two as follows: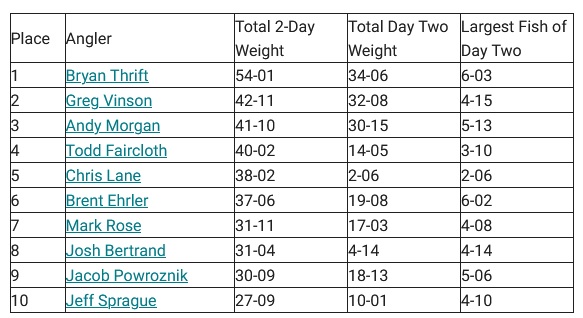 For complete results, visit MajorLeagueFishing.com, Bass Pro Tour, Results.
Lane was not the only angler to experience a tough day on the water. Stephen Browning started the day in 11th but fell to 23rd, while Boyd Duckett slipped from 13th to 25th. Mark Daniels, Jr. began on the bubble with Vinson at 19th and fell to 24th. While Andy Montgomery moved from 22nd to 18th. While in the other direction, Alton Jones, Jr. rose from 26th to 13th and Brent Chapman leapt from 28th to 11th place.
The Qualifying Round continues Monday with Group B, currently led by 2019 Major League Fishing (MLF) World Champion Jacob Wheeler. Wesley Strader stands in second place with Randall Tharp, Bobby Lane, and MLF Rookie David Dudley rounding out the top five. Defending 2019 Points Champion and REDCREST presented by Venmo Champion, Edwin Evers sits in 36thplace and Kevin VanDam hopes to hold onto his 13th place to advance to the Knockout Round. The SCORETRACKER® resets to zero for the Knockout Round making it a new game going into Tuesday's Knockout Round and Wednesday's Championship Final.
Tuesday's Qualifying Round, Group B, day two begins with launch 7-7:30 a.m. before lines-in at 8:00 a.m. Period 1 ends at 10:30 a.m. Period 2 spans 10:45 a.m. until 1:15 p.m. Period 3 begins at 1:30 p.m. and lasts until day's end at 4:00 p.m. The General Tire Takeout show airs approximately 4:15 – 5:15 p.m. as anglers return to the ramp.
Fans can catch all the action every day of competition on MLFNOW! livestream on MajorLeagueFishing.com or download the MLF App for your Apple or GooglePlay device or on MyOutdoorTV (MOTV).
About the Bass Pro Tour:
The Bass Pro Tour began in 2019 and features 80 of the best professional anglers in the world, including Kevin VanDam, Edwin Evers, Aaron Martens, Mike Iaconelli, Jordan Lee, and Skeet Reese. Each stage includes six days of competition using the Major League Fishing, catch-weigh-and-immediately-release format, where every bass over a variable minimum weight, which is two pounds on Lake Eufaula for Stage One, toward a cumulative weight total for the day. Variable minimum weights are determined by fishery akin to a golf course handicap. The field of 80 anglers is divided into two Groups (A and B) of 40 to compete in the Qualifying Round for a two-day total. The top 20 anglers from each Group (A and B) in the Qualifying Round (40 total) advance to the Knockout Round on day five, which determines the ten who will compete on that final day, the Championship Round, for the Stage title and $100,000.
Each of Eight Stages of the Bass Pro Tour have the following payout schedule: 1st $100,000; 2nd $42,000; 3rd $30,000; 4th$24,000; 5th $18,000; 6th $16,800; 7th $15,600; 8th $14,400; 9th $13,200; 10th $12,000; 11th – 40th $6,000; Big Bass Daily $1,000; Big Bass Overall $1,000.
In addition to the economic impact on a host community, Major League Fishing showcases the region through their award-winning, live and linear programming. Each Stage of the Bass Pro Tour is broadcast live on the Major League Fishing app, MyOutdoorTV (MOTV), and majorleaguefishing.com, totaling more than 325 hours of original programming. Fans can follow the fast-paced nature of the MLF format as it unfolds on the live leaderboard through "SCORETRACKER® updates." Highlights from each Stage of the 2020 Bass Pro Tour will air on Discovery Network beginning in July 2020 and Sportsman Channel in early 2021.
"MLF offers the strongest broadcast presence in the industry to fans and sponsors," said Jim Wilburn, President and CEO of Major League Fishing. "And with these lakes planned for this coming Bass Pro Tour, we know 2020 will be our best year yet as we continue to capture a broad audience of both longtime fishing fans and those new to the sport, thanks to our fast-paced, fan-friendly format,"
About Major League Fishing
Founded in 2011, Major League Fishing (MLF) brings the high-intensity sport of competitive bass fishing into America's living rooms on Outdoor Channel, Discovery, CBS, CBS Sports Network, World Fishing Network, Sportsman Channel, and on-demand on MyOutdoorTV (MOTV). The Bass Pro Tour consists of eight events and a championship streamed live on www.MajorLeagueFishing.com and MOTV.
In late 2019 MLF acquired FLW, which expands their portfolio to include the world's largest grassroots fishing organization, including the strongest five-fish format professional bass fishing tour, the Tackle Warehouse Pro Circuit, as well as the Toyota Series, Phoenix Bass Fishing League presented by T-H Marine, and Abu Garcia College Fishing presented by YETI, and High School Fishing presented by Favorite Fishing.
For more information on the league and anglers, visit www.MajorLeagueFishing.com and follow MLF on Twitter, Instagram and Facebook.