Customize and Maintain Your Lures With Diawa Tools
Category: article
Jun 10th, 2020 by Keith Worrall
Modified Jun 10th, 2020 at 12:17 PM

Customize and Maintain Your Lures
Daiwa's new Split-Ring Pliers puts the power of easy hook replacement in your hands
Cypress, CA (June 8, 2020) – Do-it-yourself (DIY) is one of the hottest trends in fishing. From constructing your spinnerbaits – choosing colors, sizes, hooks and weight – to pouring and painting custom jigs. YouTube is rife with how-to videos instructionally teaching DIY, too.
But one thing that hasn't changed since the first treble touched water is the need for replacements. Hooks dull. Hooks get bent out of shape. And, of course, hooks rust. Satisfying the need for top-shelf tools, Daiwa introduces its new Split-Ring Pliers series.
Daiwa 5-inch Split-Ring Pliers
Available in 5- and 8-inch lengths, these superior pliers collect the positive properties of design and expert machining in one must-have tool. At the onset, Daiwa uses heat treated carbon steel. Used in milling processes and professional cutting tools, pre-treating the steel with heat makes it harder and stronger. That translates into pliers that aggressively open split-rings and last.
The actual steel is measured "C" on the Rockwell Scale of Hardness, designating an extremely hard steel.
Daiwa's new Split-Ring Pliers are also double tempered. The extreme heat treatment process (just above the melting point) increases the toughness of the iron-base and improves shear strength, as well as compressive strength.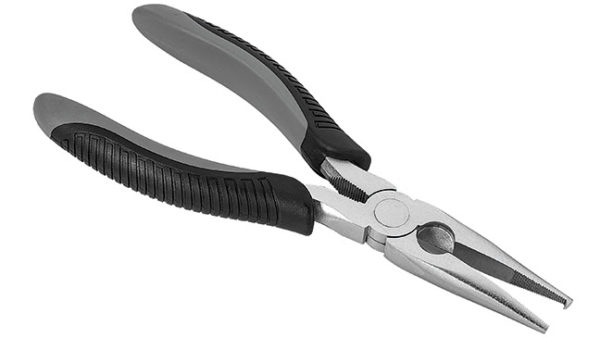 Daiwa 8-inch Split-Ring Pliers
Daiwa also gives the Split-Ring Pliers a nickel finish, further battling corrosion.
Both the 5- and 8-inch models feature gray and black rubber handles with the striking Daiwa logo. The 5-inch model is also spring loaded.
MSRP for the 8-inch Split-Ring Pliers is $14.99, $12.99 for the 5-inch.
For Daiwa's latest color catalog and/or information on Daiwa dealers in your area, call Daiwa's Customer Service Department at 562-375-6800 or e-mail inquiries to: [email protected] The URL for Daiwa's web site is http://www.daiwa.com/us/