13 Fishing Partners with the Association of Collegiate Anglers for the 2021 Season
Category: article
Jan 22nd, 2021 by Keith Worrall
Modified Jan 22nd, 2021 at 6:28 PM

13 Fishing Partners with the Association of Collegiate Anglers for the 2021 Season
SAN ANTONIO, TX (January 22, 2021) – The Association of Collegiate Anglers is excited to announce a new partnership between 13 Fishing and the Bass Pro Shops Collegiate Bass Fishing Series for the 2021 season. This new partnership will include the promotion of 13 Fishing's student angler discount program and offer a wide array of benefits that will help improve each student angler's skill set.
"13 Fishing is excited to expand our support for college anglers. One of our focus' is to reinvest in collegiate angling. We've had a strong program set up for anglers, but now through the ACA we have the opportunity to include a much broader group. College anglers are a major driver in the sport of fishing and it's a rewarding opportunity for us to be involved with a program such as the ACA who have helped a bunch of us foster our passions for the outdoors."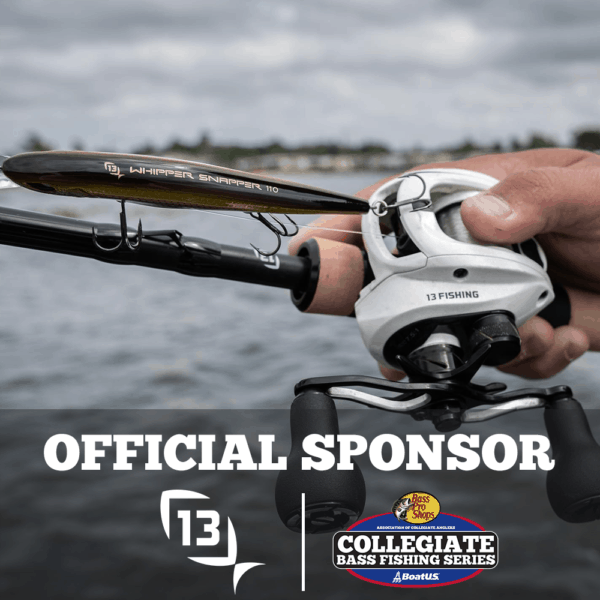 13 Fishing is a Florida based company that produces cutting edge baits, gear, rods, and reels for anglers of all skill levels. A company founded on the most important principle of fishing, the angler, 13 Fishing continues to be an industry leader in producing premier fishing equipment. Nowhere is that more evident than in their lineup of rods & reels. No matter the budget, there is a line of products that will meet the angler's needs. 13 Fishing's growing product line of baits and soft plastics are also at the forefront of innovation in the industry. From the top of the water column all the way down to the bottom, and everywhere in between, 13 Fishing has proven fish-catching baits that are tournament tested and have produced major victories at the highest levels of the sport.
As part of the new partnership, the ACA will work with 13 Fishing in promoting its student angler discount program. College students will be able to receive a 60% discount on rods/baits and a 40% discount on reels. To apply for the discount program, visit the Discounts & Incentives page on the ACA website. Once there, anglers will be prompted to fill out a detailed submission form that will be sent to 13 Fishing for approval. Approved anglers will then be able to purchase 13 Fishing products at discount.