Which Charging System Will You Choose?
Category: article
Feb 10th, 2022 by Keith Worrall
Modified Feb 10th, 2022 at 8:21 PM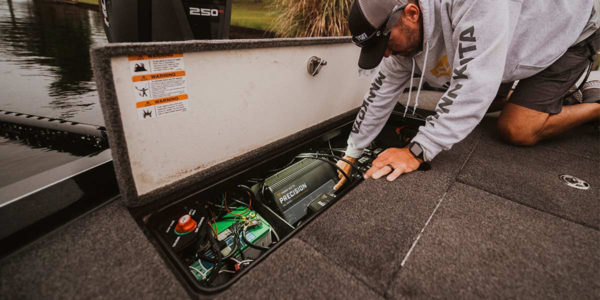 GET OUT EARILER. STAY OUT LATER.
Legendary Precision chargers are now optimized for 12 volt lithium marine batteries, but keeping anglers on the water longer is nothing new for the engineers at Minn Kota. Get to Know the entire line of advanced charging systems.
THE ULTIMATE CHARGE
Only the Minn Kota Precision line of chargers give you total control of your charge curve and are made to battle the elements. Battery selection by bank means you can use multiple battery types and rest easy knowing that your charger was specifically engineered to deliver the perfect charge whether you choose flooded lead-acid, AGM, or Lithium (LiFePO4).
You don't give your batteries a day off — so your charger better be able to keep up. Our Digital on-board chargers are workhorse power plants that feature a microprocessor-based digital design to create a quick, safe charge, keeping you on the water all day, year after year.
BRING THE POWER TO YOUR BOAT
With a digital design and your choice of power levels, our Portable chargers let you bring the action right to your boat. And they feature Automatic Temperature Compensation and fully automatic multi-stage charging to give your batteries the right charge every time you hook up.
CHARGE ON THE FLY FOR ALL DAY POWER
Alternator chargers put every ounce of power to good use. While on the water, they take your alternator's excess power and redistribute it to your trolling batteries. You get an extra boost, and better battery life.
CAN'T DECIDE? VISIT OUR BUYING GUIDE

Battery Charger Buying Guide
Find the right way to power everything on your boat.