Something new is on the ICE
Category: article
Jul 9th, 2019 by Keith Worrall
Modified Jul 9th, 2019 at 5:40 PM
The new generation of ICE HELIX fish finders is here. With new features, and new models, there's sure to be an ICE HELIX model perfect for your fishing this winter.
NEW & Updated Models
Built on the foundation of our Dual Spectrum CHIRP sonar, ICE HELIX models provide crystal-clear sonar returns with 3/4″ target separation and CHIRP Interference Rejection settings for a clear view of everything below. Unlock even more potential with ICE HELIX CHIRP GPS and ICE HELIX CHIRP GPS ALL-SEASON models with built-in GPS, Humminbird® Basemap and compatibility with LakeMaster® and Navionics® maps for precision fishing.
ALL NEW ICE HELIX FEATURES
NEW AUTOChart Live ICE
Fishing with GPS and depth contour maps has become invaluable to anglers, especially during the hardwater season when moving spots means lots of time and work. That's why we're excited to introduce AutoChart Live ICE, which allows ice anglers to instantly create 1-foot contour maps on the ice from any new GPS-equipped ICE HELIX fish finder.
Available on new ICE HELIX CHIRP GPS and ICE HELIX CHIRP GPS ALL-SEASON models.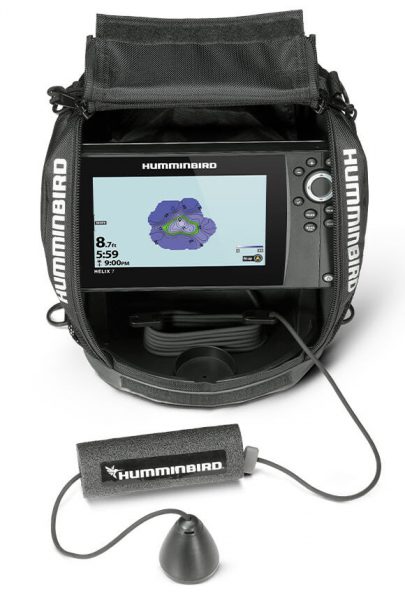 Coming Fall 2019
New ICE HELIX units will be available this fall. Make sure to follow us on social media for updates, and learn more about what's new on our website.
Learn More About New Ice Helix