Montevallo Claims Day 1 Lead In Bassmaster College National Championship On Winyah Bay
Category: article
Sep 2nd, 2022 by Keith Worrall
Modified Sep 2nd, 2022 at 9:26 PM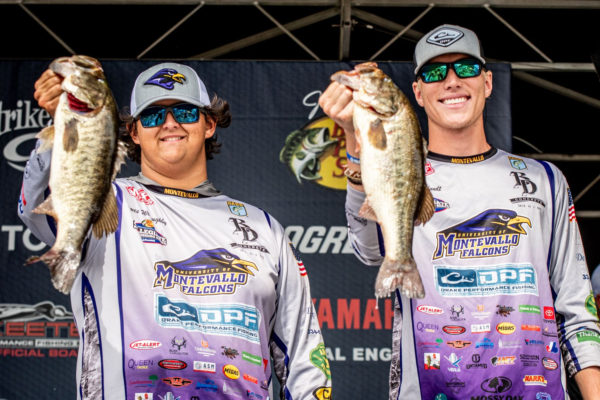 James Willoughby and Jacob Pfundt of the University of Montevallo are leading after Day 1 of the 2022 Strike King Bassmaster College Series National Championship on Winyah Bay presented by Bass Pro Shops with 15 pounds, 15 ounces. Photo by Dalton Tumblin/B.A.S.S.
September 2, 2022
Montevallo Claims Day 1 Lead In Bassmaster College National Championship On Winyah Bay
GEORGETOWN, S.C. — Growing up in Mississippi, James Willoughby learned very quickly how to fish the tidal waters of the Pascagoula River. So, when it was announced the Strike King Bassmaster College Series National Championship presented by Bass Pro Shops would be held on Winyah Bay, he thought he and his partner Jacob Pfundt would feel right at home.
Sure enough, the Montevallo duo caught 15 pounds, 15 ounces to take the lead on the first day of the prestigious tournament. They hold a 1 1/2-pound lead over Andrew Vereen and Connor Cartmell from Coastal Carolina University and over a 2-pound advantage over Cole Lamb and Tristan Weaver from Arkansas Tech.
Securing a big bag this early in the tournament takes some of the pressure off, Pfundt said.
"It takes the weight off our shoulders for sure," the Lake Lanier native said. "I wouldn't say we got the hardest part done with, but we aren't working uphill at this point. I don't think Montevallo has won a National Championship, so it would be huge to accomplish that."
After visiting several spots without a bite, the duo continued to move around and grinded out five good bites, including two 4-pounders. Willoughby said that while he knew they were around bass in practice, he had no idea what the quality would be like.
"It had to be better than we expected," he said. "Nobody can guess they are going to get two 4-pound bites. I knew we were around some fish, but I didn't think they were going to be that big. I truly don't know what we will have tomorrow. It could be anything. It could be 6 pounds.
There is no telling. We set our target weight at 10 or 11 pounds because we thought you could catch 22 pounds and make it to the final day. But it seems like they caught them a lot better than we thought."
Tide creates bite windows for anglers each day and is crucial to Willoughby and Pfundt's bite. And while he is familiar with tidal systems, Willoughby said Winyah Bay is different from his home waters in how much the tide swings on a given day.
"Tide plays a role in everyone's bite out here whether they realize it or not," he explained. "I grew up on a tidal fishery so it helps me better understand it out here. It is a unique thing to figure out, I will say. The tide swings, like, 3 feet a day and it doesn't stop but for about 30 minutes and then it is back the other way."
Vereen and Cartmell meanwhile, put their local knowledge to work and sacked 14-6 on Day 1.
Vereen grew up in nearby Murrells Inlet and has fished the Winyah Bay system his entire life. So, when the championship was announced on his home fishery for his senior year, he was pumped. Cartmell grew up around the Lake Murray area and has essentially taken a crash course in tidal fishing during his four years at CCU.
"It was about time to go to Saginaw Bay and we heard it was going to be at Winyah Bay and I was like, 'Connor, we have to qualify.' We didn't qualify in Michigan, but we went down to (the Wild Card) at Logan Martin and qualified."
While they are in second going into Day 2, they were a little disappointed with their total weight Friday.
"We had expectations that were higher than 14 pounds," Cartmell said. "We wanted 16 or 17 after today. We had an okay practice but (this bag) was enough for today."
Their starting spot only produced one 12-incher. But after a spot change, they caught everything they put on the scales in a 30-minute window in a 1/2-mile stretch of the Santee River.
"We ran up a little further and decided we were going to put our heads down and fish. We fished back until we had a limit," Vereen said. "We got them dialed in on one bait. That is the only thing they want. We tried to catch them on other stuff but it is not happening."
They added that several other competitors were in the same area they were fishing, more than Vereen said he would like to have around him. Getting the bite windows correct is crucial to their success as well. After 11 a.m., when the incoming tide began to filter back into the river, they did not get a bite.
Lamb and Weaver may be from Arkansas, but they spend a lot of time on the White River, which often acts as a tidal fishery depending on the dam schedules of Norfork and Bull Shoals.
"People think about trout fishing there but we bass fish," Lamb said. "It is probably the only place that isn't tidal that rises and falls 4 or 5 feet a day. Because of that, we have spots that change all day and as the tide comes up we can switch."
That helped the Arkansas Tech duo adjust to real tidal fishing quickly and catch 13-9 on Day 1 at Winyah Bay to land in third.
"It is a tough spot to get into, but once we started fishing it went down pretty quickly," Lamb said. "After 30 minutes, we were done fishing so we could save it for the next few days. We hope there are more there. We probably caught 20 in the first 30 minutes."
Lamb and Weaver have one main area they are fishing, but there are a couple of sweet spots they have located where the bass will position depending on what the tide is doing. They estimated they caught around 20 or 30 bass and their bag was anchored by a 4 1/2-pounder.
"Today went a little better than we expected," Lamb said. "We had a couple of bigger fish and we expected all our fish to be an average size. We had some bigger bites today and were fortunate enough to get them in the boat. Hopefully, we can get them again tomorrow."
The Drury University team of Jacob Welch and Lee Lambrecht caught a 7-2 largemouth to lead the Big Bass of the Tournament standings.
The full field will launch from Carroll A. Campbell Marine Complex in Georgetown starting at 6:30 a.m. ET and return for weigh-in in downtown Georgetown beginning at 2:30 p.m. The Top 12 teams after the Day 2 weigh-in will advance to Championship Sunday. Weigh-in coverage will be carried on Bassmaster.com.
Georgetown County, S.C. is hosting the event.
2022 Bassmaster College Series Title Sponsor: Strike King
2022 Bassmaster College Series Presenting Sponsor: Bass Pro Shops
2022 Bassmaster College Series Platinum Sponsor: Toyota
2022 Bassmaster College Series Premier Sponsors: Berkley, Humminbird, Mercury, Minn Kota, Nitro Boats, Power-Pole, Progressive Insurance, Ranger Boats, Rapala, Skeeter Boats, Yamaha
2022 Bassmaster College Series Supporting Sponsors: AFTCO, Daiwa, Garmin, Huk Performance Fishing, Marathon, Triton Boats, VMC
2022 Bassmaster College Series Youth Sponsors: Shimano, SPRO
About B.A.S.S.
B.A.S.S., which encompasses the Bassmaster tournament leagues, events and media platforms, is the worldwide authority on bass fishing and keeper of the culture of the sport, providing cutting edge content on bass fishing whenever, wherever and however bass fishing fans want to use it. Headquartered in Birmingham, Ala., the 515,000-member organization's fully integrated media platforms include the industry's leading magazines (Bassmaster and B.A.S.S. Times), website (Bassmaster.com), TV show, radio show, social media programs and events. For more than 50 years, B.A.S.S. has been dedicated to access, conservation and youth fishing.
The Bassmaster Tournament Trail includes the most prestigious events at each level of competition, including the Bassmaster Elite Series, St. Croix Bassmaster Opens Series presented by Mossy Oak Fishing, TNT Fireworks B.A.S.S. Nation Series, Strike King Bassmaster College Series presented by Bass Pro Shops, Abu Garcia Bassmaster High School Series presented by Academy Sports + Outdoors, Bass Pro Shops Bassmaster Team Championship, Yamaha Rightwaters Bassmaster Kayak Series powered by TourneyX, Yamaha Bassmaster Redfish Cup Championship presented by Skeeter and the ultimate celebration of competitive fishing, the Academy Sports + Outdoors Bassmaster Classic presented by Huk.