Merc Nationals, Day One Wrap, Day Two AM
Category: article
Jun 13th, 2021 by sworrall
Modified Jun 13th, 2021 at 7:59 AM
Day one of the Mercury Marine National Walleye Tournament wrapped up with 284 boats arriving safely to Lakeside Park under sunny, hot conditions. The bite was tough for most teams with the average basket tipping the scale at between 8 and 9 pounds for a 5 walleye limit. 22 teams broke the 10 pound barrier, and it took 11-01 to make the top ten. 13-05 leads, brought to the scale by David and Jessica Brazee. Holding second are Casey and Chad Wuest at 13-03, just a couple ounces back. The rest of the top ten average 11 pounds.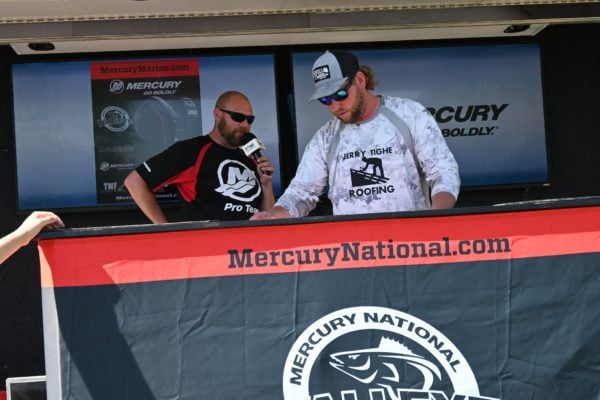 The conditions tomorrow call for warmer temps. Most of the field is hoping for wind, which always helps the bite on Winnebago.
Day Two AM
Day two dawned calm and warm, with NW winds forecast to pick up a bit and highs set to be in the low 90's. The bite will, according to the anglers we spoke to, probably be similar to yesterday. A big kicker fish can make the difference, and two could win it, so it's wide open at this point!
Due to Covid cautions, the weigh-in being held without a live audience, and care is being taken to move teams across the stage quickly. Go to https://mercurynational.com for more details!