Lake of the Woods MN Fishing Report
Category: fishing reports
Oct 10th, 2022 by Keith Worrall
Modified Oct 10th, 2022 at 10:07 PM
On the south end… Walleyes are being found in various schools along the south shore with some very good fall fishing taking place. A mixed bag of walleyes, saugers, pike, jumbo perch and an occasional crappie or sturgeon.
Nice reports from Long Point, to Zippel Bay to Morris Point Gap over to Lighthouse Gap.
Lots of fish being marked with electronics. Some schools are more active than others. The belief is it will continue to get even better with cooling water temps. Most anglers are finding walleyes that will cooperate.
Anchored up and jigging with fatheads and frozen shiners is the ticket. Slide the hook of the jig through the mouth of the minnow, out the gills and as far back as possible, putting the hook through the minnow about half way back on the minnow. This will get you more hook ups with light biting walleyes and saugers.
Jig colors, try strobe gold (like a disco ball) or plain gold combined with orange, glow white, glow red, pink or chartreuse.
Charter boats are on good schools of walleyes and will be fishing through October.
On the Rainy River… More and more shiners moved in the river this week, as did more walleyes. Most are finding fish and going through a lot of bait. If you aren't finding fish, move until you do. They are around.
Some good reports from Four Mile Bay to Baudette and east to Frontier and Birchdale.
Jigging with frozen shiners is the most common technique, especially when fishing structure. Trolling crankbaits upstream in the river is also catching some nice walleyes.
Cooler water temps are getting the sturgeon active. Some big fish were caught again this week. With colder water, target holes in the river.
Boat ramps are open from Wheeler's Point to Baudette east to Birchdale.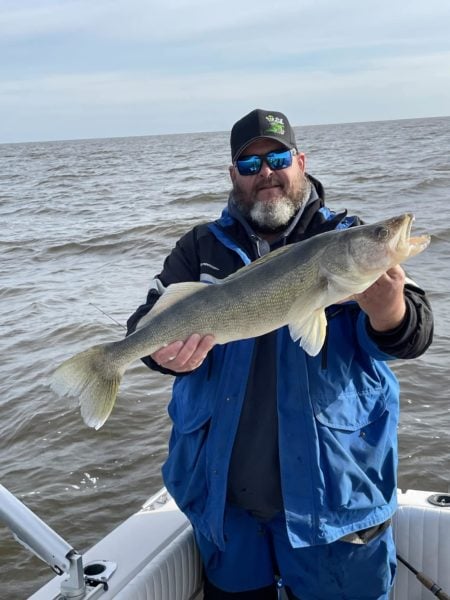 Up at the NW Angle… Walleye fishing continues to be really good up at the Angle. Jigging with a minnow or plastic is catching good numbers of fish on both sides of the border.
Targeting structure has been the ticket for most walleye anglers. Points, rock islands, sunken islands, neck down areas, etc.
Big pike continue to be caught by unsuspecting walleye anglers.
Muskie activity was good again this week. Casting shorelines has been productive and with cooling water, trolling shorelines will soon be effective.
As of October 1, 2022, being vaccinated for COVID is no longer required to enter Canada. In addition, the ArriveCan app is not required, but optional. Perfect timing for the rest of the fall and the ice fishing season.
A complete list of lodging, guides, charter boat trips and ice fishing trips at www.LakeoftheWoodsMN.com/Lodging.