ICAST 2020: Shimano Symetre Spinning Combos
Category: 2020
Jul 14th, 2020 by Keith Worrall
Modified Jul 14th, 2020 at 1:32 PM
SYMETRE SPINNING COMBOS MATCH FAN FAVORITE REEL WITH PERFORMANCE-MATCHED GRAPHITE RODS FOR FRESH AND SALTWATER USE
LADSON, S.C. – ICAST 2020 INTRODUCTION – Available September '20 – In these times of the 'new normal,' the interest in fishing among both avid anglers and those just discovering or returning to the sport has seen tremendous growth. As a leading global manufacturer of rods and reels, Shimano is able to meet that growing interest with the new Symetre spinning combos available for $99.99, offered in 14 different rod/reel configurations for anything from ultralight action for panfish and trout, to heavier power rods and larger capacity reels for inshore saltwater fun.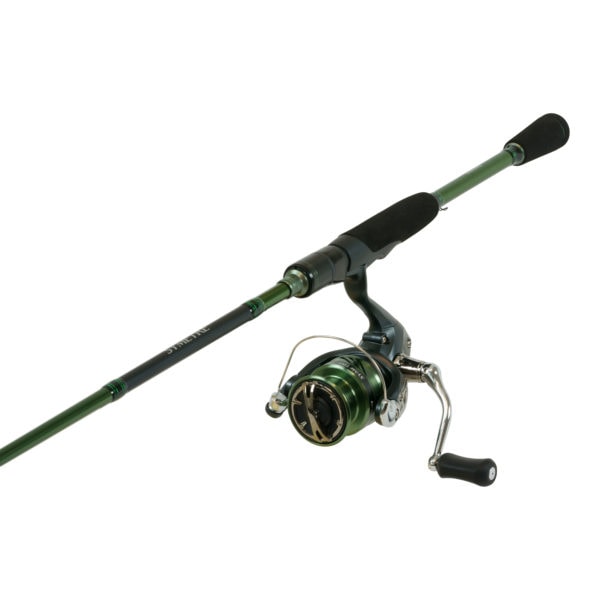 Each combo features Shimano's known Symetre spinning reel – and in the right size to perform properly with the rod's length, power and action – with lightweight graphite G-Free Body technology developed to shift the reel's center of gravity closer to the rod for more fishing comfort. Shimano keeps the Symetre reels performing properly with its Propulsion Line Management System to help anglers make longer casts, while preventing backlashes and wind knots.
The high-quality graphite rod offered in each combo features durable stainless-steel frame guides with Aluminum Oxide inserts. The split-grip EVA handle provide comfort and reduced overall weight, and the custom metal locking nut reel seat keeps things easy.
Pick your fish and there's a Symetre combo sized perfectly of it. Each rod length combo is offered in both one- and two-piece version for either always at the ready or to easily pack in the vehicle for the drive to your nearest body of water. There are Symetre 1000-size reels with 5'6" ultralight and 6' light rods; Symetre 2500 reel with medium-light and medium 6'6" and 7' rods and medium power 7' rods; 7' medium-heavy power rods with Symetre C3000 reels; and 7' medium-heavy rods with Symetre 4000 reels.
"For those where fishing is part of their everyday life, they know the quality and reputation of Shimano tackle. For those just realizing the fun of fishing and enjoying the great outdoors, they'll quickly realize Shimano is serious about our sport and has a company-wide passion for making great tackle," said Trey Epich, who heads up Shimano's North American product development team. "You'll find it in the Symetre spinning combos.
For more information on Shimano's Symetre spinning combos – perfect for both those that fish and those just discovering what it is all about, see your local tackle shop – or visit the Shimano web site at http://fish.shimano.com where you can also buy one locally from your nearest retailer.