LUNKER, Championship & Summer Slam
Category: article
Apr 2nd, 2020 by Keith Worrall
Modified Apr 2nd, 2020 at 12:16 PM
ACA Online Tournament Starts NOW April 2nd thru April 8th
The ACA Online Tournament began today, April 2nd at sunrise, and will run through next Wednesday, April 8th at sunset, all local times. The keyword every angler is required to show in their submissions for the ACA Online Tournament is "LUNKER." Competitors must lay the fish on the measuring board with the mouth closed, tail flat, and LUNKER must be visible on a piece of paper. To view the tournament rules, click here.
Submit your fish catches HERE.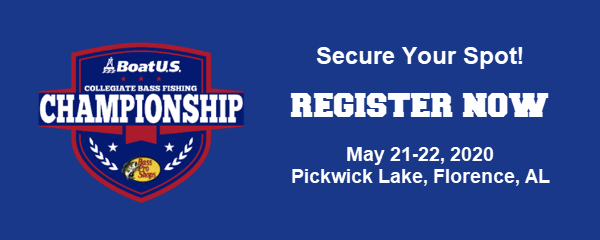 Registration for the 2020 BoatUS Collegiate Bass Fishing Championship presented by Bass Pro Shops is open! Make sure you Register NOW in order to secure your team's spots.
Every school bass fishing team qualifies for three (3) teams to be entered into the 2020 Championship. For the school bass fishing teams in the Top 25 of School of the Year, one (1) additional team may be entered into the 2020 Championship, for a maximum of four (4) teams.
For Championship details, please read the Angler Packet.
The Association of Collegiate Anglers is excited that Lake Murray will play host to a two-part format with a twist event that will count towards the 2020-2021 Bass Pro Shops School of the Year presented by Abu Garcia.
This new event will provide double School of the Year points! Register Now!