Huk Just Feels Right
Category: article
Aug 9th, 2022 by Keith Worrall
Modified Aug 9th, 2022 at 7:30 PM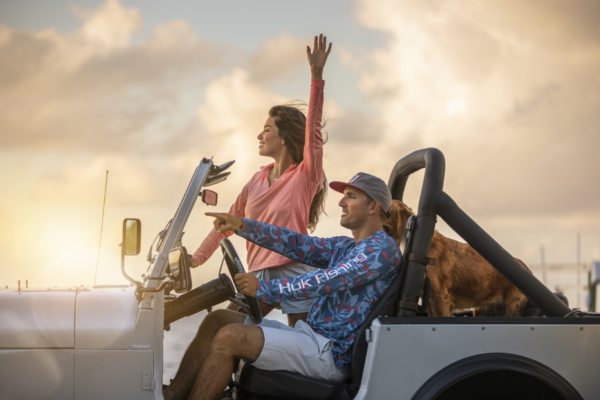 Charleston, SC (August 9, 2022) – Huk's philosophy about outdoor apparel isn't just about pulling in a 500-pound Marlin or catching the next wave – it's much larger than that. Huk's focus centers on the people that pursue it. For those, life on the water is more than a hobby, pursuit or lifestyle–it is in their DNA.
Huk's goal is to create products that inspire and empower all water lovers of any discipline and for every environment. Our products redefine the leading edge of technical innovation and unique styles and combine them with a brand that simply "feels right."
Our clothing and gear are made and designed by avid outdoor enthusiasts, adventure seekers, fishing junkies and all-around water lovers. Drawing from our roots in Maryland and South Carolina, our product line is designed to be functional and fashionable. Our pride in our work can be seen in every thoughtful detail from the seams to the fit and feel of each piece in our collections. Our people set the standard of performance gear and achieve those goals through tireless pursuit. That's why Huk continues to lead the industry with the highest quality gear that is tough enough for the harsh conditions of a long day fishing yet fashionable enough for drinks afterward at the beach bar. Our clothing has one thing in mind – U.
Huk believes actions most often speak louder than words. As a company, we are proud to lead the way to preserve and protect our environment so that we can all continue doing what we love. The Huk Waypoint collection is made from recycled plastics; each garment in the waypoint line takes nine plastic bottles out of our waterways and off of our beaches.
We bring our passion for the water to life in our collections that feature art and custom patterns from world-renowned artists. Our lifestyle collections are unparalleled and unmatched in the industry. Unique and fashionable, they are instantly recognized as exclusive to our brand.
Life is short, so fish it well. One more trip, one more cast, one more laugh, one more night out, one more sunrise – we are there with you. Huk is all about U.