College's Best Anglers Decide Bassmaster National Championship On Winyah Bay
Category: article
Aug 25th, 2022 by Keith Worrall
Modified Aug 25th, 2022 at 7:57 PM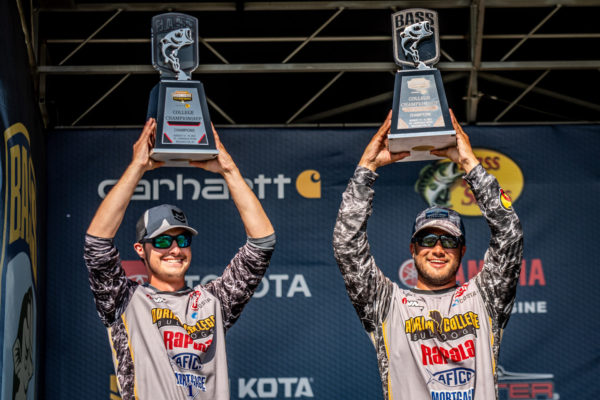 The country's top college teams will compete on Winyah Bay Sept. 2-4 at the 2022 Strike King Bassmaster College Series National Championship presented by Bass Pro Shops.
Photo by Dalton Tumblin/B.A.S.S.
August 25, 2022
College's Best Anglers Decide Bassmaster National Championship On Winyah Bay
GEORGETOWN, S.C. — The best college anglers in the country will celebrate Labor Day weekend by competing in the Strike King Bassmaster College Series National Championship at Winyah Bay presented by Bass Pro Shops Sept. 2-4 in Georgetown, S.C.
Located on the east coast of South Carolina between Myrtle Beach and Charleston, Winyah Bay is a shallow-water angler's paradise and comprises several different river systems: the Sampit, Black, Pee Dee and Waccamaw rivers as well as the Santee River to the south.
The college teams will not only be competing for the prestigious trophy, but the Top 3 teams will join the Bassmaster Team of the Year — Louis Monetti and Michael Fugaro of UNC Charlotte — at the College Classic Bracket at a lake to be named later. There, the individual anglers will compete for one berth in the 2023 Academy Sports + Outdoors Bassmaster Classic scheduled for March 24-26 in Knoxville, Tenn.
Georgetown has played host to several Bassmaster events in the past, including a TNT Fireworks B.A.S.S. Nation event, a College Series event won by current Elite Series pro Patrick Walters and his teammate Tyler All and two Bassmaster Elite Series events, the last coming in 2019 when Stetson Blaylock outlasted Scott Canterbury for the springtime win.
While the Elite Series anglers had access to the Cooper River in Charleston during both events, the College Championship off-limits will begin just south of the Santee River on the intercoastal waterway. Still, this will give anglers plenty of room to spread out and unlock the vast system.
JT Thompkins, who competes in the St. Croix Bassmaster Opens presented by Mossy Oak Fishing, cut his teeth fishing the Waccamaw, Pee Dee and Black rivers. With high temperatures still in the area that time of year, Thompkins predicts the bass will be in full summer pattern. That pattern, however, is dictated by the tide cycle more than the time of day.
"You want to look for the most oxygenated water either way back in shady places or in the current," he said. "It will be pretty tough for a lot of anglers, but it can be superfun. (There are) a lot of topwater fish, and you can even find them in the ditch mouths (by) dragging. It can be an all-day thing if you learn your tides and know when to be on high tide and when to be on low tide."
The fishery is unique in the type of cover it presents. While cypress trees and patches of lily pads line many of the banks, flooded rice fields and the dikes leading to those fields play a major role in tournaments.
"Each of these rice fields has a dike. It is a big gate that allows the water to fluctuate inside the rice fields," Thompkins said. "If you get a falling tide, some of these levies have an unbelievable amount of current coming out of these dikes. That is a huge deal. One of those dikes will be magical, and if you pull up at the right tide with water coming out of them, you can load the boat. I've caught 17- to 20-pound bags in five casts on some of these things."
While many areas offer a chance to produce good bags, Thompkins said one of the northern rivers has the greatest big-fish potential.
"After the Santee River, the Great Pee Dee area has the biggest bass," Thompkins said. "It is a little bit of a run, but it can happen fast, especially on tidal waters if you know your tides and keep up with everything."
Fellow Bassmaster Opens pro Kyle Austin believes the team who is able to unlock the Santee River will likely win the tournament.
"I think the fish grow bigger on that river compared to all the other rivers," Austin said. "Even the Cooper River; I would say the Santee River would outfish it nine out of 10 times."
The Santee River is filled with water from renowned big-fish factory Lake Marion and features laydowns, cypress trees and rock banks in some areas. Unlike the rest of the system, Austin said the water level is almost entirely determined by the flow coming from the dam and tide has almost no impact on the river.
"There is hardly any tide in that river," Austin said. "It is nothing like the Cooper River. I wouldn't even look at the tide charts for the Santee River. Almost always the current will be flowing down the river."
With fresh water from the Highway 17 bridge to the Lake Marion dam, there is a long stretch of the Santee River that teams will be able to target. Navigating too far up can get a little tricky, however.
When the Elites visited Winyah Bay in their spring events, the Santee River was largely flooded and did not play for the entire tournament. In fact, Austin said that most winters the river is flooded, making the river unfishable for nearly half the year at times, giving the bass plenty of time without fishing pressure.
With levels normalizing during the summer months, Austin anticipates flooding won't be an issue.
Austin said the Santee River is full of crawfish and is one of his favorite areas to set traps for crawfish. The bass love them too, and it's their main forage source. Bluegill and shad are also part of the largemouth diet as well.
"Seventy-five percent of the time they are eating crawfish. You can't go to that river without looking at the bank and seeing crawfish swimming," Austin said. "They eat a lot of crawfish, and it has awesome bream fishing. There is actually a shad run in that river early in the spring. They have everything they need to eat in that river. It is an interesting place. Whether it is a 10-incher or a 7-pounder, it is the fattest fish you will ever see."
While casting to shallow-water targets like cypress trees and stumps will be productive, Austin said ditch mouths will also play a big role. This time of year, the bass will gather in those ditch mouths and school. It will be the closest thing to deep-water fishing anglers will come by.
Teams will launch from Carroll Ashmore Campbell Marine Complex in Georgetown starting at 6:30 a.m. ET. Weigh-ins will start at 2:30 p.m. and will take place on Front Street in downtown Georgetown. Bassmaster.com will have full coverage of the National Championship.
The 2022 Strike King Bassmaster College Series National Championship presented by Bass Pro Shops is being hosted by Georgetown County.
2022 Bassmaster College Series Title Sponsor: Strike King
2022 Bassmaster College Series Presenting Sponsor: Bass Pro Shops
2022 Bassmaster College Series Platinum Sponsor: Toyota
2022 Bassmaster College Series Premier Sponsors: Berkley, Humminbird, Mercury, Minn Kota, Nitro Boats, Power-Pole, Progressive Insurance, Ranger Boats, Rapala, Skeeter Boats, Yamaha
2022 Bassmaster College Series Supporting Sponsors: AFTCO, Daiwa, Garmin, Huk Performance Fishing, Marathon, Triton Boats, VMC
2022 Bassmaster College Series Youth Sponsors: Shimano, SPRO
About B.A.S.S.
B.A.S.S., which encompasses the Bassmaster tournament leagues, events and media platforms, is the worldwide authority on bass fishing and keeper of the culture of the sport, providing cutting edge content on bass fishing whenever, wherever and however bass fishing fans want to use it. Headquartered in Birmingham, Ala., the 515,000-member organization's fully integrated media platforms include the industry's leading magazines (Bassmaster and B.A.S.S. Times), website (Bassmaster.com), TV show, radio show, social media programs and events. For more than 50 years, B.A.S.S. has been dedicated to access, conservation and youth fishing.
The Bassmaster Tournament Trail includes the most prestigious events at each level of competition, including the Bassmaster Elite Series, St. Croix Bassmaster Opens Series presented by Mossy Oak Fishing, TNT Fireworks B.A.S.S. Nation Series, Strike King Bassmaster College Series presented by Bass Pro Shops, Abu Garcia Bassmaster High School Series presented by Academy Sports + Outdoors, Bass Pro Shops Bassmaster Team Championship, Yamaha Rightwaters Bassmaster Kayak Series powered by TourneyX, Yamaha Bassmaster Redfish Cup Championship presented by Skeeter and the ultimate celebration of competitive fishing, the Academy Sports + Outdoors Bassmaster Classic.