Beyond the Basic Shore Lunch
Category: article
Aug 9th, 2022 by Keith Worrall
Modified Aug 9th, 2022 at 11:01 AM

Tazin Lake Lodge Guides Master the Midday Meal
By Dr. Jason A. Halfen
Shore lunch completes every Canadian fishing adventure. Waves lapping against the rocks, a crackling fire, and a delicious handcrafted meal of fresh fish, fried potatoes, and warm beans fuel the body and fill the soul. This is angling comfort food at its finest – and like most of you, I could enjoy this meal every day and twice on Sundays. However, everyone should be willing to step away from the typical midday fare and embrace a little variety on an extended trip north of the border.
I met Canadian guide and foodie Kent Kulrich on a recent trip to northwest Saskatchewan's beautiful Tazin Lake Lodge, a destination renowned for its huge lake trout and enormous northern pike. My group connected with Kent and his guests for lunch one afternoon, and I was utterly blown away by the meal presented to me on a granite knoll overlooking gorgeous Tazin Lake. This was a baked lake trout feast like none I had ever encountered – and now, you'll be able to enjoy it too.
"Fried fish, spuds, and beans are great," reflects Kulrich, "but we like to offer our guests something a little different if they're in the mood." While anglers flock to Tazin Lake Lodge to tangle with multiple 40-inch class lake trout during their visit, northwest Saskatchewan's Tazin Lake is also brimming with eater-sized lakers – fish in the three to five-pound class. Tazin Lake Lodge's staff of professional and experienced guides take advantage of this bounty, perfecting several trout recipes that elevate the shore lunch experience to entirely new levels. Below, you'll find Kent Kulrich's recipe for baked lake trout with a sweet chili sauce, paired with maple-glazed red potatoes and seasoned veggies.
Begin with an eater-sized lake trout. We caught these in abundance in relatively shallow water at Tazin Lake – and by shallow, I mean anywhere from one to twenty feet deep. Ever seen a 20-inch lake trout swimming in six inches of water along a sandy beach? Or caught a laker on a topwater less than a yard from shore? If not, add those to your list of things to do while visiting Tazin Lake Lodge. Gut the trout, remove the head and tail, and then slice through the skin and part-way into the meat along every inch along the trout's length. A RegalRiver 7-Inch Straight Fillet Knife from Smith's Consumer Products is the right tool for this job. Those slices ensure that the fish cooks evenly, allowing flavors to penetrate throughout.
Begin seasoning the trout by rubbing salt and lemon pepper into the cuts along the sides of the body. Add a generous amount of sweet chili sauce, lime juice, and fresh parsley. Wrap the seasoned trout in parchment paper – which keeps the fish moist as it cooks and prevents sticking – and encase within a double layer of aluminum foil. Place the package on top of hot wood coals and bake for about 15 minutes, flipping once as the trout cooks.
With the fish baking on the coals, turn your attention to the sides. Slice red potatoes into chunks, fry them in a cast-iron pan with a bit of oil until done, and then glaze them with maple syrup – because after all, this is Canada, eh? A blend of seasoned salt and smoked paprika finishes these wilderness spuds and pleases the most discerning palette. While the potatoes cook, open cans of corn and mushrooms and simmer them in water, right in their original cans. When the veggies are heated, drain the water and add diced fresh garlic, rosemary, and parsley before combining the corn and mushrooms into a delicious blend that perfectly complements the other components of this Saskatchewan feast.
When timed correctly, the sweet chili-baked trout, maple syrup-glazed potatoes, and seasoned corn and mushrooms should be ready at just about the same time. Open the trout's foil package into the shape of a large bowl, then add the spuds and veggies alongside the baked guest of honor. The visual presentation of this wilderness feast is surpassed only by its unbeatable aroma, texture, and taste. It's hard to go back to fried fish after a meal like this!
Shore lunch is an integral part of every Canadian fishing experience. On your next visit to Saskatchewan's outstanding Tazin Lake Lodge, be sure to grab an eater-sized laker right before lunch and give this baked trout recipe a whirl – you'll be thrilled that you did.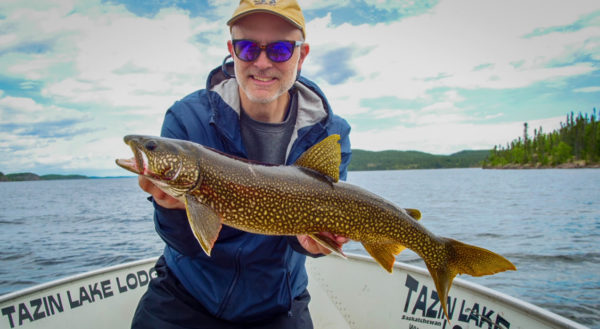 #fishsask
Images courtesy of Dan Amundson, Kent Kulrich, and Dr. Jason A. Halfen