Jason Abram Wins Tackle Warehouse Pro Circuit Grundéns Stop 4 Presented by A.R.E. at Lake Eufaula
Category: article
May 17th, 2021 by Keith Worrall
Modified May 17th, 2021 at 10:47 AM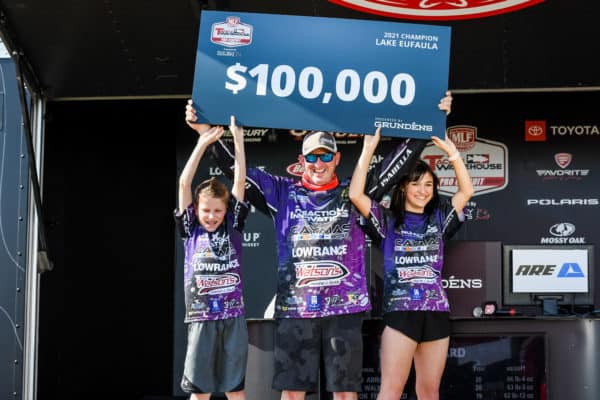 Piney Flats, Tennessee Pro Earns Second Career Victory on Tackle Warehouse Pro Circuit in As Many Years, Wins $100,000 on Alabama's Lake Eufaula
EUFAULA, Ala. (May 16, 2021) – Pro Jason Abram of Piney Flats, Tennessee, brought a five-bass limit to the scale Sunday weighing 14 pounds, 1 ounce to win the MLF Tackle Warehouse Pro Circuit Presented by Bad Boy Mowers, Grundéns Stop 4 Presented by A.R.E. at Lake Eufaula . Abram's four-day total of 20 bass weighing 66 pounds, 4 ounces earned him the win by a 1-pound, 1-ounce margin over Bass Pro Shops angler David Walker of Sevierville, Tennessee, and earn the top prize of $100,000.
Link to Photo of Grundéns Stop 4 Winner Jason Abram
Link to Photo Gallery of Abram's Championship Day
Link to Video of Day 4 Championship Weigh-In from Grundéns Stop 4 at Lake Eufaula
Link to Video of Fish Catch Highlights from Day 4 of Grundéns Stop 4 at Lake Eufaula
"In my wildest dreams I never thought I could win a tournament on Eufaula in mid-May fishing shallow," Abrams said to MLF reporters after the event. "This lake is known for deep ledges and brush piles this time of year. But I came here to do my thing and fish the way I like to fish and it turned into a win – that's pretty special."
Coming into Lake Eufaula, Abram said his plan was to fish shallow. He did not think the tournament would be won shallow, he just wanted to fish shallow to get back to his fishing roots: an East Tennessee run-and-gun approach.
"Over the last two tournaments, I sort of got side-tracked trying to fish deep," Abram said. "I came here with the intention of fishing shallow to get a decent check, get some solid points and find my groove again."
Abram fished up in the Chattahoochee River portion of Eufaula, targeting channel swing banks that had some kind of wood providing shade over an eddy in the current, either in the form of an overhang tree or a piece of dead wood collecting flotsam to form a canopy over the eddy.
Abram would pitch a jig into the shaded eddy and sort of pop it through the current seam, allowing the current to suck it down about 2 feet between pops. His unique retrieve provoked a reaction response from bass set up in the eddy to feed on current-driven shad.
Abram's jig of choice was a white custom 5/8-ounce swimjig – handmade by a friend named Craig France – with a Reaction Innovation Spice Beaver trailer. The jig features a flatter head to "float" in the current a little better.
"I could only find about 18 or 19 small spots that fit the pattern," Abram said. "And they were spread out in about an 18-mile stretch of the river, so I did a lot of running and gunning. It's how I fish back home. Once I know exactly what I'm looking for, I'll run 20 miles to find a few more of them."
Abram spent as much time running as he did fishing. He would often fish a place only three to five minutes before running to the next sweet shade spot.
"Those fish were set up to feed in those spots," he continued. "They usually bit on the first flip or two into a current seam so it didn't take long to fish one. And I would visit some of the same spots sometimes four to five times a day."
Second-place finisher David Walker, who pushed his career earnings to $1.97 million, also did most of his damage this week on a swimjig.
"I caught all my fish around the bank on jigs," the Tennessee pro said. "I was using a Z-Man CrossEyez swimjig in the morning to get a limit, then I'd come back up the lake and start flipping a jig.
"I've really got no excuses – there is nothing I would have done any differently," Walker went on to say. "It's been a great week. When you're a tournament fishing, there are a lot more bad days than good days, so to have a good week really makes up for the bad weeks. I am very happy with how this event shook out."
The top 10 pros at the Tackle Warehouse Pro Circuit Grundéns Stop 4 on Lake Eufaula finished:
1st: Jason Abram, Piney Flats, Tenn., 20 bass, 66-4, $100,500
2nd: David Walker, Sevierville, Tenn., 20 bass, 63-3, $30,500
3rd: Trevor Fitzgerald, Belleview, Fla., 19 bass, 62-12, $25,000
4th: Bobby Lane, Lakeland, Fla., 20 bass, 60-7, $20,000
5th: Ryan Davidson, Branchland, W.Va., 19 bass, 55-14, $19,000
6th: Mitch Crane, Columbus, Miss., 20 bass, 55-6, $18,000
7th: Skeet Reese, Auburn, Calif., 20 bass, 50-13, $17,000
8th: Dicky Newberry, Houston, Texas, 20 bass, 50-8, $16,000
9th: Cole Floyd, Leesburg, Ohio, 17 bass, 47-8, $15,000
10th: Ramie Colson Jr., Cadiz, Ky., 17 bass, 45-1, $14,000
Full results for the entire field can be found at MajorLeagueFishing.com.
Overall, there were 43 bass weighing 103 pounds, 15 ounces caught by the final 10 pros Sunday. The catch included seven five-bass limits.
The four top performers who now qualify to compete in the MLF Bass Pro Tour General Tire Stage Five at the St. Lawrence River in Massena, New York, June 25-30, are Jason Abram, Trevor Fitzgerald, Ryan Davidson and Mitch Crane.
The MLF Tackle Warehouse Pro Circuit Presented by Bad Boy Mowers, Grundens Stop 4 Presented by A.R.E. – Lake Eufaula event will feature a two-hour action-packed television show that will premiere on the Outdoor Channel on Sunday, August 22 from 7 to 9 a.m. ET and re-air on the Sportsman Channel this fall.
The MLF Tackle Warehouse Pro Circuit Presented by Bad Boy Mowers, Grundens Stop 4 Presented by A.R.E. at Lake Eufaula was hosted by the Eufaula Barbour County Chamber of Commerce.
In Tackle Warehouse Pro Circuit competition, the full field of anglers competed in the two-day opening round on Thursday and Friday. The top 50 pros based on their two-day cumulative weight advanced to Saturday. Only the top 10 pros continued competition on Sunday, with the winner determined by the heaviest accumulated weight from the four days of competition.
Throughout the season, anglers are also vying for valuable points in hopes of qualifying for the 2021 Tackle Warehouse Pro Circuit TITLE presented by Mercury, the Pro Circuit Championship, where they will compete for up to $235,000. The 2021 TITLE will be on the Mississippi River in La Crosse, Wisconsin on Aug. 17-22, and is hosted by Explore La Crosse.
For complete details and updated information visit MajorLeagueFishing.com. For regular updates, photos, tournament news and more, follow the Tackle Warehouse Pro Circuit presented by Bad Boy Mowers on the MLF BIG5's social media outlets at Facebook, Twitter, Instagram and YouTube.
About MLF BIG5
MLF BIG5 is part of MLF, the world's largest tournament-fishing organization. It provides anglers of all skill levels the opportunity to compete for millions in prize money across five tournament circuits featuring a five-biggest-fish format. Headquartered in Tulsa, Oklahoma, with offices in Benton, Kentucky, MLF and its partners conduct more than 290 bass-fishing tournaments annually around the world, including the United States, Canada, China, Italy, South Korea, Mexico, Namibia, Portugal, South Africa, Spain and Zimbabwe.
MLF tournaments are broadcast on Outdoor Channel, Sportsman Channel, World Fishing Network, MyOutdoorTV, Discovery and CBS Sports while MLF Bass Fishing magazine delivers cutting-edge tips from top pros to the world's most avid bass anglers.