Young Walleye Talent
Category: article
Jan 18th, 2022 by Keith Worrall
Modified Jan 18th, 2022 at 2:14 PM
Just 24, new Z-Man pro Dylan Nussbaum is already a national walleye champ.
Walleye Vision
Walleye pro Dylan Nussbaum adds young talent to the Z-Man® roster
Ladson, SC – (January 18, 2022) – "It's all about solving the mystery of marble eyes," contends new Z-Man pro Dylan Nussbaum, likely the hottest young stick in competitive walleye fishing today. Fresh off a recent walleye-bass multispecies tournament win on Kinzua Reservoir, Pennsylvania—Nussbaum's lifelong home lake— the national walleye star reflected on an already-successful career and a fascinating future with Z-Man Fishing.
"Man, I get a kick out of catching smallmouth (bass), big crappies, trout or anything else that swims," Nussbaum exclaims. "Would love to fish more bass derbies in the future. But for me, it's all about the mystery of the walleye. Every day on the water's a new puzzle—sort of a thinking man's game. I mean, one day, you might find walleyes swarming rocks and grass in just a foot of water. But go to another lake and they're 80 feet deep—or even suspended halfway down out in the middle of nowhere.
"Once you locate 'em, the fun of discovering what they want to eat begins—and for my active style of fishing, Z-Man offers an awesome array of walleye baits—including some real under-the-radar stuff. I think as more walleye anglers discover the superior advantages of ElaZtech® softbaits, such as their lifelike buoyancy and amazing durability on the hook, we'll see an inevitable surge in their popularity—on the tournament trail and beyond."
Nussbaum, who fished his first walleye tourney with his dad at age ten, went on to become the youngest angler to win a National Walleye Tour event just a decade later. "These days, I put about 35-thousand miles a year on my truck, going from Pennsylvania all the way out to the Dakotas—sometimes twice in a season. We fish rivers like the Missouri and Mississippi and amazing natural lakes like Devils, Mille Lacs and Erie.
"Bites range from pitching paddletail swimbaits along weedlines to trolling crankbaits to snap-jigging plastics on deep rock points—sometimes all at once. Patterning walleyes successfully is all about versatility and efficiency. And given a choice, I'm up in the bow, eyeballing electronics, casting jigs and plastics like a bass dude."
The first professional walleye fisherman to join Z-Man's influential pro-team, Nussbaum represents a new breed of angler. "Dylan is an undisputed fishing talent," notes Joey Prochazka, Z-Man Pro-Staff and Promotions Manager. "His high-energy, interactive fishing approach is why he's often described as a 'bass angler for walleyes.' For sure, Dylan can catch bass, crappies and other species, but put a jig in his hands and he's an absolute walleye-fishing force—can catch 'em on any waterbody in America.
"Beyond his undeniable angling skills, though, Dylan's just a regular fish-head like the rest of us," adds Prochazka. "He's a super nice guy who simply likes talking fishing with everyone he meets. Dylan comes off as a pretty laidback dude, too, but beneath the surface burns a serious competitive fire. No doubt, he's got a great future in competitive fishing. And we're thrilled to expand our walleye outreach and product offering, hand-in-hand."
Outside the lively and tooth-tough advantages of ElaZtech softbaits, Nussbaum has for example already begun to pioneer new walleye strategies with ChatterBait® bladed jigs— a lure category previously consigned to the bass arena.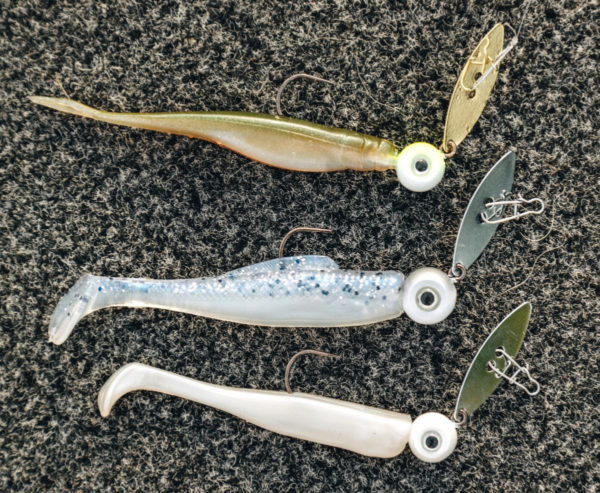 "The concept of a bladed jig makes total sense for walleyes—a fish known to track the flash and vibration of its prey," notes Nussbaum. "Slowly dragging the ChatterBait WillowVibe™ with a Slim SwimZ™ or MinnowZ™ along bottom— pumping the rod to activate the blade and detecting its vibrations— is becoming a cool new way to trigger walleye strikes. I've been working the 3/8-ounce version in 5 to 10 feet of water, sometimes just straight-retrieving it fast enough to keep the blade humming along. Can't wait to throw this combo in the Missouri River and other stained water environments. Should be a real player this year."
In natural lake and reservoir settings, Nussbaum has also been aggressively retrieving standard bladed jigs, like the Eye Strike™ ChatterBait, dressed with a 4- or 5-inch Scented PaddlerZ™. "Throw this combo in classic paddletail swimbait situations—vegetation and weedlines, along shallow rock spines or in river current—and you're going to be pleasantly surprised," he suggests. "Most veteran walleye anglers know how important flash and vibration can be, and at times, a ChatterBait really hits the right notes for big 'eyes."
As Nussbaum embarks on the 2022 pro walleye tour, you'll likely hear the words walleye and Z-Man increasingly used in harmony. "I'm just super excited to be working with the awesome people behind team Z," he adds. "It's going to be a ton of fun discovering a bunch of new walleye-catching patterns with my new favorite softbaits and bladed jigs. I'm ready to hop in the truck now and roll out across the first of those 35-thousand miles."